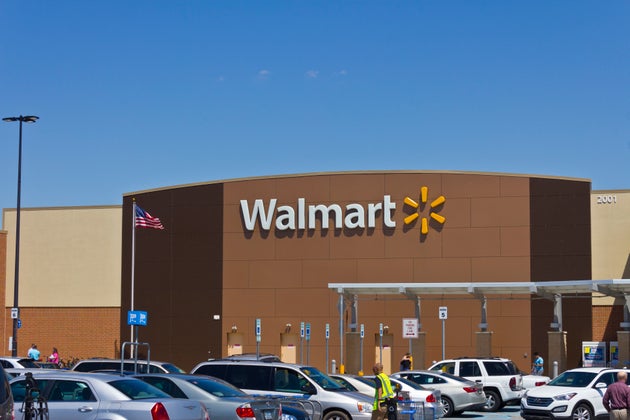 You've heard the stories, laughed at the People of Walmart photos, and made the jokes about the scary things that you are liable to see at Walmart.  
Well, here we go again.  It seems two grandmothers got the Walmart parking lot confused with the OK Corral and had a parking lot duel, leaving one wounded.
ADVERTISEMENT - STORY CONTINUES BELOW
It appears the spat began over a child custody swap.  The two women met to transfer custody of their mutual grandchild around 5:30 p.m. outside of the Dallas, Texas Walmart. An ensuing argument turned violent, Dallas police said.
Janice Brown, 53, allegedly pulled out a gun and shot Carla Hawkins, 55, in her neck, leaving her with non life-threatening injuries resulting from a gunshot wound according to the local police via a statement.
The call was answered by an off-duty Fannin County police officer.
ADVERTISEMENT - STORY CONTINUES BELOW
He responded to the scene where Brown also allegedly shot at the off-duty police officer.
He, of course, acted in self-defense and returned fire.
According to police, no one was harmed during the exchange of gunfire turning the Walmart parking lot into a scene straight out of the Wild West in the days of Wyatt Earp and Doc Hollywood.
People of Walmart LOOK OUT!  Wild Shooting Crazy Cowboy Grandma!
Once the situation was contained by the Officer, Brown was taken into custody.
She was charged with aggravated assault on a public servant.
Frankly, I'm surprised she wasn't charged more harshly as any responsible gun owner knows that this sort of behavior gives the rest of us a VERY bad name, never mind the bad press.
We all know that the liberal media and the gun control advocates don't need a reason, especially when they use knife attacks to push an agenda for gun control.
Police have stated that charges related to Hawkins' shooting will be referred to the Dallas County Grand Jury, so perhaps more charges are pending.
I am hopeful as this sort of behavior should be addressed. Firearms are a responsibility. With great power, comes great responsibility.
h/t – Huffington Post
God Bless.
?Be sure to sign up for our FREE newsletter and we'll keep you in the loop by CLICKING HERE!?
?Be sure to follow us at TRUTH SOCIAL, TWITTER, PARLER, GETTR and OUR EXCLUSIVE TELEGRAM GROUP.
Please take a moment and share our articles with your friends,  family and on all social media sites! Thank you, we appreciate it!
Make Sure To Scroll Down And Leave A Comment And Let Your Voice Be Heard, We Will NEVER Silence You!
Facebook Has Banned Us!
The leftists at Facebook decided they didn't like our message, so they removed our page and are censoring us. Help us fight back and subscribe to our newsletter so that you can stay up-to-date with everything Facebook doesn't want you to see!
ADVERTISEMENT - STORY CONTINUES BELOW
Disqus Comments