"We gathered about 30 head," Ammon Bundy told Infowars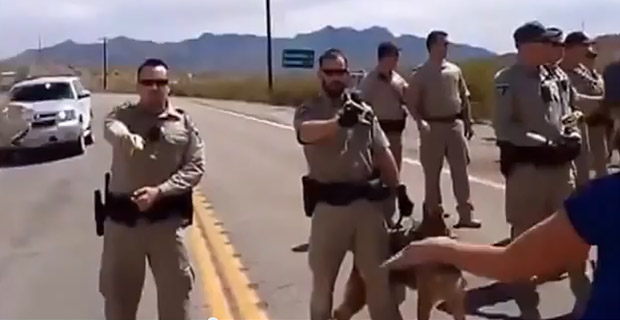 ADVERTISEMENT - STORY CONTINUES BELOW
On Wednesday several of supporters were assaulted by Bureau of Land Management agents.
Ammon Bundy, the son of besieged Nevada rancher Cliven Bundy, told Infowars reporter David Knight today around 20 cowboys went on land claimed by the U.S. Bureau of Land Management (BLM) and retrieved cattle.
"We gathered about 30 head," said Bundy. "We did have a small confrontation with them, but they didn't have the forces to do a whole lot. They couldn't mobilize fast enough and we were able to gather those cattle and get them to the ranch."
Cliven Bundy and his family are currently engaged in a standoff with the BLM over a long standing refusal to acknowledge a 1993 modification to grazing rights on land that Bundy asserts has been in his family since 1870. On Saturday, hundreds of federal officials, aided by helicopters, low flying aircraft and hired cowboys, began rounding up Bundy's cattle in northeastern Clark County.
Bundy's dispute with the feds escalated yesterday when several of his supporters were assaulted by BLM officials. The BLM is currently rounding up Bundy's cattle in order to enforce a regulation in order to protect an endangered desert tortoise after 600,000 acres of public land was reclassified as federal property.
During that confrontation, Ammon Bundy, was tasered. His sister, a cancer victim, and a pregnant woman were assaulted by BLM agents.
Protesters chanted "no BLM" as the standoff came to an end. BLM agents began to leave while being yelled at to "get out of here!"
Ammon told Knight and Infowars state representatives will address demonstrators later today.  
Facebook Has Banned Us!
The leftists at Facebook decided they didn't like our message, so they removed our page and are censoring us. Help us fight back and subscribe to our newsletter so that you can stay up-to-date with everything Facebook doesn't want you to see!
ADVERTISEMENT - STORY CONTINUES BELOW
ADVERTISEMENT - STORY CONTINUES BELOW
Disqus Comments