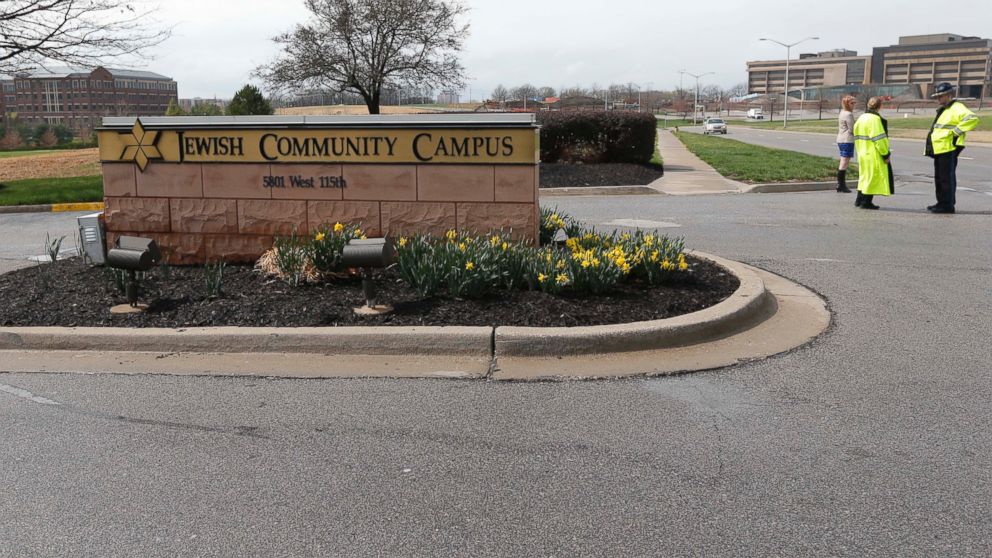 Three people are dead in a pair of shootings at a Jewish community center and retirement community in Overland Park, Kansas, police said.
Two people were killed in the town's Jewish Community Center, Sean Reilly of Overland Park Police said. Another person was killed at a second location, he said, but he did not disclose where.
ABC News affiliate KMBC-TV in Kansas City reported that police said the third person was killed at Village Shalom, which is nearby.
ADVERTISEMENT - STORY CONTINUES BELOW
Police have a person of interest in custody but would not confirm motive or whether the attack was being considered a hate crime.
The Jewish Community Center confirmed the shooting on its Facebook page and said it occurred near the Lewis and Shirley White Theater entrance and that the building was put on lockdown. According to the center's website, a production of "To Kill a Mockingbird" was scheduled to start at 2 p.m.
The center released a statement explaining that the shooting occurred in the parking lot.
"Our hearts go out to the families who have suffered loss on this tragic day," read the statement in part. "Our heartfelt gratitude as well to all those in Kansas City and around the world who have expressed sympathy, concern and support."
ADVERTISEMENT - STORY CONTINUES BELOW
According to KMBC-TV the police took a man into custody near an elementary school several blocks from Village Shalom.
Rabbi Arthur Nemitoff, senior rabbi at The Temple, Congregation B'nai Jehudah, located about a mile from the Jewish Community Center told ABC News that police arrived after the shooting around 1:45 p.m. and have stationed a police car there as a precautionary measure.
Kansas Rep. Kevin Yoder said he was "heartbroken" over the shootings.
"Brooke and I send our prayers and thoughts to the families and victims of this tragedy and our office stands ready to provide any needed assistance," Yoder said in a statement.
As a matter of protocol the Los Angeles Police Department has stepped up patrols around Jewish-oriented locations. The New York Police Department said it was already in a heightened state of alert due to Passover holiday.
The Jewish holiday of Passover is scheduled to start Monday.
UPDATE-THE SHOOTER YELLED 'HEIL HITLER' AS HE WAS TAKEN INTO  CUSTODY…
Facebook Has Banned Us!
The leftists at Facebook decided they didn't like our message, so they removed our page and are censoring us. Help us fight back and subscribe to our newsletter so that you can stay up-to-date with everything Facebook doesn't want you to see!
ADVERTISEMENT - STORY CONTINUES BELOW
take our poll - story continues below
Whom do you consider to be the most corrupt Democrat Politician?
Completing this poll grants you access to America's Freedom Fighters updates free of charge. You may opt out at anytime. You also agree to this site's Privacy Policy and Terms of Use.
Disqus Comments