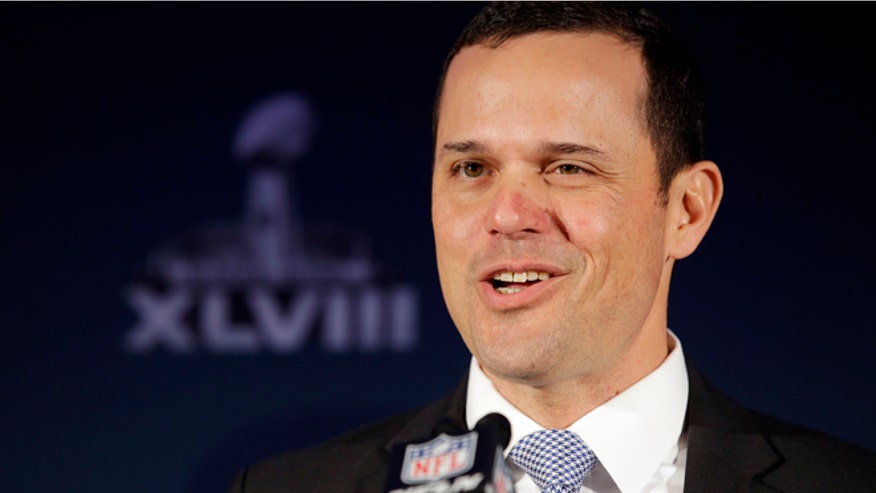 PHOTO (AP)
The acting head of U.S. Immigration and Customs Enforcement, whose appointment to the post raised eyebrows because of his scant law enforcement experience, told agency employees he will resign Friday, FoxNews.com has learned.
John Sandweg, a former defense attorney who knew former Department of Homeland Security Secretary Janet Napolitano from their days as political allies in Arizona and came to Washington with her, gave his notice just six months after taking the reins in August. In a letter Friday to coworkers, Sandweg said he will return to work in the private sector but gave no explanation for his departure.
ADVERTISEMENT - STORY CONTINUES BELOW
"Over the past several months I had the opportunity to work alongside many of you," he wrote. "I was always amazed by your dedication and commitment to the agency and our nation. Despite the challenges we face, you continue to push on, achieving remarkable security and public safety gains for our country."
Sandweg was named to the post amid concerns by congressional lawmakers and former agency officials that his background as a criminal defense attorney with no law enforcement experience made him unqualified to run the country's second-largest law enforcement agency.
"I am deeply disappointed by this appointment and believe it is disrespectful to the thousands of dedicated professionals at ICE who are working tirelessly to enforce our laws and provide for our security," Rep. John Carter, R-Texas, chairman of the House Homeland Security Appropriations Subcommittee, said at the time. "I urge the administration to re-think this appointment and promptly appoint a qualified, confirmable applicant for this essential post."
FoxNews.com first reported on Sandweg's history representing accused and convicted violent offenders while also fundraising for Napolitano, who was then the Democratic governor of Arizona and later became secretary of the Department of Homeland Security, which oversees ICE.
ADVERTISEMENT - STORY CONTINUES BELOW
Lawmakers also said his appointment by Napolitano was an example of the agency's "blatant politicization."
Jeh Johnson, the newly confirmed secretary of Homeland Security, also sent an email to ICE employees on Friday announcing Sandweg's departure and thanking him for his service to the administration over the past five years.
"On a personal note I would like to thank John for his work as I learned about the department during my confirmation process," he wrote.
Johnson also suggested the resignation has been in the works, thanking Sandweg in the letter for "his decision to stay with the department through this transition."
As FoxNews.com reported in August, Sandweg represented accused and convicted murderers, sex offenders and pedophiles and fought for the release of violent convicted offenders. He raised campaign funds for Napolitano from 2002 to 2009.
Sandweg critics also said he played a lead role in a pattern at DHS of obstructing Freedom of Information Act requests involving spending from the 2009 stimulus plan.
According to a 2011 report prepared for Rep. Darrell Issa, R-Calif., the chairman of the House Committee on Oversight and Government Reform, documents showed Sandweg — then senior adviser to Napolitano and the top political appointee in her inner circle — was "responsible for halting releases on behalf of the  [Office of the General Counsel] and the Office of the Secretary."
Sources said Sunday they hope Johnson will chose a replacement for Sandweg who has come up through the ranks of the agency with years of law-enforcement experience.
FROM FOX NEWS BY JANA WINTER
'LIKE' US ON FACEBOOK TOO!
Facebook Has Banned Us!
The leftists at Facebook decided they didn't like our message, so they removed our page and are censoring us. Help us fight back and subscribe to our newsletter so that you can stay up-to-date with everything Facebook doesn't want you to see!
ADVERTISEMENT - STORY CONTINUES BELOW
Disqus Comments