OVER 42,000 ADVERSE REACTION REPORTS REVEALED IN FIRST BATCH OF PFIZER VAX DOCS
This article was originally published by Tyler Durden at ZeroHedge.
The FDA's excruciatingly slow release of data related to Pfizer's COVID-19 vaccine has already borne fruit, and it's damning despite a trickle of just 500 pages per month out of 329,000 pages – which will take until 2076 to complete.
ADVERTISEMENT - STORY CONTINUES BELOW
As first reported by Kyle Becker, there were a total of 42,086 case reports for adverse reactions (25,379 medically confirmed, 16,707 non-medically confirmed), spanning 158,893 total events.
take our poll - story continues below
Whom do you consider to be the most corrupt Democrat Politician?
Completing this poll grants you access to America's Freedom Fighters updates free of charge. You may opt out at anytime. You also agree to this site's Privacy Policy and Terms of Use.
More than 25,000 of the events were classified as "Nervous system disorders."
ADVERTISEMENT - STORY CONTINUES BELOW
Another table of the 1st batch of 55 on Pfizer's adverse events data:

No wonder they don't want all the data released! pic.twitter.com/qmdi303krl

ADVERTISEMENT - STORY CONTINUES BELOW

— Patrick Phillips MD (@DrP_MD) December 2, 2021
Since the vaccine has been publicly administered, there have been over 913,000 reports of adverse events in the OpenVAERS global database.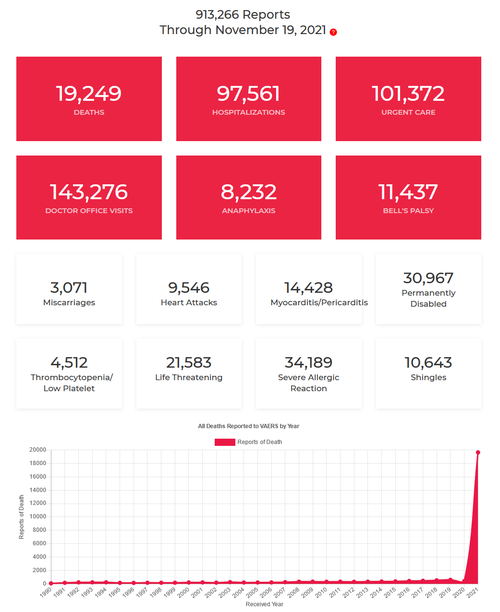 And that's just what's been reported.
Meanwhile, Twitter has suspended the account of @iGNORANTCHiMP – who brought much of this to light and corrected minor inaccuracies within his thread.
🇮🇱📢 1/ CENSORSHIP ALERT!
Our friend @iGNORANTCHiMP, Gal Shalev, was permanently suspended from Twitter today, when his tweet blew up virally, after sharing Pfizer docs handed to FDA. (See part 2)
I'm declaring a
*digital emergency state*
to protest against this censorship!!
>> pic.twitter.com/ODbEJNTiEE

— Efrat Fenigson (@efenigson) December 2, 2021
(Twitter is garbage. They took us down along with Facebook at the exact same time after a filthy liberal rag site wrote a hit piece on us saying that we were rightwing extremists. We lost around 20 million followers on our pages which included "NATION IN DISTRESS" as well as several extremely popular pages. Filthy leftist scumbags.)
We want to thank Tyler Durden at ZeroHedge for his excellent reporting and fighting the battles along with us and all of our good friends who have the balls to report the TRUTH!
We also want to thank the great Mac Slavo at SHTFplan.com for his excellence in reporting.
I also want to thank all of you patriots who follow us and love America.
The bottom line is that we are all in this together and we have to fight HARD to exterminate these filthy leftist Socialist scumbags 24/7/365 until we take our country back!
It's time to enjoy social media again… without the filthy Communist censorship!
Join us at SPREELY, PARLER, GETTR, WeGo, Gab, Codias, Mumblit, and WorldAnon.
Be sure to sign up for our FREE newsletter and we'll keep you in the loop! 
DINO PORRAZZO at AMERICAS FREEDOM FIGHTERS
God Bless.
Facebook Has Banned Us!
The leftists at Facebook decided they didn't like our message, so they removed our page and are censoring us. Help us fight back and subscribe to our newsletter so that you can stay up-to-date with everything Facebook doesn't want you to see!
Disqus Comments