College Republicans at Stanford University have been denied the request for a new logo on t-shirts because it shows the American flag.
What in the hell is going on in this country? Unbelievable.
"We find the idea that flags are off limits ridiculous," the Stanford College Republicans told Fox News, "and especially the American flag shouldn't be off limits."
ADVERTISEMENT - STORY CONTINUES BELOW
The group was told the patriotic look doesn't meet the private university's standards, according to an email from the school's copyright office that was obtained by The College Fix.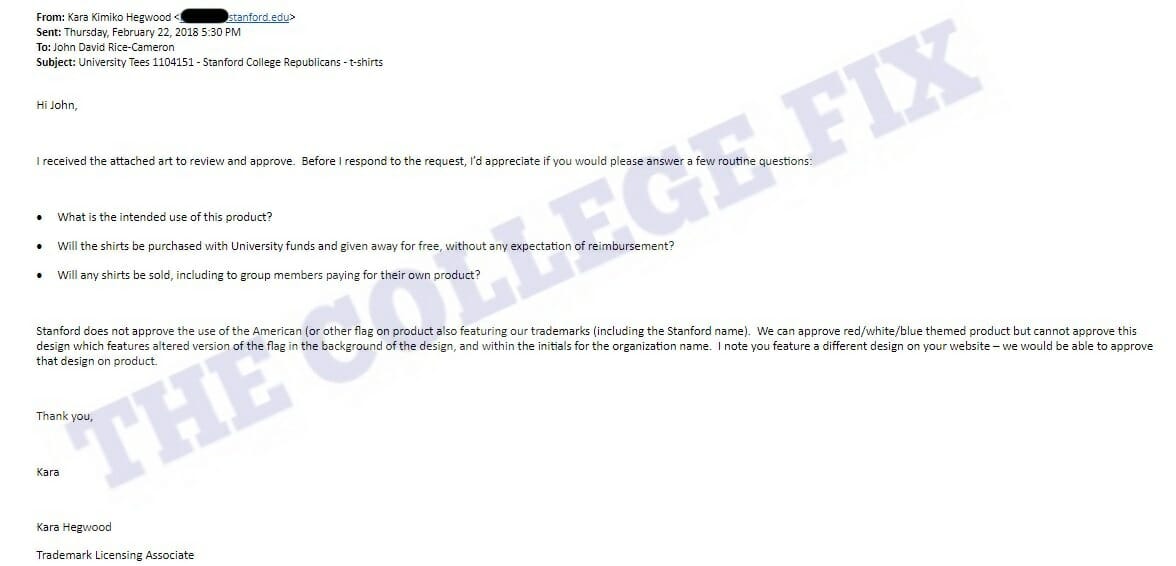 From Jennifer Kabbany at The College Fix:
"Stanford does not approve the use of the American (or other flag on product also featuring our trademarks (including the Stanford name) [sic]," states a recent email to the GOP group's financial officer from Kara Hegwood, a trademark licensing associate at Stanford University.
ADVERTISEMENT - STORY CONTINUES BELOW
"We can approve red/white/blue themed product but cannot approve this design which features altered version of the flag in the background of the design, and within the initials for the organization name. I note you feature a different design on your website – we would be able to approve that design on product," Hegwood added.
Hegwood, as well as Stanford media affairs officials, did not respond to emails and phone calls Tuesday from The College Fix seeking comment and clarification. It's unclear which policy Hegwood is referring to, as a lengthy trademark guide on the university's website does not appear to mention flags, according to a word search of the online resource.
The Stanford College Republicans financial officer, John Rice-Cameron, said Tuesday in an interview with The College Fix that he is not satisfied with the denial he received from the trademark office.
Earlier this week he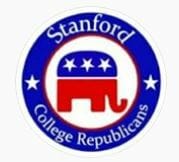 sent Hegwood an email asking why Stanford refuses to associate itself with the American flag, he said.
He said he does not want to use the old logo (seen at left), calling the new one a "kick-ass design."
"The [new] logo is emblematic of our club," he said. "It shows we are willing to boldly promote conservatism."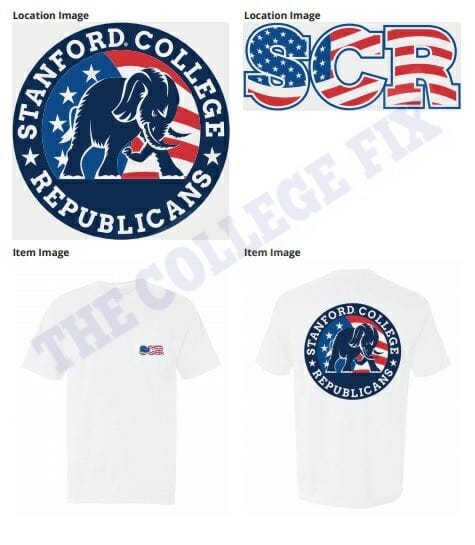 The Stanford College Republicans' new logo was rejected by the university for using the American flag.  (The College Fix)
The Stanford College Republicans have begun using the image of the aggressive elephant in front of the stars and stripes on its Facebook page.
Caleb Parke at FOX reports that the original plan had been to sell the new shirts to members and anyone else who might be interested but now the group said it did not know if it would go ahead and print them.
Meanwhile, Rice-Cameron reportedly emailed the school wondering why it doesn't want to be associated with the American flag.
In a recent post online, Rice-Cameron highlighted the SCR's activity in the past year, noting they've faced opposition on campus.
"This past year, the Stanford College Republicans have drastically transformed the political environment at Stanford, taking bold steps to promote conservative ideas on campus," he wrote. "We have worked with the Young America's Foundation to bring prominent conservative speakers to campus, engaged in debates with left-leaning organizations, and have taken on and defeated those who seek to intimidate conservatives into submission."
This discrimination against those of us on the right is rampant. Facebook has totally screwed with nearly every Conservative page while letting the liberal pages do what ever they want. The same goes for Twitter and YouTube.
It's totally out of control and unfortunately, until we are able to file a class action lawsuit for various reasons, there'snot much that we can do.
Meanwhile sites like ours and many others have been forced to scale down on the amount of people we employ.
It's seriously unbelievable.
TOGETHER WE WILL MAKE AMERICA GREAT AGAIN!
?Be sure to sign up for our FREE newsletter and we'll keep you in the loop by CLICKING HERE!?
?BE SURE TO FOLLOW AMERICAS FREEDOM FIGHTERS AT TRUTH SOCIAL– CLICK HERE!
?JOIN OUR EXCLUSIVE TELEGRAM GROUP HERE!– CLICK HERE!
➡ Also join us at TWITTER, SPREELY, PARLER, GETTR, WeGo, Gab, Codias, ANONUP, WIMKIN and WorldAnon.
DINO PORRAZZO at AMERICAS FREEDOM FIGHTERS
ADVERTISEMENT - STORY CONTINUES BELOW
God Bless.
Please take a moment and share our articles with your friends,  family and on all social media sites! Thank you, we appreciate it!
Facebook Has Banned Us!
The leftists at Facebook decided they didn't like our message, so they removed our page and are censoring us. Help us fight back and subscribe to our newsletter so that you can stay up-to-date with everything Facebook doesn't want you to see!
Disqus Comments