Thanks to a new whistleblower, Wikileaks has laid hands on and leaked 8,761 files "from an isolated, high-security network situated inside the CIA's Center for Cyber Intelligence in Langley, Virginia." In these files, there are some disturbing developments concerning what may be common electronics found in your home.
The CIA and MI5 worked together developing viruses designed to turn Samsung Smart Televisions into household bugs.  The televisions record audio and send data to covert computer servers.  This is all according to a new cache of leaked intelligence documents from the Central Intelligence Agency (CIA) published by Wikileaks. The group claims it is the largest ever release of CIA files.
PAGING GEORGE ORWELL!!! 1984 IS CALLING!!!
Forget the NSA….forget wiretapping. That Samsung smart TV? The CIA can turn the mic on and listen to everything you say. Before you plug in your Samsung Smart TV, you may want to mind your manners and refrain from saying anything the CIA may be interested in. Next thing you know, they will take our thoughts away.
ADVERTISEMENT - STORY CONTINUES BELOW
A Wikileaks bombshell report shows the CIA has developed malware that allows them to turn your Samsung Smart TV into their own personal listening device.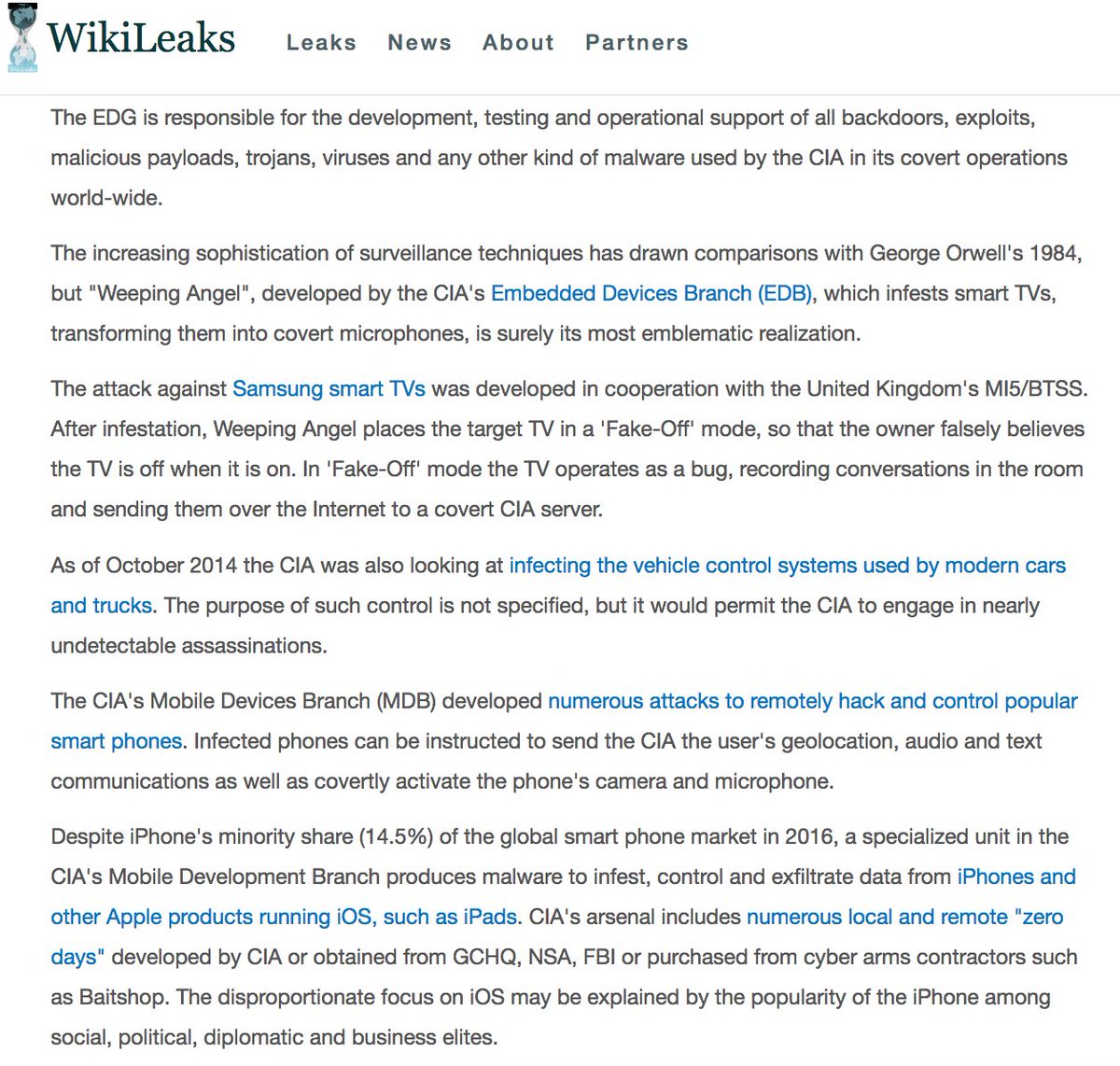 Wikileaks claims a program known as Weeping Angel was developed to infect Samsung televisions by sending them into a fake 'off' mode.  This then allows the undetected recording of conversations in the room and sending them to a secret CIA server. All totaled, the documents suggest the agency created more than 1,000 viruses, Trojans, and other types of malware.
Many of them often disguised as the work of foreign organizations, such as Russian intelligence. Wikileaks also accuses the US government of failing to abide by its commitment to advise technology companies of any identified vulnerabilities or potential backdoors, rather than hoarding and exploiting these weaknesses for use by spy agencies against the American civilian populace. Wikileaks stated that some of the more damaging and invasive elements of the program were unclassified.
ADVERTISEMENT - STORY CONTINUES BELOW
This was so applications could and would be legally spread around on the Internet for further infiltration into the American populace.
Among leaked Vault 7 documents are papers describing "weaponized" malware directed at iPhone and Android users as well.  This malware is designed to bypass the encryption used as protection by many popular apps.
It looks like MkUltra is alive and well.
According to the International Business Times, regarding the Weeping Angel program, the leaks came from former U.S. government contractors who were worried about the activities of the CIA's Center for Cyber Intelligence.
"…the possibly nefarious capability of some of Samsung's TVs was previously known. Back in 2015, it was reported that Samsung had included in its privacy policy that it could "capture voice commands and associated texts so that we can provide you with Voice Recognition features and evaluate and improve the features," according to CNET.

But there is a way to make sure your Samsung won't record you. According to CNET you can head to your television's settings menu, choose "Smart Features" and then move down to the "Voice Recognition" feature and switch it off."
God Bless.
📢JOIN OUR EXCLUSIVE TELEGRAM GROUP HERE!– CLICK HERE!
➡ Also join us at SPREELY, PARLER, GETTR, WeGo, Gab, Codias, ANONUP, WIMKIN and WorldAnon.
💥Be sure to sign up for our FREE newsletter and we'll keep you in the loop by CLICKING HERE!💥
DINO PORRAZZO at AMERICAS FREEDOM FIGHTERS
God Bless.
Facebook Has Banned Us!
The leftists at Facebook decided they didn't like our message, so they removed our page and are censoring us. Help us fight back and subscribe to our newsletter so that you can stay up-to-date with everything Facebook doesn't want you to see!
ADVERTISEMENT - STORY CONTINUES BELOW
Disqus Comments