LIVING IN THE LAND OF THE PINK, WHITE AND BLUE
Obama's mission to destroy the military and force the warped, distorted values and lifestyle of the LGBT upon the American people continues unchecked. Before he occupied the White House, the very thought that this could ever happen in America was only in the minds of the very farthest-left liberals. His queering influence has now fully infected our military, and will be the downfall of it. No nation in world history that has ever embraced homosexuality as a national attribute, as we are doing right now, has survived.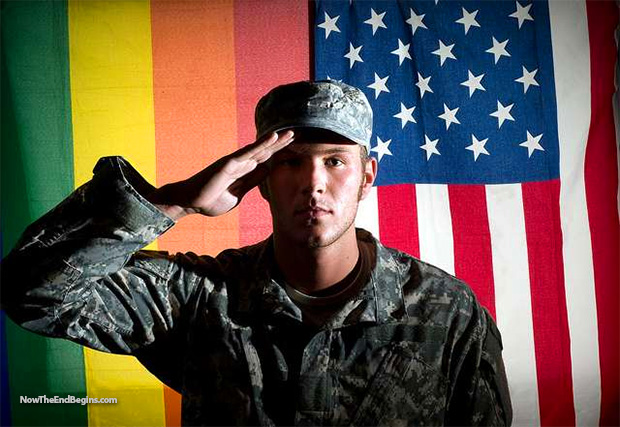 WASHINGTON — For the first time, a U.S. military color guard is expected to march alongside rainbow flags in Washington's gay pride parade. The Washington Post reports an eight-member color guard team from the U.S. Army Military District of Washington is scheduled to lead off the parade Saturday. The Department of Defense authorized the participation.
Organizers and military gay rights groups say this is a first nationwide for a gay pride parade. The color guard will present the American flag and flags of each military branch. Capital Pride organizers requested color guards in the past but were rejected.
ADVERTISEMENT - STORY CONTINUES BELOW
Pentagon spokesman Lt. Cmdr. Nate Christensen says an Armed Forces color guard did perform at the Pentagon last year for a Defense Department pride event. Another performed again Thursday for a pride event. source – Marine Corps Times.
SEE MORE AT NTEB! 
ADVERTISEMENT - STORY CONTINUES BELOW
Facebook Has Banned Us!
The leftists at Facebook decided they didn't like our message, so they removed our page and are censoring us. Help us fight back and subscribe to our newsletter so that you can stay up-to-date with everything Facebook doesn't want you to see!
Disqus Comments