Huny Badger AMERICA'S FREEDOM FIGHTERS –
Antifa called for protests against the Trump administration across the country on Saturday, sparking fear among some conservative media outlets that the Antifa, short for anti-fascists, were planning a civil war to overthrow POTUS Trump.
ADVERTISEMENT - STORY CONTINUES BELOW
All the chatter about November 4th uprising and "Civil War", all the threats by Antifa, BLM, NBP, MS-13 and Isis tactics, all were supposed to cause our streets to run with blood.
What happened? November 4th came and went and no Civil War took place, no mass gatherings and now we get to see them for what they truly are.
take our poll - story continues below
Whom do you consider to be the most corrupt Democrat Politician?
Completing this poll grants you access to America's Freedom Fighters updates free of charge. You may opt out at anytime. You also agree to this site's Privacy Policy and Terms of Use.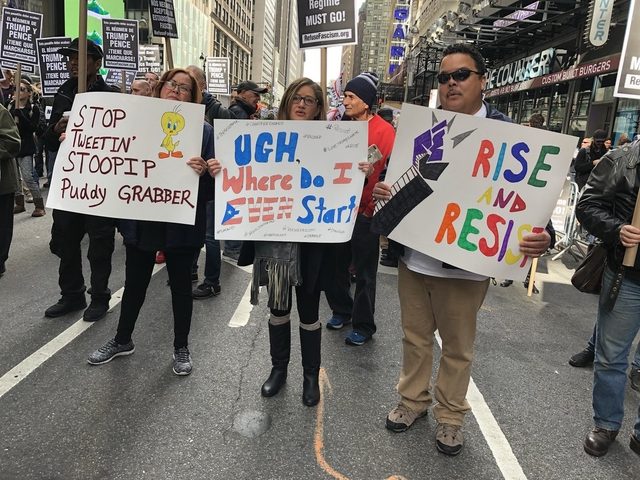 ADVERTISEMENT - STORY CONTINUES BELOW
Photo/Twitter
ADVERTISEMENT - STORY CONTINUES BELOW
Nothing but a bunch of cowards who hide in their mommy's basements and play video games, these dumbass kids act out violence and threats only when they have mass gatherings.
When it came down to it, their actions have proven all we need to know, they are nothing but cowards, misguided meatpuppets that drink from Hillary's and Obama's resistance kool-aid.  Which many believe is funded by George Soros.
As with any extreme groups, you will have the few that are true believers and they are the actual threats, the few who will take their hate and insanity out on the innocent.  The Texas church shooting on Sunday was carried out by one of the extreme Antifa psycho's.
The real problem is we tolerate such behavior and we allow these kids to throw temper tantrums and threaten everyone around them.  We allow them to throw urine on those around them at their protests, they throw rocks and sticks, bottles and attempt to physically injure innocent people.
WE TOLERATE IT, THEREFORE, WE SUFFER IT.
People have the right to Peacefully Protest once it goes beyond that, LEO is supposed to step in and shut them down and detain those who broke the law.   A few have been arrested for their criminal behavior but the rest do as they please with 0 accountability.
If America truly wants to shut them down and I mean right now, then people need to unite and go everywhere these kids do and shut them down if they go break the law.  Courts and politicians have allowed these clowns to go unchecked and even endorsed their right to throw temper tantrums.
People want the answers on how we stop these random shootings and attacks on the innocent.  Carry, get trained and practice.  Train like you fight and fight like you train, never allow yourself to be a victim!  An armed society is a polite society.
Organizers also said the effort is meant to mimic the 2011 Arab Spring uprising.
"That's the model for what we're doing," said Carl Dix said. "What we're trying to accomplish is to initiate a movement that can grow over the coming days and weeks."
The domestic terrorist group was able to muster dozens or even hundreds of protesters in some of the locations on its list of 20 deep blue cities, but we were promised a sea of humanity –"thousands becoming hundreds of thousands, and then millions" — in opposition to the "hate and bigotry of the Trump/Pence fascist regime."
What we got were the usual marching and chanting gaggles of far-left malcontents and crackpots, squawking at times through bullhorns and trying very hard to be on their best behavior — because organizers promised "peaceful protests."
But what is Antifa? The word is a literal abbreviation of "anti-fascism," also known as "Antifa." People who align themselves with the Antifa lean radically left. They are socialists, communists and anarchists who reject the message of white supremacy coming out of the White House.
Antifascists have been around for decades, disrupting protests in Europe says the days after World War II. Their philosophy is that fascism on the scale of Mussolini and Hitler is better nipped in the bud than allowed to propagate. Antifascists argue that after the horrors of slavery and the Holocaust, it is both ethically justifiable and effective to take up physical violence against those who oppose them and their beliefs.
They see it as their job to fight Nazis and other perceived fascists by almost any means necessary, sometimes even resorting to physical violence.
The black bloc is more of a tactic that an organization, though one mostly used by left-wing extremists (but also by the extreme right). they wear roughly identical clothing, mask their faces and thus make it very hard for the police to identify them.
A black bloc is a name given to groups of protesters who wear black clothing, scarves, sunglasses, ski masks, motorcycle helmets with padding, or other face-concealing and face-protecting items.  The clothing is used to conceal marchers' identities, and hinder criminal prosecution, by making it difficult to distinguish between participants. It is also used to protect their faces and eyes from items, such as pepper-spray, which law enforcement often use. The tactic allows the group to appear as one large unified mass.
Source – Breitbart
AFF's Huny Badger is a Veteran who served our country as an Army Combat Medic.
TOGETHER WE WILL MAKE AMERICA GREAT AGAIN!
Dean James III% AMERICA'S FREEDOM FIGHTERS
FOLLOW us on Facebook at Nation In Distress!
Please like and share on Facebook and Twitter!
Facebook Has Banned Us!
The leftists at Facebook decided they didn't like our message, so they removed our page and are censoring us. Help us fight back and subscribe to our newsletter so that you can stay up-to-date with everything Facebook doesn't want you to see!
Disqus Comments