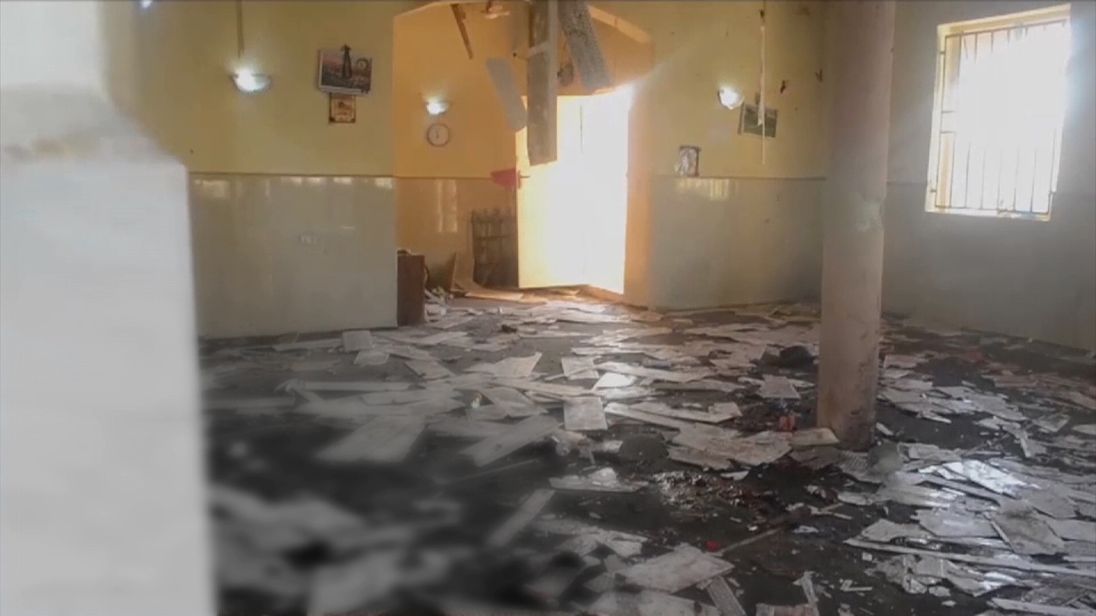 Photo credit/ Sky News
ADVERTISEMENT - STORY CONTINUES BELOW
Dean James III% AMERICA'S FREEDOM FIGHTERS –
At least 50 people were killed in a suicide bombing at a mosque in northeast Nigeria , according to police officials.
Police say the teenage bomber was gathered with worshipers who were preparing for morning prayers in the town of Mubi when he detonated his explosives – an act described by President Muhammadu Buhari as a "very cruel and dastardly suicide bombing attack".
He tweeted: "Saddened by the very cruel and dastardly suicide bombing attack in a mosque in Mubi, earlier today. My condolences to the families of the victims, and the government and people of Adamawa State. May the souls of the dead rest in peace."
take our poll - story continues below
Completing this poll grants you access to AFF updates free of charge. You may opt out at anytime. You also agree to this site's Privacy Policy and Terms of Use.
ADVERTISEMENT - STORY CONTINUES BELOW
ADVERTISEMENT - STORY CONTINUES BELOW
Police spokesman Abubakar Othman said the number of dead could rise further "as those seriously injured could add to the figure", adding that they were "still trying to ascertain the number of injured because they are in various hospitals," Sky News reported.
The explosion bore the hallmarks of a Boko Haram attack. The extremists – based in neighboring Borno state – often strike with suicide bombings in crowded public places like mosques and markets.
The Islamist extremists, based in neighboring Borno state, has been blamed for scores of similar attacks over the years, and has increasingly sent out bombers who are teenagers and young women — many of whom have been abducted, Fox News reports.
Abubakar Sule, who lives near the mosque, told Sky News he was present during the rescue operation and that 40 people died on the spot while several others were taken to a hospital with severe and life-threatening injuries.
"The roof was blown off," Sule said. "People near the mosque said the prayer was mid-way when the bomber, who was obviously in the congregation, detonated his explosives. This is obviously the work of Boko Haram."
There was no immediate comment Tuesday from Nigeria's government or military on the attack.
The latest attack is the highest loss of life since 56 people were killed in the same state last December, when two schoolgirl suicide bombers killed 56 people and wounded dozens more in a crowded market.
Boko Haram has been blamed for more than 20,000 deaths during its nearly decade-old insurgency, which has spilled over into neighboring countries and displaced millions of people, creating a vast humanitarian crisis.
We want to thank all of you wonderful PATRIOTS that support AMERICA'S FREEDOM FIGHTERS and our Facebook pages and urge all of you to keep the faith. Together we WILL MAKE AMERICA GREAT AGAIN! 
God Bless.
Here's How To Be Sure To Continue Seeing Our Content On Facebook
Dean James III% AMERICA'S FREEDOM FIGHTERS
Please like and share on Facebook and Twitter!
Facebook Has Banned Us!
The leftists at Facebook decided they didn't like our message, so they removed our page and are censoring us. Help us fight back and subscribe to our newsletter so that you can stay up-to-date with everything Facebook doesn't want you to see!
Disqus Comments