Sassy Liberty AMERICA'S FREEDOM FIGHTERS –
Many Americans have been alternately infuriated and disgusted since a military court ruled Bowe Bergdahl would avoid prison for desertion.  Bergdahl was captured by the Taliban after walking off base in 2009 while stationed at a remote post in Afghanistan. Now to add insult to injury, the U.S. Army is set to decide whether Bergdahl is entitled to as much as $300,000 in back pay and other benefits he amassed during his captivity.
Bergdahl, a 31-year-old soldier from Hailey, Idaho, testified to being caged by his Taliban captors while kept in darkness and beaten repeatedly. He claims he tried to escape more than a dozen times before former President Barack Obama brought him back to the U.S. in a swap for 5 Taliban prisoners being held at Guantanamo Bay. Many Americans vehemently objected citing Bergdahl's desertion of his unit as the reason for his capture.
ADVERTISEMENT - STORY CONTINUES BELOW
take our poll - story continues below
Completing this poll grants you access to AFF updates free of charge. You may opt out at anytime. You also agree to this site's Privacy Policy and Terms of Use.
Bergdahl was demoted from sergeant to private in a court decision earlier this month but spared prison, as well as being given a dishonorable discharge for his actions that led up to his capture. President Trump was very vocal in his disapproval of the ruling calling it a "complete and total disgrace."
Captive soldiers or Prisoners of War under normal circumstances would receive special compensation totaling approximately $150,000.  This is in addition to hostile-fire pay and their basic pay they accumulated during the captivity. However, U.S. Army officials state whether or not Bergdahl should receive the back pay is not a clear-cut issue. The State Department listed Bergdahl as "Missing-Captured" for several days after his capture until the terror group released a video showing he was alive.
ADVERTISEMENT - STORY CONTINUES BELOW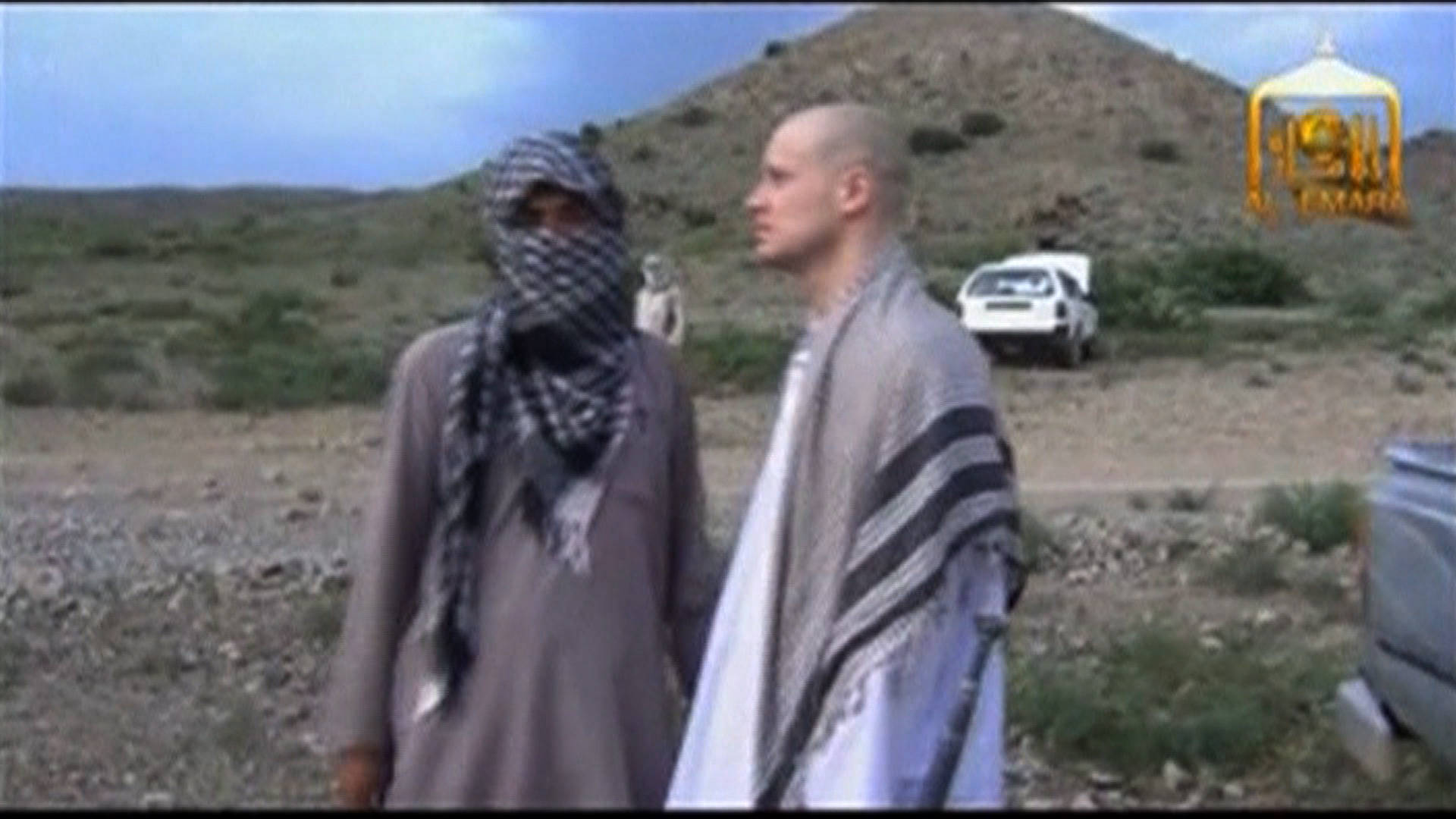 Bergdahl pled guilty to desertion, which per military officials complicates whether he could technically be considered a prisoner of war and therefore entitled to back pay and additional compensation.
ADVERTISEMENT - STORY CONTINUES BELOW
An army official told the Army Times – 
"My understanding is there has to be an administrative determination of his duty status at each point, from the time he was captured until now. In order to figure out what he's owed, you're basically going to have to start from that point of captivity."
It is also possible that Bergdahl may not receive the additional compensation, but would be given his accumulated base pay from during his five-year captivity. The third possibility is Bergdahl may not even be eligible for basic back pay as a result of his desertion and could potentially even owe money to the military.  The Army could determine Bergdahl is owed no compensation for his time in captivity and that he may have even been overpaid since his return to the U.S.
Lt. Col. Randy Taylor states –
"Based upon the results of trial, the Army is reviewing Sgt. Bergdahl's pay and allowances. His final pay and allowances will be determined in accordance with DoD policy and Army regulation."
Bergdahl's actions that led to the death of 6 U.S. soldiers and the permanent confinement of another to a wheelchair for the rest of his life. Many Americans will never forget that, especially not those who have served or lost loved ones in military service.
For that reason, we remember those of the 4th BCT that did their best to serve their country and rescue a deserter in a search mission to comb two villages for information related to Bergdahl days after he disappeared.-
Staff Sergeant Kurt Curtiss, 27, of Murray, Utah, died Aug. 26 in Paktika Province, Afghanistan, of wounds suffered when he was shot while his unit was supporting Afghan security forces during an enemy attack.
2nd Lieutenant Darryn Andrews, 34, of Dallas, Texas, died Sept. 4 in Paktika Province when enemy forces attacked his vehicle with an improvised explosive device and a rocket-propelled grenade.
Staff Sergeant Michael Murphrey, 25, of Snyder, Texas, died Sept. 6 in Paktika province after being wounded by an IED.
Private 1st Class Matthew Martinek, 20, of DeKalb, Ill., was seriously wounded on Sept. 4, 2009, in Paktika province when Taliban forces attacked his vehicle with an improvised explosive device, a rocket-propelled grenade, and small-arms fire. He was rushed to Landstuhl Regional Medical Center in Landstuhl, Germany where he died a week later on Sept. 11, 2009.
National Guard Master Sgt. Mark Allen still lives but his life will never be the same.  During the mission to gather information in the two villages in July 2009, they were ambushed by insurgents using small arms, machine guns, and rocket-propelled grenades. Allen was attempting to make a radio call and was shot near his temple.  As a result, he suffered a traumatic brain injury leaving him unable to speak, confined to a wheelchair, and dependent upon assistance for ordinary tasks such as simply getting out of bed in the morning.
National Guard Staff Sgt. Jason Walters gave emotional testimony at Bergdahl's trial about treating his friend's wound on the battlefield. Walters testified, "I watched just as a cloud of his blood came out the side of his head. I grabbed a pressure bandage and started. Sorry ma'am," he told a prosecutor before pausing and resuming testimony. "I started treating his wound … telling him to hang on."
Former Army Cpl. Jonathan Morita also gave testimony at Bergdahl's trial describing how his hand was shattered by a rocket-propelled grenade.  Even after multiple surgeries, Morita still does not have full use of his right hand. His thumb had to be sewn back on and he cannot bend it or his index finger. He described having to relearn basic things like how to write and brush his teeth with limited mobility in his dominant hand.
Retired Senior Chief Petty Officer James Hatch (former Navy SEAL) explained at Bergdahl's trial that his team had 90 minutes to plan a separate search mission under poor conditions but felt that mission was vital because you do not leave a man behind.  Hatch explained – "I did not want Sgt. Bergdahl's mother to see her son executed on YouTube."  Hatch went on to tell of their helicopters coming under fire as they were landing near the border of Pakistan.  He described being hit in the leg by AK-47 fire and a military dog that helped locate enemy fighter was killed. Hatch will never again have full mobility in his leg, walking with a noticeable limp. He credits his team for saving him from bleeding to death due to the quick application of a tourniquet.
Military justice can be swift and merciless, however, that seems not to apply in Bergdahl's case, much to the disgust of many Americans. Now adding insult to injury, all but spitting on the memory of those that sacrificed so much in an attempt to rescue someone that voluntarily walked away, America may have to pay this deserter as well.
FOLLOW us on Facebook at Nation In Distress!
Dean James III% AMERICA'S FREEDOM FIGHTERS
Copyright 2017 Americas Freedom Fighters/ AFF Media. All rights reserved. This material may not be published, broadcast, rewritten or redistributed without expressed permission.
Please share this on Facebook and Twitter!
Facebook Has Banned Us!
The leftists at Facebook decided they didn't like our message, so they removed our page and are censoring us. Help us fight back and subscribe to our newsletter so that you can stay up-to-date with everything Facebook doesn't want you to see!
Disqus Comments