Sassy Liberty AMERICA'S FREEDOM FIGHTERS –
Protesters, including those affiliated with the hate group known as Black Lives Matter, showed up at a Washington, D.C. public school today in their efforts to harass, harangue, and heckle newly appointed Education Secretary Betsy DeVos.
These people physically prevented Mrs. DeVos from entering the Jefferson Middle School Academy by blocking her with their bodies on Friday morning.
ADVERTISEMENT - STORY CONTINUES BELOW
They yelled and hurled insults at her with one protester screaming, "She doesn't represent anything that they stand for," this was followed by continued chants, of "shame, shame, shame."
take our poll - story continues below
Whom do you consider to be the most corrupt Democrat Politician?
Completing this poll grants you access to AFF updates free of charge. You may opt out at anytime. You also agree to this site's Privacy Policy and Terms of Use.
When Mrs. DeVos and her team encountered the protesters at the back entrance of the school, they quickly turned around and headed towards their vehicle in an effort to circumvent a confrontation or any sort of escalation of potential violence.
ADVERTISEMENT - STORY CONTINUES BELOW
They were followed and yelled at by the so-called "peaceful" protesters. One protester holding a Black Lives Matter sign, who repeatedly screamed, "Shame," and tried to block the vehicle as they tried to leave.
ADVERTISEMENT - STORY CONTINUES BELOW
"Protesters not allowing Betsy DeVos' advance team near SW DC school where she's expected to visit."
Protesters not allowing Betsy DeVos' advance team near SW DC school where she's expected to visit pic.twitter.com/dC6m2IGbCc

— Sam Sweeney (@SweeneyABC) February 10, 2017
DeVos was also reportedly physically assaulted by one of the protesters as she tried to leave the school.
Sec. DeVos physically blocked by protesters from entering DC school–turned away and left. Unclear if she attempted another door. @ABC7News pic.twitter.com/buNgmOJbya

— Sam Sweeney (@SweeneyABC) February 10, 2017
Mrs. DeVos was eventually able to make it inside the school with minimal incident. This was her first visit to a public school since her confirmation hearing was held earlier this week on Tuesday.
Police who tried to assist on the scene were assaulted by at least one adult male at Jefferson Academy, that altercation led to an arrest, according to local ABC affiliates.
.@DCPoliceDept says adult male was arrested for assaulting a police officer outside #JeffersonAcademy. #DeVos

— Tim Barber (@ABC7TimBarber) February 10, 2017
Several videos made their way to social media showing police clashing with protesters as they continued to try to block the vehicle carrying Mrs. DeVos, defying orders to move aside or to stand down.
The Washington Teacher's Union claims no affiliation to these protesters despite ardent opposition of Mrs. DeVos' confirmation. The teachers' union also resolutely disavowed any and all associations with the protesters that blocked Mrs. DeVos' vehicle. According to local ABC affiliate WJLA, the union members, greeted the education secretary in peace and said they hoped she would be successful, despite their initial opposition to Mrs. DeVos' confirmation.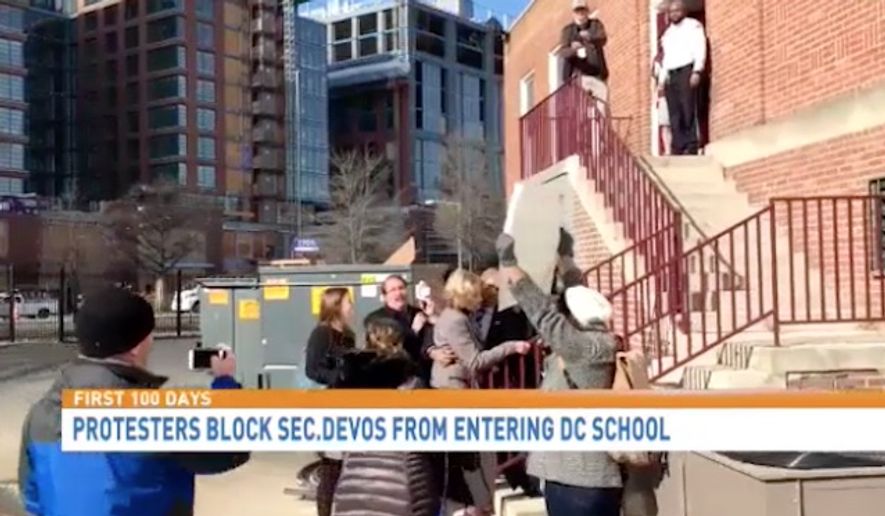 Mrs. DeVos herself acted with grace under pressure and attempted to avoid confrontation so as to keep the focus of the day on the students where it needs to be.  She issued a statement about Friday's events thanking Jefferson Academy officials for welcoming her to their campus –
"Great teachers and leaders help make great schools, and I was honored to speak with Jefferson's team about our shared commitment to strengthening public education. I respect peaceful protest, and I will not be deterred in executing the vital mission of the Department of Education. No school door in America will be blocked from those seeking to help our nation's school children."
Handful of protesters now standing in front of SW DC middle school ahead of visit by Sec. Betsy DeVos pic.twitter.com/uzhuyeXEeE

— Sam Sweeney (@SweeneyABC) February 10, 2017
It's interesting to note the level of protest levied here, at this school, in this area – our nation's capital.  The Washington, D.C. school districts are consistently some of the lowest testing, lowest performing, most under achieving students in the nation.  They are also are some of the most impoverished – yet they are protesting change or any attempts to assist them to make their lives better by means of a quality education?  If these folks are truly not affiliated with the school or with the Washington, D.C. school system, perhaps they may want to take a long hard look as to just why it is so vital to attack their school system in this manner.
This, my friends, is today's Democrat Party – a bunch of uninformed, group-thinking, violent bullies who will stop at nothing to get their own way. This is not how Americans behave, and these people should be ashamed of themselves.
God Bless.
Here's How To Be Sure To Continue Seeing Our Content On Facebook
TOGETHER WE WILL MAKE AMERICA GREAT AGAIN!
Dean James III% AMERICA'S FREEDOM FIGHTERS
Please like and share on Facebook and Twitter!
Facebook Has Banned Us!
The leftists at Facebook decided they didn't like our message, so they removed our page and are censoring us. Help us fight back and subscribe to our newsletter so that you can stay up-to-date with everything Facebook doesn't want you to see!
Disqus Comments