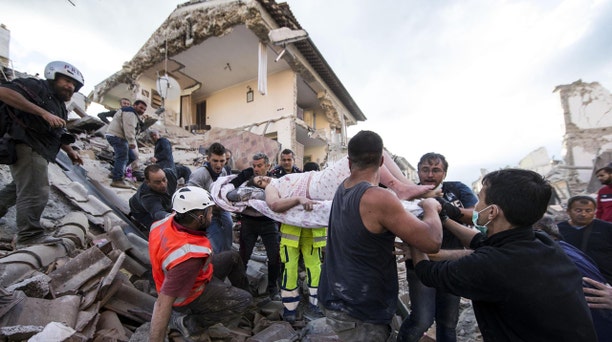 Powerful 6.2 magnitude earthquake rocks central Italy…
By Brett MacDonald AMERICA'S FREEDOM FIGHTERS–
ADVERTISEMENT - STORY CONTINUES BELOW
A powerful earthquake reportedly killed more than 240 people and destroyed a cluster of small mountain villages in Central Italy early Wednesday, and the death toll is expected to rise as rescue workers are frantically digging through the rubble and searching for survivors.
take our poll - story continues below
Completing this poll grants you access to AFF updates free of charge. You may opt out at anytime. You also agree to this site's Privacy Policy and Terms of Use.
Among the hardest hit towns was Amatrice, a village of 2,700 in the province of Rieti. Survivors painted a grim picture of devastation following the magnitude 6.2 quake, which struck at 3:36 a.m. and was felt as far away as Rome, FOX reports.
ADVERTISEMENT - STORY CONTINUES BELOW
"The town isn't here anymore," said Sergio Pirozzi, the mayor of Amatrice. One witness described apocalyptic scenes "like Dante's Inferno."
While the full extent of casualties is still emerging, Italy's civil protection agency reported the death toll had risen to 241 early Thursday with at least 264 others hospitalized. Most of the dead — 184 — were in Amatrice. Authorities revised downward an earlier figure of 247 after one of the affected areas corrected its toll.
ADVERTISEMENT - STORY CONTINUES BELOW
Amatrice, birthplace of the famed spaghetti all'amatriciana bacon-tomato pasta sauce, is made up of 69 hamlets that rescue teams were working to reach. The center of the city was devastated, with entire buildings razed and the air thick with dust and smelling strongly of gas.
Towns across three regions — Umbria, Lazio and Marche — were devastated by the quakes, which could be felt as far away as Bologna in the north and Naples in the south. The towns of Accumoli, Amatrice, Arquata del Tronto and Pescara del Tronto were reported to be among the most heavily damaged.
In Amatrice, rocks and metal tumbled onto the streets and dazed residents huddled in piazzas as some 39 aftershocks jolted the region into the early morning hours, some as strong as 5.1.
As daylight dawned, residents, civil protection workers and even priests began digging out with shovels, bulldozers and their bare hands, trying to reach survivors. There was relief as a woman was pulled out alive from one building, followed by a dog.
"We need chain saws, shears to cut iron bars, and jacks to remove beams: everything, we need everything," civil protection worker Andrea Gentili told The Associated Press. Italy's national blood drive association appealed for donations to Rieti's hospital.
A video posted to YouTube by the State Forestry Corps showed a woman trapped under debris in the rural town of Capodacqua, as a man encouraged her to remain calm.
https://www.youtube.com/watch?time_continue=20&v=CKjSL1Qsjuc
The New York Times reports that the village of Pescara del Tronto was all but destroyed.
"When I arrived at the break of day, I saw a destroyed village, screams, death," Bishop Giovanni D'Ercole of Ascoli Piceno, who visited the village,told Vatican Radio. He said he had blessed "the bodies of two children buried under the rubble."
Prime Minister Matteo Renzi, in brief remarks from Rome, said he would head toward the epicenter of the quake later on Wednesday. He thanked rescue workers and volunteers who had dug through debris, some with their bare hands, to reach trapped people, and he said the nation had rallied to help. "No family, no city, no hamlet will be left alone," he said.
Expressions of solidarity and offers of help poured in from France,Germany, Israel and other countries, as well as from the European Commission.
Ambulances raced back and forth on one of the main roads to Amatrice, where a courtyard in a still-standing palazzo had been turned into an impromptu morgue.
We will be actively updating you about this as the story develops. Thoughts and prayers go out to the victims, I'm sure the world will help them recover. 
This article was written by Brett MacDonald. If you enjoyed this story or did not, hate mail can be left in the comments below and the author totally won't ignore it.  
Compliments or questions may be sent to @ TweetBrettMac. on Twitter!
VOTE FOR DONALD J. TRUMP! TOGETHER WE WILL MAKE AMERICA GREAT AGAIN!
Dean James III% AMERICA'S FREEDOM FIGHTERS
Please like and share on Facebook and Twitter!
Facebook Has Banned Us!
The leftists at Facebook decided they didn't like our message, so they removed our page and are censoring us. Help us fight back and subscribe to our newsletter so that you can stay up-to-date with everything Facebook doesn't want you to see!
Disqus Comments