Kit Daniels Infowars.com       AMERICAS FREEDOM FIGHTERS!
The Federal Emergency Management Agency is looking to spend millions on manufactured homes that can be "quickly built and deployed" to any state in America which also have "the added potential to become permanent housing."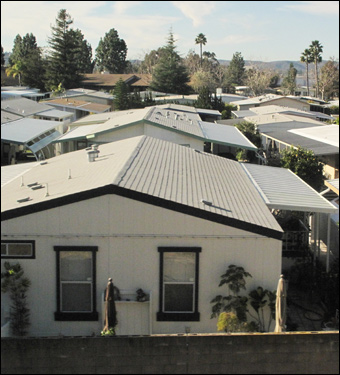 Instead of trailers, FEMA is seeking manufactured homes that can become permanent housing. Credit: Downtowngirl via Wiki 
ADVERTISEMENT - STORY CONTINUES BELOW
Agency wants up to 150 manufactured homes per week delivered "anywhere in the U.S."
In a presolicitation posted yesterday on FBO.gov, FEMA stated that it intends to "award multiple contracts" worth up to a half-billion dollars for an "indefinite quantity" of one bedroom, two bedroom and three bedroom manufactured homes that can be "installed anywhere in the continuous United States" as well as Washington, D.C.
Contractors awarded under a full and open competitive bid process "shall have the ability to ramp up production to a total of 150 units per week … within a four week notice," the announcement said, adding that each contractor "must have the capability of delivery to any state in the U.S."
Unlike the travel trailers deployed in the aftermath of Hurricane Katrina, these are full-size homes which are typically transported by tractor trailers with "Oversize Load" signs.
"Manufactured homes can be quickly built and deployed as temporary housing and also have the added potential to become permanent housing," FEMA's Disaster Relief Housing manual states, which listed them at their top-tier of housing types.
ADVERTISEMENT - STORY CONTINUES BELOW
This notice is simply the latest in FEMA's recent preparations for a major pandemic in America.
Last month, FEMA sought companies that could provide operational duties for a "motor coach evacuation of the general population" in response to a government-declared emergency.
One of these duties consists of performing security at "a staging and operational area in the event of a no-notice, life threatening event that requires the contractor's immediate or rapid deployment."
FEMA also wanted bio-medical waste experts who could collect and remove bio-hazardous materials during a national emergency.
And the agency also unsuccessfully sought contractors who could provide 100,000 medical scrubs to 1,000 make-shift tent hospitals nationwide on a 48-hour notice.
The contractors that responded said it was impossible for them to fulfill such an Armageddon request.
FEMA even contacted My Patriot Supply back in August in an attempt to secure overnight deliveries of bulk food reserves.
Unlike the aforementioned solicitations, which were all made on FBO.gov, FEMA contacted the company's owner, Matt Redhawk, directly.
"I'm not one to cry that the sky is always falling, but when DHS/FEMA make a move to quietly buy up emergency food supplies and ask how much we can ship within 24 hours, I think this is far enough outside the realm of what is 'normal' to beg some questions," Redhawk said.
These large-scale purchases indicate that FEMA is not just making routine emergency preparations but is rather gearing up for a major crisis which will involve mass relocation and perhaps even detainment of the public!!! 
Facebook Has Banned Us!
The leftists at Facebook decided they didn't like our message, so they removed our page and are censoring us. Help us fight back and subscribe to our newsletter so that you can stay up-to-date with everything Facebook doesn't want you to see!
ADVERTISEMENT - STORY CONTINUES BELOW
Disqus Comments