Mugshot / Emanuel Kidega Samson
Sudanese Muslim Shoots Up Tennessee Church Kills Mom of 4, Stopped By Man With a GUN…
ADVERTISEMENT - STORY CONTINUES BELOW
Sassy Liberty AMERICA'S FREEDOM FIGHTERS –
22-year-old Robert Caleb Engle is being hailed a hero.  An usher at Burnette Chapel Church of Christ on Pin Hook Road in Antioch, Tennessee and a legal gun carrier.  Engle risked his own life to stop a gunman, now identified as Emanuel Kidega Samson. While they struggled, Samson was shot in the chest with his own pistol.
take our poll - story continues below
Whom do you consider to be the most corrupt Democrat Politician?
Completing this poll grants you access to America's Freedom Fighters updates free of charge. You may opt out at anytime. You also agree to this site's Privacy Policy and Terms of Use.
When Engle saw the shooting he did not run away, he ran towards danger in an effort to head it off and save lives.  According to Metro Nashville Police Department spokesman, Don Aaron – "There was a significant struggle between the two." Samson pistol-whipped Engle during the struggle causing Engle to bleed profusely from a head injury.
But that injury did not stop Engle and Nashville police chief Steve Anderson said Engle was a hero.
ADVERTISEMENT - STORY CONTINUES BELOW
"He's the hero here, he's the person who stopped this madness in its tracks."
Engle was severely injured but is now in stable condition and police had nothing but praise for Engle calling him "exceptionally brave" for his actions. After being pistol-whipped and while bleeding from a head injury, Engle ran outside to his car and retrieved his own firearm according to police reports.  Samson was already suffering from a gunshot wound at this point but Engle was able to hold him at gunpoint himself while waiting for police to arrive.
Nashville police Chief Steve Anderson on Caleb Engle, 22: "He's the hero here. He's the person who stopped this madness in its tracks." pic.twitter.com/8SOgYg2xn6

— Natalie Allison (@natalie_allison) September 24, 2017
Samson was parked at the church for 20 minutes before beginning his attack. 42 people were in attendance at the church on Sunday when Samson opened fire. The gunman, with his blue Nissan Xterra still running in the parking lot, then entered the back of the church and shot six people – three women and three men with 2 handguns wearing a mask and firing multiple rounds just after 11:00 a.m.
Police said that Burnette Chapel churchgoers recognized Samson as attending their church one to two years ago, but noted he had not attended services "in quite a while." Due to the neoprene ski mask he wore, they did not immediately recognize him.
10-year-old Jeremiah Reese helped his teacher barricade the classroom until police arrived. The little boy and his family all survived the attack and he described the events stating –
"When I realized they were alive, I just started pouring out crying. I realize I'm 10 and I'm supposed to be tough but I just couldn't hold it in though, I just couldn't hold it in."
Metropolitan Nashville Police Department tweeted that Samson had been released from the hospital and will be charged with murder and attempted murder. Additional charges may be pending. The U.S. Department of Justice has opened a civil rights investigation into the shooting at the predominantly white church as there is a belief that the shooting may have been racially and religiously motivated. There have been comparisons made to church shooter Dylan Roof already. 21-year-old Roof attacked a historic black church in Charleston, South Carolina in June 2015. He entered a Bible study killing nine people. A jury sentenced him to death in January 2017,  and he is now on death row in Terre Haute, Indiana.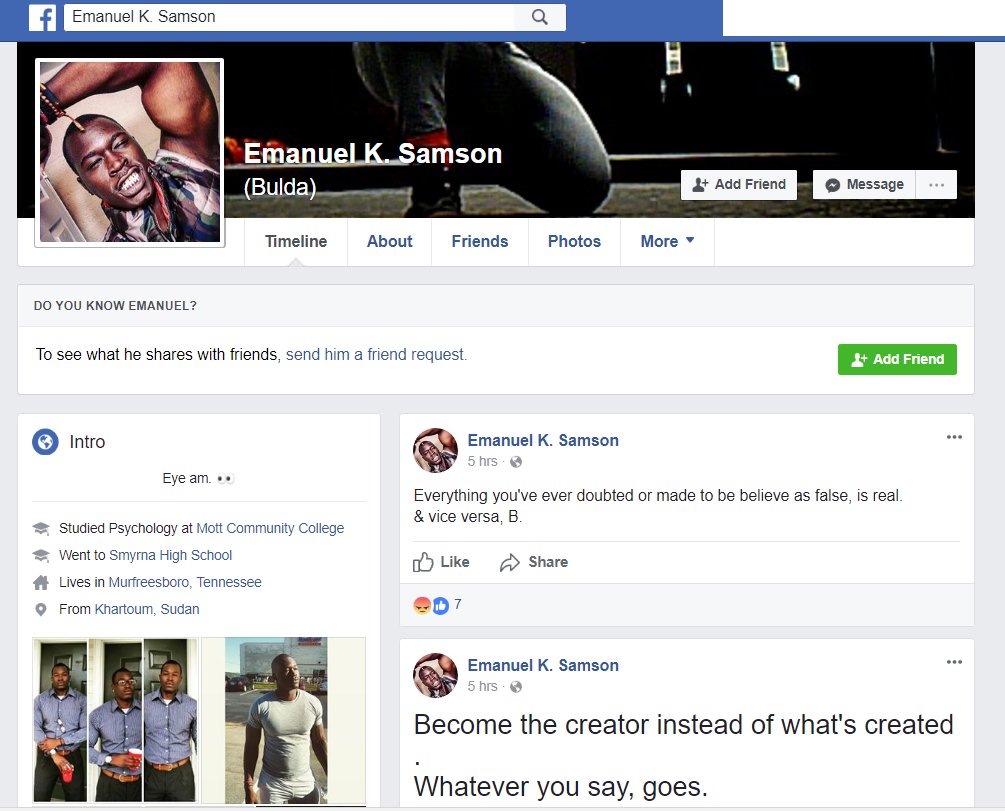 David Boling, a spokesman for the U.S. Attorney's Office states –
"The Memphis FBI Field Office's Nashville Resident Agency, the Civil Rights Division, and the US Attorney's Office for the Middle District of Tennessee have opened a civil rights investigation into the shooting at the Burnette Chapel Church of Christ. The FBI will collect all available facts and evidence."
BREAKING: Alleged church shooter Emanuel Kidega Samson is being transported to jail. pic.twitter.com/Hdhzt5dkh4

— Metro Nashville PD (@MNPDNashville) September 24, 2017
In a post from Engle's Facebook page dated September 15, Engle shared a meme demonstrating his support for the Second Amendment stating –
ADVERTISEMENT - STORY CONTINUES BELOW
"When law-abiding citizens conceal & carry — criminals are confused. When law-abiding citizens reveal & chamber — criminals flee. When law-abiding citizens practice using their weapon — all people are safer."
Engle said in a statement to WSMV News Channel 4 that he did not consider himself a hero, stating –
"I've been going to this church my whole life, since I was a small child. I would have never, ever thought something like this would have happened. I ask everyone to pray for the victims, family members of the victims, our church community. Please pray for healing. Also, please pray for the shooter, the shooter's family and friends. They are hurting as well. 

I pray that through all of this that people will come to know Christ and I ask our nation to reflect on Romans 8:31:  'If God is for us, who can be against us?' I do not want to be labeled a hero.  The real heroes are the police, first responders and medical staff and doctors who have helped me and everyone affected. My hope is for privacy for all involved."
More to come as this case continues to develop.  Samson's next court date is set for September 27, 2017, in front of Judge Rachel L. Bell in Davidson County General Sessions Criminal Court.  His case number is GS829030.
Police identified those being treated at Vanderbilt University Medical Center to be in critical but stable condition as William Jenkins, Marlene Jenkins, Peggy Spann, and Linda Busch, and David Spann.  Katherine Dickerson was in stable condition at Skyline Medical Center. Engle was also being treated at Skyline. Joey Spann is the pastor of the church located in the Nashville suburb. With the exception of one person, all of those wounded in the shooting are over the age of 60.
The woman who was shot and killed in the church parking lot walking to her car, dying on the scene was identified as Melanie Crow Smith.  She leaves behind two children and a husband and was considered a devout Christian woman by those that knew her.  She will be sadly missed by her family, friends, church, and her community.
Breanna Smith, 19, and RJ Smith, 12, will now go on without their mother due to the actions of Samson.  RJ stated of his mother's untimely passing and murder at the hands of Samson –
"It's something you never expect. I thought she'd live till she's 90 but things just don't go the way you expect it."
When asked about Samson and his actions that led to his murder of her mother, she stated –
"There's no understanding, why he did it. Everybody is looking for why, why, why. There's no understanding evil, there's no understanding hate."
Samson is a 25-year-old man who immigrated from Karthoum, Sudan two decades ago in 1996 as a child and was a legal resident of the United States. Sudan is 97% Muslim and Samson is believed to have come from a Muslim home. Samson's Facebook page reveals a very troubled young man. He shared a number of pro-Islamic posts, including a video in which a Muslim activist defends Sharia law.
On February 17th, Samson shared a video of Muslim activist Yasmeen Abdel-Magied defending Sharia law against Australian Senator Jacqui Lambie. Samson wrote "You can't converse with some people, that's the unfortunate truth. Folk will accept what you have to say when they want/ready to." His posts also frequently took on an anti-western bent with at least one giving praise to Zimbabwean dictator Robert Mugabe for his wealth confiscation efforts, posting that "Zimbabwe was taking its diamonds back." His last Facebook posts before the shooting, at 10:26 AM and 10:22 AM. The shooting was reported at 11:15 AM.
His posts consistently reveal racist racially charged rhetoric, support for Louis Farrakhan and the Nation of Islam, as well as talks about how Dutch gangsters took the lands from Africans, quoting the words of Julius Malema stating that "…we must take the lands without compensation."
Samson also posted a video clip from Mic on February 27, 2017, stating "You're more likely to be killed by a white man than a Muslim terrorist."
Some odd consistencies have been noticed regarding Samson's social media though.  Around 2010, pro-Christian posts started to pop up with likes on Christian pages and groups like "I love Jesus," "Jesus the Savior," and "Left Behind: The Movie." It is unknown if Samson had some kind of "conversion experience and was later radicalized back to the Muslim faith of his childhood due to fear or for some other reason? Or if Samson was merely making a study of his intended victims and scoping out the scene of his crime in advance. 
How does a boy flee a war-torn country that is 97% Muslim, from a Muslim family from all appearances according to his social media posts, yet begins to attend a Church of Christ writing posts on social media about his dreams of becoming a preacher, with likes showing he likes the Bible, Jesus Christ, and a host of Christian things — fast forward to the last 1-2 years?  Now he is defending Shariah law, citing racism and anti-police rhetoric, pro-Communist posts, Nation of Islam, showing love for African dictators and their brutality towards the people — I thought his family fled that?
He has been denied bond, yet it appears he has a hearing on September 27 to discuss "settlement" after an affidavit is filed with the courts where it shows he fully confessed and waived his rights? Who does this and WHY? At this point we have more questions than answers….this is a developing story.  More to come as more information is available.
FOLLOW us on Facebook at Nation In Distress!
Dean James III% AMERICA'S FREEDOM FIGHTERS
Copyright 2017 Americas Freedom Fighters/ AFF Media. All rights reserved. This material may not be published, broadcast, rewritten or redistributed without expressed permission.
Please share this on Facebook and Twitter!
Facebook Has Banned Us!
The leftists at Facebook decided they didn't like our message, so they removed our page and are censoring us. Help us fight back and subscribe to our newsletter so that you can stay up-to-date with everything Facebook doesn't want you to see!
Disqus Comments