By Susan Duclos
ADVERTISEMENT - STORY CONTINUES BELOW
[Update] Bundyranch17 has updates: 3 hrs ago they Tweeted "If you are headed to #BundyRanch and can get satellite phones, they are very much needed. #RangeWar #Blackout." 
1 Hour ago – "I know a lot of people have been asking for a live feed. Please be patient, I am trying to get something set up…http://fb.me/6puEZj85N"
[Update #2] Appears that like magic the phones are working again but only for some… is this a test to see how long the government would have before word spread?  No word on whether "some" were experiencing hot spot issues or if this was, indeed, done deliberately. Also no word as to whether everyone has service back again.
[Update #3] We are hearing that cell service is not down and a member of the Bundy family has been contacted to verify that cell service is up and working. No explanation given as to why it was not working for some and seems to work fine for others, other than possibly hot spot issues. Will update if further information becomes available.
Original article below
If this is true then the government is nearing their endgame and do not want the world to witness what comes next. Prison Planet's Paul Joesph Watson sent out a tweet, shown below, which says the Bundy family is reporting that the government has shut down the cell towers to prevent communications and video uploads from being shared with a country that is watching a government terrorist attack against the last rancher standing in the Bunkerville area of Nevada.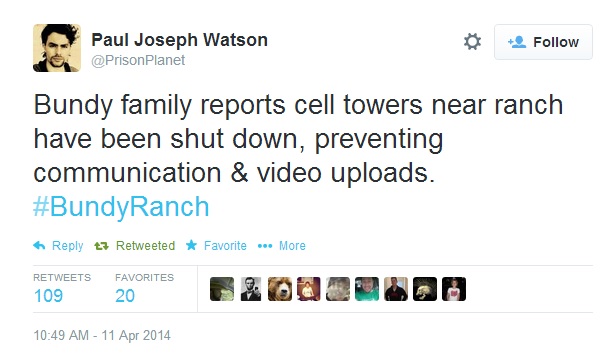 Should this be true and not some coincidental hot spot issue, then the government wants to make sure that their actions are not shared until they can get their side of the story out. Perhaps a false flag claim that the militia or the Bundy's fired first?
We have already seen Commissioner Tom Collins state that people headed to the Bundy ranch to support the family from the terrorist acting Bureau of Land Management, should "have funeral plans," and the militias stating they are prepared to shoot if it becomes necessary.
[Update] Prison Planet's video on this just came out, shown as first one below.
Via the details from the video above:
Will the feds resort to staging violence in order to frame Cliven Bundy and his supporters?
With hundreds of "militia members" heading to Nevada, the possibility of the feds inserting provocateurs posing as protesters in order to demonize Bundy's cause is a major threat.
ADVERTISEMENT - STORY CONTINUES BELOW
Remember, Ed and Elaine Brown mistakenly invited U.S. Federal Marshals posing as supporters into their own home before they were arrested.
https://www.youtube.com/watch?v=8m-rjeSCXhU
I will repeat from a previous article:
More numbers to call from Thursday's article:
Bureau Of Land Management Phone Number:  (202) 208-3801
Brian Sandoval Email Contact Form- http://gov.nv.gov/Contact/Governor/
Brian Sandoval – Carson City Phone # – (775) 684-5670
Brian Sandoval Las Vegas Phone # -(702) 486-2500
Senator Dean Heller Contact Form – http://www.heller.senate.gov/public/index.cfm/contact-form
Phone #'s For Heller – Reno: 775-686-5770/ Las Vegas: 702-388-6605/ Washington: 202-224-6244
Sheriff Douglas Gillespi – (702) 828-3231 or (702) – 828 – 3111
Email: Sheriff@lvmpd.com
Steny Hoyer: Phone – (202)- 225-4131
Steny Hoyer Email Contact Form – https://hoyer.house.gov/email-steny
FLOOD THEIR PHONES, EMAILS, FAXES AND IF CLOSE ENOUGH, GO TO THEIR OFFICES IN PERSON AND HAVE A LITTLE CHAT WITH THESE PEOPLE.
Susan Duclos owns/writes Wake up America 
Facebook Has Banned Us!
The leftists at Facebook decided they didn't like our message, so they removed our page and are censoring us. Help us fight back and subscribe to our newsletter so that you can stay up-to-date with everything Facebook doesn't want you to see!
ADVERTISEMENT - STORY CONTINUES BELOW
Disqus Comments