Sassy Liberty AMERICA'S FREEDOM FIGHTERS –
Federal prosecutors have failed to obtain convictions in the Bundy Ranch standoff trial after trying the case for the second time are refusing to give up.  It seems that even after a jury has acquitted and dismissed the charges on not one but TWO separate occasions, these despotic tyrants in suits will continue to retry the case until the DO obtain a conviction.
The U.S. Attorney's Office in Las Vegas confirmed Wednesday it will go back to court for the third time in their efforts to obtain a conviction against two men accused of taking up arms against federal agents.
ADVERTISEMENT - STORY CONTINUES BELOW
Just 24 hours prior, a jury acquitted the two defendants and dismissed the most serious charges against two others.  Federal prosecutors have now decided to proceed with retrying these men on still outstanding weapons and assault charges.   All of these defendants including Nevada rancher Cliven Bundy and his sons Ammon and Ryan Bundy have spent 18 months in prison while federal prosecutors try their case over and over and over again.  Using tax payer money to justified the government's continued encroachment on private property with the Bureau of Land Management.
take our poll - story continues below
Whom do you consider to be the most corrupt Democrat Politician?
Completing this poll grants you access to America's Freedom Fighters updates free of charge. You may opt out at anytime. You also agree to this site's Privacy Policy and Terms of Use.
This move will also push the trials back for 11 other defendants involved in the 2014 Bundy Ranch standoff.  Even if they are finally allowed to go free, they will likely be ruined financially and it seems federal authorities will be looking for just about anything to make an example of them.  This is what awaits for those that dare defy the tyrannical political despots in Washington.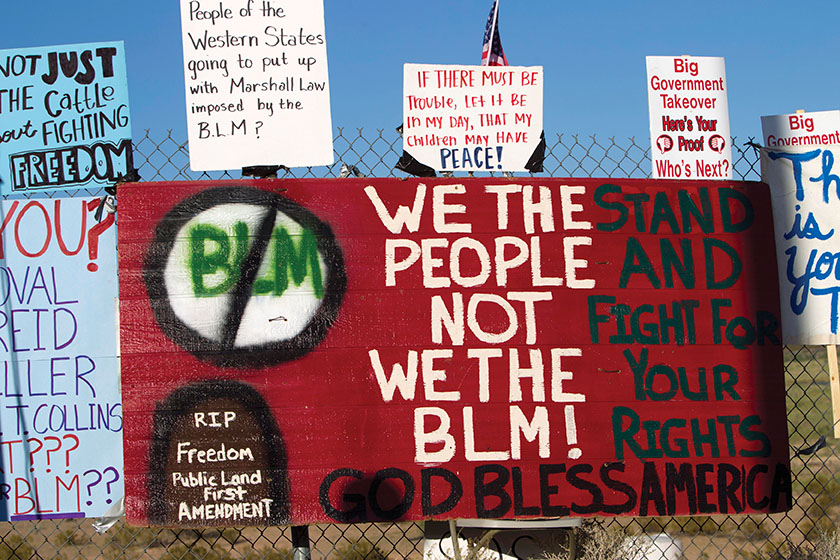 ADVERTISEMENT - STORY CONTINUES BELOW
O. Scott Drexler and Eric Parker, both of Idaho, were released from prison Tuesday night after a jury acquitted them of conspiracy and extortion.  These two charges were the key elements of the government's case against them. The two men had a rude awakening on their first morning of freedom though when they found out they had been ordered back to court on September 25 to face additional charges. These charges had the jury deadlocked during the 2nd trial.
Stories have emerged from the courtroom of highly unethical, unprofessional, and very unnecessary behavior showing that federal prosecutors are taking this personally. Acting Nevada U.S. Attorney Steven Myhre twice called Parker a coward in open court during a hearing on Wednesday.
Myhre referred to Parker as "a slithering coward with a gun," going on to bring up a shirt he and others had worn the evening before with the words Jury Nullification – No Victim No Crime. He desperately begged the judge to not release these two defendants, Eric Parker and Scott Drexler.
Myhre argued Drexler should not be allowed pretrial release pending a third jury trial because Drexler had camping gear and food in his truck as that somehow proved him to be a flight risk because he is a survivalist.
Parker's attorney, Jess Marchese, states –
"Surprised? No. Disappointed? Yes, it's clear at this point the prosecution is taking this personally now. This is a business and there's no need for emotion in a business."
Both Parker and Drexler are now facing a single count each for assaulting a federal officer, as well as carrying a firearm in the commission of a crime. Parker also faces two additional charges of using a firearm to threaten a federal officer.
ADVERTISEMENT - STORY CONTINUES BELOW
It is interesting to note that jurors are not buying the government's claims, returning a "not guilty" verdict not once but twice from two different jury pools against four defendants on charges related to the standoff, which pitted armed ranchers and militia members against Bureau of Land Management agents in a dusty wash below Interstate 15 about 70 miles north of Las Vegas.
After spending 18 months in prison, Richard Lovelien of Oklahoma and Steven Stewart of Idaho were acquited on all counts and walked out of court on Tuesday as free men. A jury deadlocked on charges against the four men back in April.  Two defendants were convicted on multiple counts but the jury refused to convict on conspiracy charges against any of the six.
Federal prosecutors didn't stop there.  The men were then retried on charges of conspiracy, extortion, assault and obstruction charges for helping rancher Cliven Bundy fend off a government roundup of his cattle in what was later called the Battle of Bunkerville. The trial began in July and hit a significant low point as U.S. District Court Judge Gloria Navarro abruptly ended court by ordering Parker off the stand.  She then struck his testimony from the record while jurors watched.
Navarro is facing impeachment accusations because of her biased actions in the past two trials of these same defendants. She has lost control of her own courtroom, going so far as to accuse Drexler of giving her the evil eye multiple times during the trial, calling him "disobedient" and "a child."
Defendant was attempting to tell jurors what he saw during the standoff.  This was over a barrage of objections from prosecutors.  Navarro then proceeded to rule that Parker violated court orders by discussing "prohibited topics." Parker returned to the defense table and broke down in tears while Navarro dismissed the jurors.
Jurors expressed that this incident, in particular, played a significant role in their verdicts, expressing sympathy to the defendants, as well as grasping their inability to mount a cogent defense in light of restrictions placed on them by the court and the prosecution denying the men the ability to talk about WHY they participated in the standoff as well as their thoughts about what occurred while the events unfolded while they were there.
What Navarro fails to mention she has already handed out sentencing to at least two other defendants, Greg Burleson 68 years, and Jerry DeLemus 8 years, in the same case.  Never mind she should have recused herself due to the fact her husband is Clark County prosecutor, Brian Rutledge. There is a significant conflict of interest because of his involvement with Harry Reid and the land grabs throughout Clark County.
When the case went to the jury on August 15, all attorneys for all four defendants waived their closing arguments.  They did this in protest of the unethical and unprofessional conduct in the courtroom by the prosecution, the court proceedings, and courtroom conduct, as well as restrictive legal rulings preventing the defense from even discussing pertinent parts of the events.
Apparently, the reason for the restrictive legal rulings was Navarro's unConstitutional attempt to prevent jury nullification from happening.  Jury nullification (as defined by Black's Law Dictionary) –
"A jury's knowing and deliberate rejection of the evidence or refusal to apply the law either because the jury wants to send a message about some social issue that is larger than the case itself or because the result dictated by law is contrary to the jury's sense of justice, morality, or fairness."
If it walks like a right and quacks like a right, it is indeed a right of a free people, yet Navarro is attempting to strip the jury of that right. She has barred defendants from discussing why they traveled thousands of miles to join protesters at the Bundy Ranch. Neither did she allow defendants to testify about any abuses by federal authorities during the cattle roundup that was also a motivator in why they chose to participate in the standoff.
Additionally, Navarro also restricted defendants from raising any sort of Constitutional arguments, from mounting any defense based on violations of first amendment rights to free speech, as well as their second amendment rights to bear arms.  Navarro claimed none of these arguments were applicable in this case, and therefore unnecessary.
Yet, federal prosecutors were given no such restrictions in their efforts to show defendants were part of a conspiracy.  They made their case based on events that happened months and sometimes even years after the standoff. Federal prosecutors argued that the case was not about the first or the second amendment, making the argument instead that the Constitution does not give people the right to threaten federal officers.
Does the Constitution give those same federal officers the right to abuse, threaten, intimidate, and attack the people? No?  I didn't think so.
The prosecution went on to argue that the Bundys' dispute with the BLM was adjudicated and the Court issued a lawful order to round up the cattle.  When ranchers and militia conspired to force the release of the cattle, they broke the law. Dozens of federal, state, and local law enforcement officers then paraded on the stand to testify that they were outnumbered and outgunned, fearing for their lives.
Yet, jurors were not allowed to hear from any such witnesses for the defense. Drexler took the stand, delivering the only defense testimony jurors were allowed to even consider about what exactly occurred and why, testifying that while he brought firearms to the standoff, he had no intention of threatening or assaulting a law enforcement officer.
During the retrial, all four defendants admitted to bringing guns to the standoff.  Pictures of both Parker and Drexler aiming their guns have gone viral.  One such picture of Parker where he is seen lying prone on an overpass sighting a long rifle at BLM agents in the wash below has come to epitomize the 2014 protest. The image has brought international awareness to the feud that has boiled out of control about public lands and the BLM's continued encroachment on ranchers, their rights, and private property.
Ammon and Ryan Bundy cited their success at Bundy Ranch in their run-up to the siege of an Oregon wildlife refuge in 2016, also in protest of BLM policies. An Oregon federal jury acquitted Ammon, Ryan and five others in October.
It is important to take note that no arrests were made whatsoever until after the Oregon siege had ended. Then the government charged 19 different people for their various roles in the Nevada standoff.  There were not guilty verdicts on 34 of 40 charges of those that have been tried thus far. 6 charges ended in a hung jury.
Yet the federal prosecutors are now planning to use even more tax payer dollars to try these men for the THIRD time. It appears that this is malicious prosecution.  11 of the defendants remain incarcerated and the trials continue to be delayed as federal prosecutors continue to try, and retry cases based on a judge in their pocket, restricting the facts, and abject fiction.
No wonder the American people have no faith in the legal system.
FOLLOW us on Facebook at Nation In Distress!
Copyright 2017 Americas Freedom Fighters/ AFF Media. All rights reserved. This material may not be published, broadcast, rewritten or redistributed without expressed permission.
Facebook Has Banned Us!
The leftists at Facebook decided they didn't like our message, so they removed our page and are censoring us. Help us fight back and subscribe to our newsletter so that you can stay up-to-date with everything Facebook doesn't want you to see!
Disqus Comments