Sassy Liberty AMERICA'S FREEDOM FIGHTERS –
A Chinese health fad is decimating donkey populations worldwide. Said to prolong life, increase sex drive and maintain beauty, gelatin made from boiling donkey skins has seen an explosion in demand from China's rising middle class, much to the alarm of developing countries which depend on the beasts for transportation and work.
A multi-billion dollar industry that has had nothing less than a devastating effect on the donkey population worldwide as some four million are being killed each year and 2.2 million of that is from outside of China. Donkeys are killed for their skins – which are boiled, liquefied and turned into powders and face creams, a snack food product called ejiao, as well as used in traditional Chinese medicine for the affluent and growing middle-class population in China.
ADVERTISEMENT - STORY CONTINUES BELOW
The practice is being enthusiastically promoted by the government while it has halved the donkey population in China and threatening the animal population on every continent for the gelatin contained in their hides.
take our poll - story continues below
Whom do you consider to be the most corrupt Democrat Politician?
Completing this poll grants you access to America's Freedom Fighters updates free of charge. You may opt out at anytime. You also agree to this site's Privacy Policy and Terms of Use.
ADVERTISEMENT - STORY CONTINUES BELOW
As a result of this demand, the value of a donkey within China has skyrocketed from 500 yuan ($75.64 US) just a decade ago to 2,600 yuan ($393.35 US). As demands for ejiao increase with claims that it can preserve women's beauty, improve blood circulation, boost sex drive, as well as make workers tireless. Ejiao is produced in the coastal provinces of Jiangsu, Zhejiang, and Shandong, is also used to treat conditions such as bleeding, dizziness, insomnia and dry cough.
ADVERTISEMENT - STORY CONTINUES BELOW
Donkeys as young as 5 months are being killed so their skins can produce the brown gelatin which is an essential ingredient in Chinese ejiao products. Videos have surfaced of donkeys so malnourished that ribs are plainly visible and protruding.  They are killed after being bludgeoned with sledgehammers and some continue to move and breathe after being struck.  They struggle while their throat is slit.  Some animal rights groups refer to this as some of the worst cases of animal brutality in the world.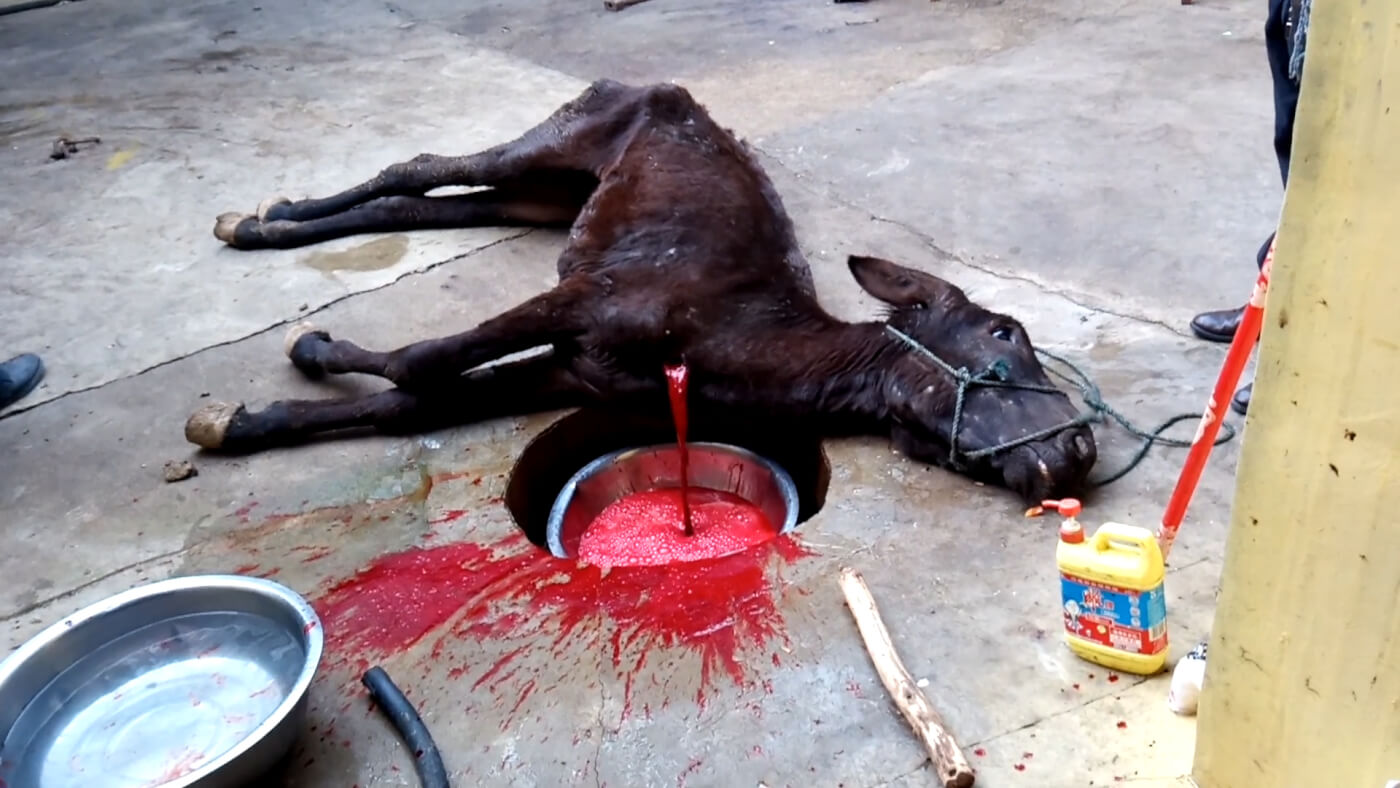 PETA Asia visited several farms and livestock markets in China supplying major manufacturers. The animal rights group has released the shocking footage as it campaigns to ban the export of live donkeys to fuel the trade. Campaigners found the animals are kept in appalling conditions at farms before their "terrifying and painful deaths" by a hammer blow.
Pakistan and 10 African nations have closed Chinese-funded slaughterhouses and developed policies to ban exporting donkey skin. The demand is so high for donkeys currently that other animals, such as horses, pigs, and cows, are now suffering the same gruesome fate in the production of fake ejiao. Donkey skin has essentially become the new ivory for the Chinese and the donkey is the elephant equivalent.
FOLLOW us on Facebook at Nation In Distress!
Dean James III% AMERICA'S FREEDOM FIGHTERS
Copyright 2017 Americas Freedom Fighters/ AFF Media. All rights reserved. This material may not be published, broadcast, rewritten or redistributed without expressed permission.
Please share this on Facebook and Twitter!
Facebook Has Banned Us!
The leftists at Facebook decided they didn't like our message, so they removed our page and are censoring us. Help us fight back and subscribe to our newsletter so that you can stay up-to-date with everything Facebook doesn't want you to see!
Disqus Comments