Sassy Liberty AMERICA'S FREEDOM FIGHTERS –
It seems in spite of being told "No" Chuck "Chuckles" Schumer (NY-D) just doesn't like that answer so much like a toddler he is going to throw a tantrum until he gets his way; however, unlike a toddler, Chuckles' tantrum could have much more dire consequences for Americans at large.
Chuckles and the rest of the leftist sycophants are screeching to anyone that will listen demanding that a special prosecutor be named to continue to investigate the non-existent Russian ties that do not exist within the Trump administration in light of the unexpected firing of FBI director James Comey.
ADVERTISEMENT - STORY CONTINUES BELOW
take our poll - story continues below
Whom do you consider to be the most corrupt Democrat Politician?
Completing this poll grants you access to AFF updates free of charge. You may opt out at anytime. You also agree to this site's Privacy Policy and Terms of Use.
Senate Majority Leader Mitch McConnell dismissed calls for a special prosecutor last Wednesday from the Senate floor with a statement –
ADVERTISEMENT - STORY CONTINUES BELOW
"So what we have now, Mr. President, is our Democratic colleagues complaining about the removal of an FBI Director whom they themselves repeatedly and sharply criticized, by a man, Rod Rosenstein, whom they repeatedly and effusively praised — when Mr. Rosenstein recommended Mr. Comey's removal for many of the very reasons they have complained about."
The left with Chuckles as the lead clown in charge are blasting President Trump for firing Comey, yet just a few months ago Comey was the whole reason their precious Hillary didn't get elected….
ADVERTISEMENT - STORY CONTINUES BELOW
PICK A POSITION!!!
So now Chuckles is in tantrum mode, making the pronouncement that he and his fellow leftist toddler tyrants in the upper chamber intend to block the appointment of a new FBI director.  They intend to continue this obstruction until a special prosecutor is named on the non-existent Russian ties all so they can waste American tax dollars on a liberal witch hunt because Hillary Clinton was not granted her crown as Queen of the Universe as she believes was her due in the 2016 presidential election.
Chuckles to Jake Tapper on Fake News network CNN –
"I think there are a lot of Democrats who feel that way. We will have to discuss it as a caucus, but I would support that move, because who the FBI director is, is related to who the special prosecutor is.

Remember, the criteria for a special prosecutor, independent in making day-to-day decisions from the hierarchy in the Justice Department and the White House, can only be fired for cause, has to report to Congress, and, very importantly, can look into any attempts to thwart the investigation, are all really important criteria."

To have that special prosecutor, people would breathe a sigh of relief, because then there would be a real independent person overlooking the FBI director.

To have that special prosecutor, people would breathe a sigh of relief, because then there would be a real independent person overlooking the FBI director. So, I think the two are related. I think Mark Warner's idea is a good idea. And I think it will get some broad support in our caucus.

The key here, of course, is getting some of our Republican colleagues to join us. We're hoping. We're waiting. We understand it's difficult, but I think patriotism and the needs of this country demand it."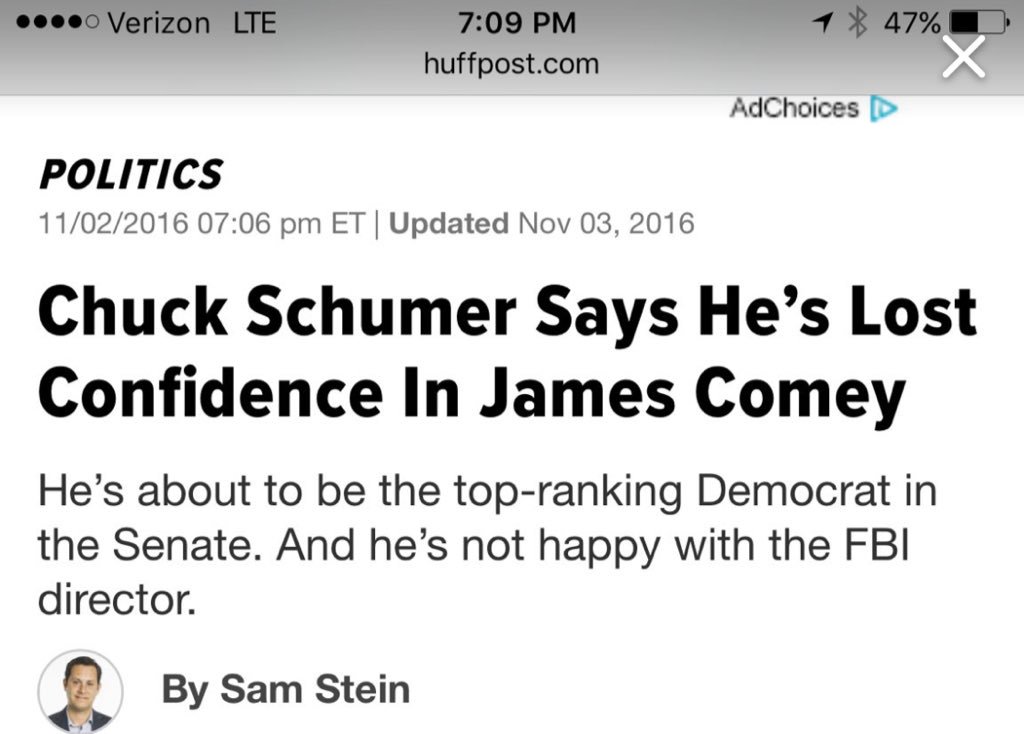 Yet on just November 2, 2016, Chuckles was talking about how he himself had lost confidence in Comey.  Many other loud voices in the Democratic party have previously called for Comey's ouster themselves.
Yet when President Trump does just that? Something that is well within the scope of his job as president, it is the end of the world as far as the left is concerned. The fact of the matter is President Trump's actions are hardly unprecedented either.  In 1993, Bill Clinton also fired then FBI director William Sessions amidst ethics concerns just one day before Vince Foster's body was found.
Source- AFF
Copyright 2017 Americas Freedom Fighters/ AFF Media. All rights reserved. This material may not be published, broadcast, rewritten, or redistributed.
Facebook Has Banned Us!
The leftists at Facebook decided they didn't like our message, so they removed our page and are censoring us. Help us fight back and subscribe to our newsletter so that you can stay up-to-date with everything Facebook doesn't want you to see!
Disqus Comments