CNN Hates On Melania for Being a Classy Lady…
CNN just could NOT WAIT to viciously attack first lady Melania Trump.  The President and First Lady recently traveled to Saudi Arabia as the first stop on a four-nation, five-stop tour that returns to the White House at the end of next week. The visit kicked off an ambitious international debut for Trump and it seems that classy, conservative, and lady-like Melania made quite the impression on the Saudis.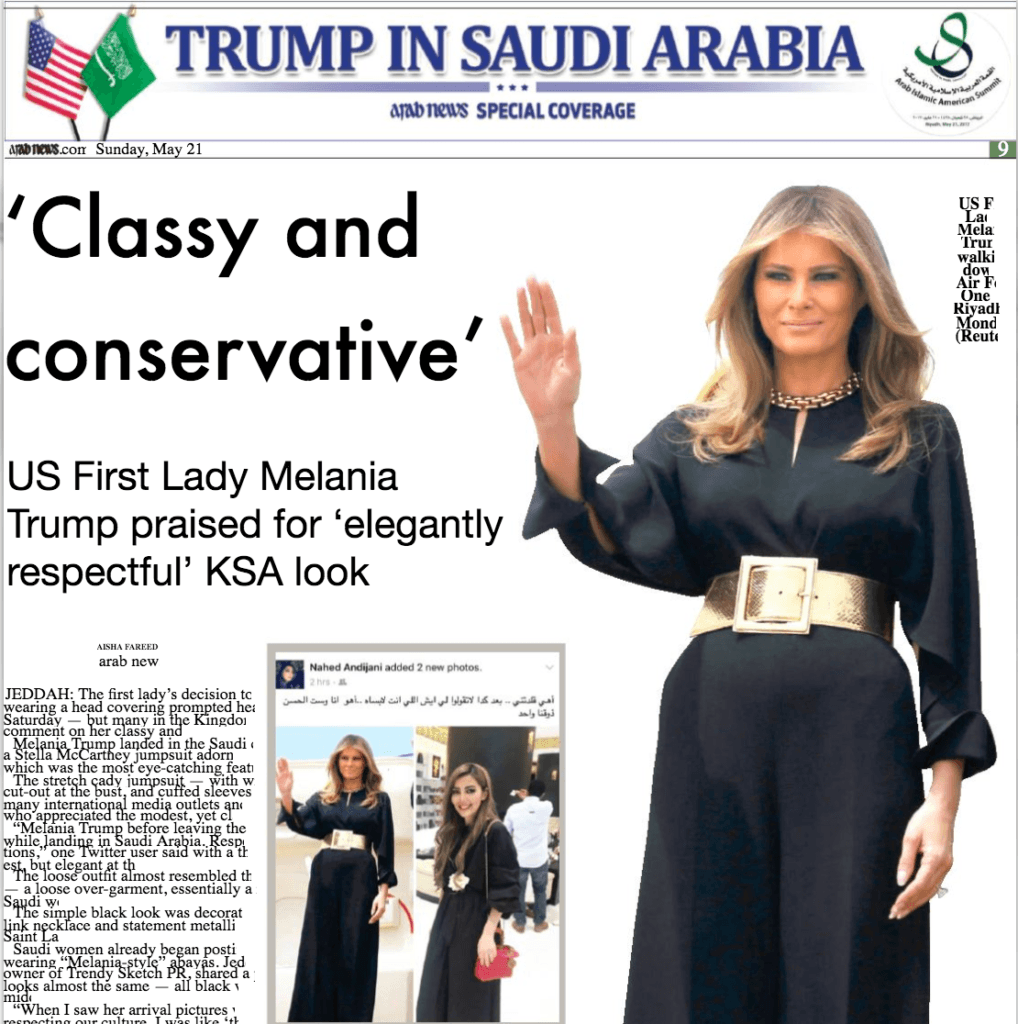 ADVERTISEMENT - STORY CONTINUES BELOW
take our poll - story continues below
Whom do you consider to be the most corrupt Democrat Politician?
Completing this poll grants you access to AFF updates free of charge. You may opt out at anytime. You also agree to this site's Privacy Policy and Terms of Use.
Originally from Bangladesh herself, CNN writer Anushay Hossain behaves more like a middle school "mean girl" belittling the success of and praise heaped on Mrs. Trump by Saudi dignitaries. Feminists such as Hossain prefer the brash, crass, obnoxious sort I guess more in line with the Amy Schumer, Chelsea Handler types perhaps? Or maybe even the Rosie O'Donnell types?
ADVERTISEMENT - STORY CONTINUES BELOW
Melania is smart – she knows her audience.  She understands that this is a country where women are under intense scrutiny and modesty and decorum are a must – where it can literally mean life or death.  No, Melania as a visiting foreign leaders' wife was not required to wear a headscarf. But what she did do was chose to wear something fashionable and conservative that would not offend Saudi sensibilities and as a result already become extremely popular with Saudi women.
Even the liberal Los Angeles Times made note of Melania Trump's "newsmaking style," quoting a local television host who described her outfit as "a really considerate gesture."
Melania impressed the British press later the same day making headlines with – "Melania Trump dazzles in purple Reem Acra gown for first evening in Saudi Arabia."
ADVERTISEMENT - STORY CONTINUES BELOW
Melania went on to wow observers in Israel with her choice of outfit. She chose a crisp white jacket and skirt which was in deference to the main color in the Israeli flag, as well as to the color of peace.
Far more than fashion savvy and even more impressive and indicative of good character was the First Lady's gesture of holding the hand of Israel's First Lady, Nechama Rivlin.  Rivlin carries an oxygen tank due to a respiratory illness and image of the tall Mrs. Trump guiding the congenial but frail Mrs. Rivlin went far beyond normal diplomatic protocol and presented an image of kindness.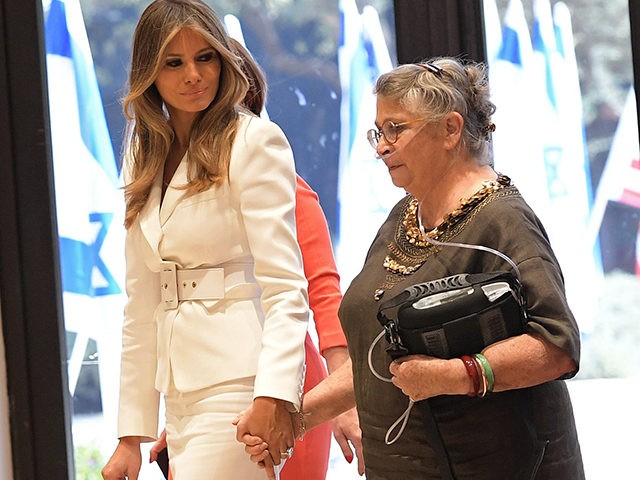 Pure Class
It seems a far cry from the frumpy and ridiculous fashion faux pax of Michelle Obama and her globe-trotting at American taxpayer expense. I wonder what gossip fodder CNN will come up with next.  I mean it is clear that Fake News CNN hates Melania. They have accused her of being an escort, of not being here legally from her native Slovenia. Now they are attacking her for being too poised and dressing and acting appropriately.  One lives and waits to wonder just what they will invent next.
"Mean Girl Muslim" Anushay Hossain sums her article up with a final slam against President Trump – you knew she wasn't going to let that pass didn't you?? She states the following drivel –
"All of that should come as no surprise, given whom Melania is married to. After all, how the Saudi government likes women to behave is similar to how Donald Trump has said he likes women to behave. And they both prefer women to look pretty in pictures, rather than hold actual positions of power."
Yes, yes we know.  Liberals like women that used to be men or don't know exactly what they are or men that want to be women or women that act like men or people that are generally all around confused….we get it.
We Conservatives on the other hand?  Well, we like our ladies to be ladies….and we like our men to be manly.  Got it? Good!
GOD BLESS.
*ATTENTION! FACEBOOK HAS JUST DELETED ALL OF OUR PAGES. THEY DELETED 559 PAGES AND 251 ACCOUNTS RIGHT BEFORE THE ELECTIONS AND THIS IS JUST THE BEGINNING. SPREAD THE NEWS. THIS JUST HAPPENED AND AS A RESULT THEY HAVE PUT THOUSANDS OF PEOPLE AND VETERANS OUT OF WORK. SPREAD THE WORD! THANK YOU.
When you share to your friends, however, you greatly help distribute our content. Please take a moment and consider sharing this article with your friends and family. Thank you, we appreciate it!
Facebook Has Banned Us!
The leftists at Facebook decided they didn't like our message, so they removed our page and are censoring us. Help us fight back and subscribe to our newsletter so that you can stay up-to-date with everything Facebook doesn't want you to see!
Disqus Comments