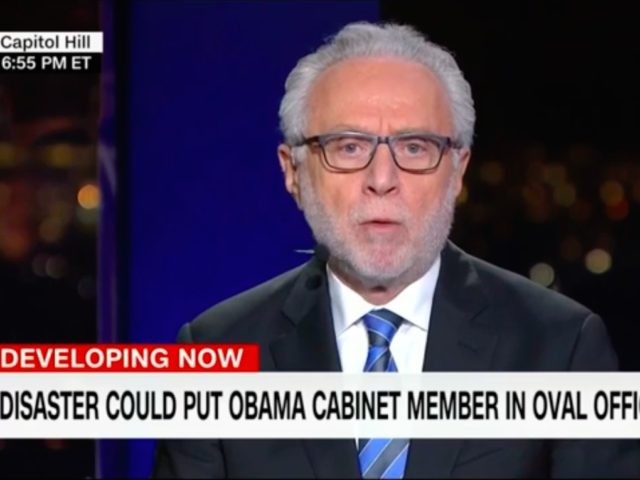 Sassy Liberty AMERICA'S FREEDOM FIGHTERS –
The nation is anxiously awaiting Obama's last day and anticipating President-elect Donald Trump's Inauguration tomorrow to become the 45th president of the United States of America. Meanwhile known fake news outlet CNN is sitting around dreaming up scenarios where Trump and Pence are assassinated prior taking office, resulting in the Obama administration keeping power.
ADVERTISEMENT - STORY CONTINUES BELOW
On Wednesday, January 18, a broadcast ran of CNN's the Situation Room with Wolf Blitzer. They aired a segment with a featured headline –
"Developing Now"
take our poll - story continues below
Whom do you consider to be the most corrupt Democrat Politician?
Completing this poll grants you access to AFF updates free of charge. You may opt out at anytime. You also agree to this site's Privacy Policy and Terms of Use.
During this supposed "developing" segment, Blitzer discussed with CNN correspondent, Brian Todd, various scenarios and how they would unfold should Trump and Pence meet their untimely demise prior to January 20. Blitzer introduced the segment with the statement –
ADVERTISEMENT - STORY CONTINUES BELOW
"What if an incoming president and his immediate successors were wiped out on day one?"
Brian Todd then took the ball and ran going over the outline of succession if there were an attack that blew up the inaugural dais, killing both Trump and Pence.  Now call me crazy, but it's one thing to talk about the line of succession in abstract.  It is a whole other scenario to be openly planning the ways and means to the president-elect and his vice president on national television, openly for everyone to see. Hello?  Secret Service?  I think we have a problem!
ADVERTISEMENT - STORY CONTINUES BELOW
Blitzer and Todd went on to discuss just as cool as cucumbers exactly what would happen in the event that in the case of both heads of state are killed.  Then the Secretary of State would take over — of course, under the current Obama regime that person is John Kerry – mouthpiece for the U.N. and Palestine, betrayer of Israel, and sellout of the American people. But oh no! Blitzer and Todd had a contingency plan if that didn't work.  If there were objections to Kerry taking over due to objections because technically his tenure as Secretary of State ends at noon on Inauguration Day, then the Speaker of the House — Republican Paul Ryan — or even Obama's Under Secretary for Political Affairs Tom Shannon would step up to the plate. Wishful thinking much boys?
Most shocking of all was the details in the report noting that the Obama regime could appoint a designated survivor that could also become president in case of disaster. It seems in CNN's estimation, most of the people who would take over in the worst-case scenario would keep the Obama administration in power, whether that be directly or indirectly.
So while the majority of the American people are excited and looking forward to the events about to transpire on Inauguration Day and Trump's ascension to the presidency, CNN is busily plotting ways to assassinate him before he even gets into office. I wait with baited breath to see just how President-elect Trump himself responds to such audacious actions. Perhaps CNN should go back to pretending to be relevant while they report fictitious news stories rather than fancy themselves hitmen for hire.  One must truly wonder at the lengths CNN will go to in their efforts to remain relevant when their version of events ceased to matter long ago.
h/t – Breitbart 
God Bless.
Here's How To Be Sure To Continue Seeing Our Content On Facebook
TOGETHER WE WILL MAKE AMERICA GREAT AGAIN!
Dean James III% AMERICA'S FREEDOM FIGHTERS
 Please share this on all Social Media!
Facebook Has Banned Us!
The leftists at Facebook decided they didn't like our message, so they removed our page and are censoring us. Help us fight back and subscribe to our newsletter so that you can stay up-to-date with everything Facebook doesn't want you to see!
Disqus Comments