Sassy Liberty AMERICA'S FREEDOM FIGHTERS – 
The South is being slowly erased by social justice warriors and the politically correct.  Our history is being removed and destroyed.
"The most effective way to destroy people is to deny and obliterate their own understanding of their history."
ADVERTISEMENT - STORY CONTINUES BELOW
— George Orwell
This is happening all across the South with the newest casualty being in Orlando, Florida.  A Confederate monument in Orlando known as "Johnny Reb" is coming down after some folks complained that they find it offensive.
The large marble monument has stood as a fixture in Orlando's Lake Eola Park for over a century and it is dedicated to honoring soldiers who lost their lives in defense of the Confederate States of America.
take our poll - story continues below
Whom do you consider to be the most corrupt Democrat Politician?
Completing this poll grants you access to AFF updates free of charge. You may opt out at anytime. You also agree to this site's Privacy Policy and Terms of Use.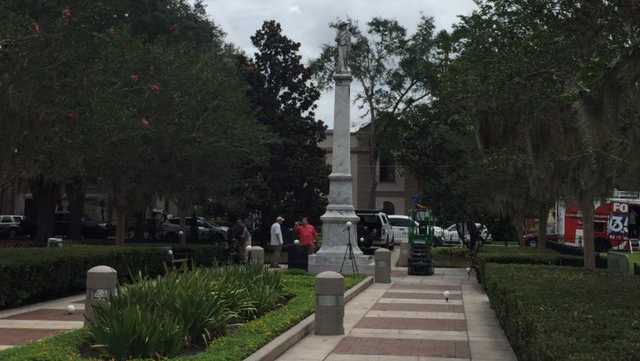 ADVERTISEMENT - STORY CONTINUES BELOW
ADVERTISEMENT - STORY CONTINUES BELOW
Yet, after a nearly two-year battle of intense political pressure from activists with a group called  "Organize Now" Orlando city leadership is giving in to their demands in the face of fierce resistance from many locals, historical preservationists, and Southern historical advocates. The city claims they plan to move the monument to Greenwood Cemetery, according to the Orlando Weekly.
Preparations have already begun by the city for relocation, yet Mayor Buddy Dyer and the city council are keeping the exact removal date hush hush.
David Porter is the social justice warrior leading the charge for Johnny Reb's removal. Despite the monument's imminent removal, Porter is STILL not satisfied, telling local news affiliate WESH he is disappointed the city did not move fast enough to ensure the monument was removed prior to a remembrance ceremony for the victims of the Pulse nightclub massacre scheduled for the park on Monday.
Porter states –
"We said it was inconsistent to have this statue here at Lake Eola our iconic park here in Orland at the same time we're talking about Orlando United. That is not a sign of unity, okay. It's the wrong place for it."
"Orlando United Day – A Day of Love and Kindness"  was held on June 12 to honor the victims and survivors of the Orlando terrorist attack. Radical Islamist Omar Mateen killed 49 people and wounded 58 others in the gay nightclub in honor of ISIS on June 12, 2016.
History buffs, supporters of the Confederacy and Southern heritage, and American historical preservationists flooded the Orlando City Council meeting in May and opposed the removal of this monument in force.  They were ignored and disregarded.
David McCallister told commissioners amid boos from activists that they're setting a dangerous precedent for the treatment of military veterans, according to Orlando Weekly.
McCallister states –
"Putting the monument away in a cemetery would be banishing it into the closet of obscurity. I didn't think Orlando liked closets. A move like this would be seen as disuniting and offensive, and if you think otherwise, by all means, put it to a referendum."
His comments and many others like it fell on deaf ears and the council voted with no voice from the people whatsoever to simply banish the monument.
Benjamin Mills donned Confederate military clothing to the meeting, where he explained that his grandfathers fought in the Civil War but never owned slaves.
"It's not about slavery," Mills said. "(My grandfather) didn't own shoes until he went and joined the army. … That is a monument to U.S. military soldiers."
Source- AFF 
FOLLOW us on Facebook at Nation In Distress!
Copyright 2017 Americas Freedom Fighters/ AFF Media. All rights reserved. This material may not be published, broadcast, rewritten or redistributed without expressed permission.
Facebook Has Banned Us!
The leftists at Facebook decided they didn't like our message, so they removed our page and are censoring us. Help us fight back and subscribe to our newsletter so that you can stay up-to-date with everything Facebook doesn't want you to see!
Disqus Comments