Sassy Liberty AMERICA'S FREEDOM FIGHTERS –
In what appears to have been a staged coup by House leadership against the American voters, Speaker Paul Ryan is now singing the praises of this week's budget deal in the face of Conservative wrath. Ryan claims the deal breaks all the rules that Democrats enforced under Obama's regime in that every dollar in increased defense spending had to be matched by a dollar increase for nondefense discretionary programs.
ADVERTISEMENT - STORY CONTINUES BELOW
Ryan was on the defensive at a press conference on Tuesday morning amid Conservative backlash as he attempted to spin this disaster in a positive direction –
take our poll - story continues below

Whom do you consider to be the most corrupt Democrat Politician?

Completing this poll grants you access to AFF updates free of charge. You may opt out at anytime. You also agree to this site's Privacy Policy and Terms of Use.

"Under the Obama rules, if you wanted to help the military, if you wanted a pay raise for the soldiers, if you wanted to buy new airplanes and new ships and more munitions, a dollar for that, you had to have a dollar domestic spending. We just broke that parity.

That's the biggest victory we could have had — $25 billion year over year for our military, to begin to rebuild our military, without that kind of corresponding increase in domestic discretionary spending. That, to me, is very important."
Liberal Democrats cheered in victory, with House Minority Nancy Pelosi stating this was an epic defeat for President Trump with an agreement that "does not fund the immoral and unwise border wall or create a cruel new deportation force."
ADVERTISEMENT - STORY CONTINUES BELOW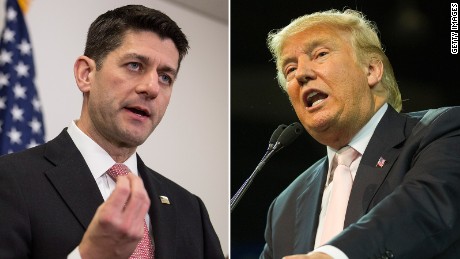 In spite of Ryan's attempt to put a good face on this budget, many see it as the utter and complete disaster it is.  Conservatives are increasingly underwhelmed with a Republican majority in the House and Senate that still cannot seem to accomplish anything and bow down to the demands of liberal democrats on a regular basis.
ADVERTISEMENT - STORY CONTINUES BELOW
This new budget essentially waged war against the American voter and specifically was a referendum against the promises President Trump made during his campaign – Republicans can't seem to grasp exactly WHY Trump was elected in such epic fashion in the first place.
In this travesty of a budget, Ryan and House Republicans included strict language in their trillion dollar budget that prevents ANY and ALL funding of President Trump's border wall.
Paul Ryan's new budget bill will fund:
 Planned Parenthood

Central American illegal immigrant centers

Domestic spending will increase

No cuts in funding to EPA despite Trump's promises

Continue payment on Obamacare subsidies

No funding cuts to sanctuary cities
Yet, the House budget explicitly and specifically includes language that expressly forbids the President of the United States from building a border wall with Mexico??!??!!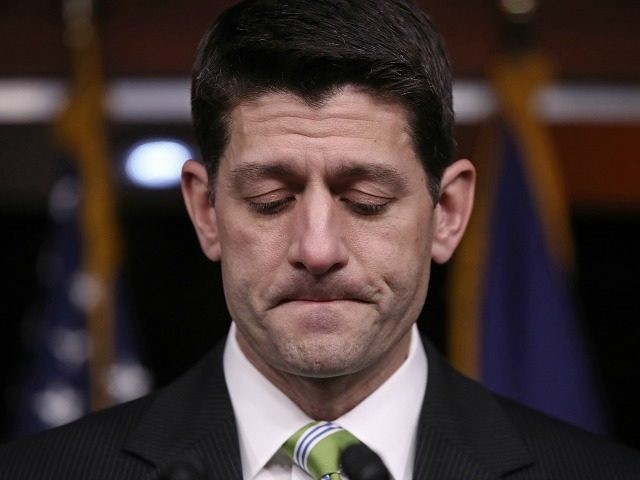 And Paul Ryan views this as a success?
Take the poll! The article continues below!
Do You Think Paul Ryan Should Resign?
Meanwhile, Chuck Schumer is cheering because social programs saw a healthy increase despite the will of the American people and The Washington Post reports –
"There are explicit restrictions to block the border wall. We knew last week there would be no money to start construction on a project that the president says is more important to his base than anything else. But the final agreement goes further, putting strict limitations on how Trump can use new money for border security (e.g. to invest in new technology and repair existing fencing). Administration officials have insisted they already have the statutory authority to start building the wall under a 2006 law. This prevents such an end run."
Many are hopping off of the Trump train as it were in complete dissatisfaction of what they view as a betrayal.  When asked about his position on the budget President Trump has indicated that he will sign the Republican Budget agreement with Democrats, despite growing dissent from his supporters.
In an interview with Bloomberg News, President Trump cited the provision for $1.5 billion in border security as a win, stating, "I think it's important that we keep moving along. I think both sides are happy."
He was quick to state that there were not any dramatic cuts, and acknowledged the failure to defund Planned Parenthood, but continued to speak optimistically about future battles still to be fought, stating –
"This is all coming due again in September, October, and we're going to have another round of discussions."
President Trump was also quick to point out how impossible it has been to work with the Democrats due to their "obstructionists" policies, adding that he simply was not looking for a government shutdown showdown in the first months of his presidency.
"Look, the Democrats are obstructionists; that's all they can do is obstruct. They have no leadership. And we have to agree, and I think both — both sides agree, we have to keep government going, we don't want to shut government."
President Trump then took to Twitter calling for a "good shutdown" in September to fix the "mess" in government, while expressing his frustration with the legislation that makes it necessary to have 60 votes in the Senate because of the filibuster, despite the majority in both the House and Senate, Trump stated it would be necessary to elect more Republicans or "change the rules."
In a series of tweets, he wrote –
 "The reason for the plan negotiated between the Republicans and Democrats is that we need 60 votes in the Senate which are not there! We either elect more Republican Senators in 2018 or change the rules now to 51%. Our country needs a good 'shutdown' in September to fix mess!"
God Bless.
Copyright 2017 Americas Freedom Fighters/ AFF Media. All rights reserved. This material may not be published, broadcast, rewritten, or redistributed.
Facebook Has Banned Us!
The leftists at Facebook decided they didn't like our message, so they removed our page and are censoring us. Help us fight back and subscribe to our newsletter so that you can stay up-to-date with everything Facebook doesn't want you to see!
Disqus Comments