Sassy Liberty AMERICA'S FREEDOM FIGHTERS – 
After the shooting death of Alton Sterling in Baton Rouge at the hands of police officers, mass protests broke out in the area plaguing Baton Rouge for two weeks. The protests were spearheaded by militant hate groups like known Communist group the New Black Panther Party, Black Lives Matter, and Louis Farrakhan's Nation of Islam. As a result of the protests that often times turned violent towards police officers, some officers were hurt.
ADVERTISEMENT - STORY CONTINUES BELOW
take our poll - story continues below
Whom do you consider to be the most corrupt Democrat Politician?
Completing this poll grants you access to AFF updates free of charge. You may opt out at anytime. You also agree to this site's Privacy Policy and Terms of Use.
As a result of the protests that often times turned violent towards police officers, some officers were hurt and some even lost their lives after being targets for execution-style killings. Gavin Long, a 29-year-old former Marine from Kansas City, Missouri, was armed with a semi-automatic rifle when he killed three officers and wounded three others outside a convenience store and car wash near the Baton Rouge police headquarters.
ADVERTISEMENT - STORY CONTINUES BELOW
As a result of those injuries sustained a lawsuit has been filed against five members of the racist hate group known as Black Lives Matter.  The lawsuit holds DeRay McKesson responsible as well as four other individuals in positions of leadership within the group, for inciting violence through the movement, turning the protest into a riot, and claiming that they did nothing whatsoever to calm the crowd.
ADVERTISEMENT - STORY CONTINUES BELOW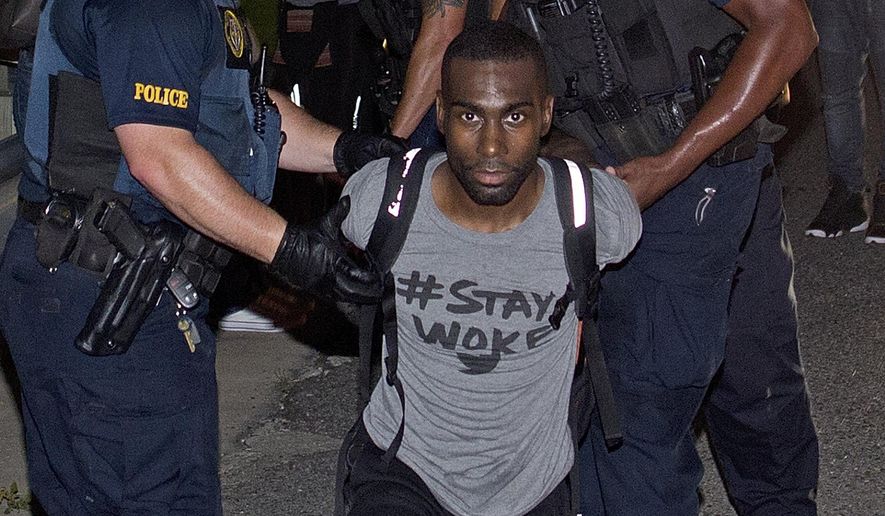 Instead, they used their platforms to whip the crowds into a frenzy and officers were hurt as a result.  This is the second such lawsuit on behalf of an individual officer injured as a result of the actions of these individuals. This suit does not mention the injured officer by name but the description provided in the complaint is believed to match that of East Baton Rouge Paris Sheriff's Deputy Nicholas Tullier.
During the ambush, Long shot Tullier in the head, stomach, and shoulder, leaving him with brain damage. By December 2016, the 42-year-old father of two had emerged from a vegetative state regaining some movement of his body and the ability to communicate non-verbally with his family.
When asked about the lawsuit McKesson would only state, "This is quite a world." Neither he nor his attorney Billy Gibbens had any further comment about the lawsuits. During a court hearing last month on the first lawsuit filed on behalf of another officer, Gibbens argued before the Court that Black Lives Matter is a movement, not an organization.  Therefore, it cannot be sued. The federal judge assigned to the first lawsuit against McKesson has not yet given a ruling as of the publication of this article.
*ATTENTION! FACEBOOK HAS JUST DELETED ALL OF OUR PAGES INCLUDING NATION IN DISTRESS AND AMERICAS FREEDOM FIGHTERS FOR ABSOLUTELY NO REASON BUT FOR THE FACT THAT WE ARE PRO TRUMP, PRO MILITARY, PRO LEO AND WE ARE NOT LIBERAL/SOCIALISTS. THEY DELETED 559 PAGES AND 251 ACCOUNTS RIGHT BEFORE THE ELECTIONS AND THIS IS JUST THE BEGINNING. SPREAD THE NEWS. AS A RESULT THEY HAVE PUT THOUSANDS OF PEOPLE AND VETERANS OUT OF WORK. SPREAD THE WORD! THANK YOU.
THIS IS A DIRECT AND TARGETED ATTACK BY FACEBOOK AGAINST CONSERVATIVE NEWS OUTLETS. 
When you share to your friends, however, you greatly help distribute our content. Please take a moment and consider sharing this article with your friends and family. Thank you, we appreciate it! Leave a comment below!
Facebook Has Banned Us!
The leftists at Facebook decided they didn't like our message, so they removed our page and are censoring us. Help us fight back and subscribe to our newsletter so that you can stay up-to-date with everything Facebook doesn't want you to see!
Disqus Comments