Sassy Liberty AMERICA'S FREEDOM FIGHTERS –
Free speech is dead in Canada.  The Canadian House of Commons passed Motion M103 asking the government to "recognize the need to quell the increasing public climate of hate and fear" and "condemn Islamophobia and all forms of systemic racism and religious discrimination."
In the wake of the January attack on a Quebec mosque that left six Muslim men dead, Prime Minister Justin Trudeau's government has come under pressure to denounce all forms of religious discrimination, but especially that of Islam.
ADVERTISEMENT - STORY CONTINUES BELOW
The motion was tabled by Iqra Khalid, a Muslim member of Trudeau's Liberal Party. Canadian broadcaster Global News reports that the vote was taken with a total of  201 MPs voted for it and only 91 voted against.
take our poll - story continues below
Whom do you consider to be the most corrupt Democrat Politician?
Completing this poll grants you access to America's Freedom Fighters updates free of charge. You may opt out at anytime. You also agree to this site's Privacy Policy and Terms of Use.
Canadians are clearly not worried about this literally being just a step from Shariah law courts.
ADVERTISEMENT - STORY CONTINUES BELOW
The text of the motion is ambiguous and vague.  It does not clarify what constitutes "Islamophobia" which leaves it open for the courts to interpret in the future.
This concern has led to the circulation of an anti-Shariah petition on the Parliament of Canada website, which has so far been signed by over 24,000 people.
ADVERTISEMENT - STORY CONTINUES BELOW
Born in Pakistan, Ms. Khalid moved to the UK and later to Canada, defines Islamophobia as – "The irrational hate of Muslims that leads to discrimination." Given the abject horrors that women are forced to endure daily in Pakistan under Islam, it defies comprehension that Ms. Khalid would want to turn Canada into the sort of oppressive environment which she left.
According to a 2011 poll of experts by the Thomson Reuters Foundation Poll, Pakistan is the third most dangerous country for women in the world. It cited the more than 1,000 women and girls murdered in "honor killings" every year and reported that 90 percent of Pakistani women suffer from domestic violence.
When Ms. Kahlid was asked by Conservatives to remove Islamophobia from the motion, she stated empathically, NO!
"I will not do so, any more than I would speak to the Holocaust and not mention that the overwhelming majority of victims were six million followers of the Jewish faith and that anti-Semitism was the root cause of the Holocaust."
Another rather controversial part of the bill asked the government to "recognize the need to quell the increasing public climate of hate and fear". The methods to be taken by the government in their efforts to "quell hate and fear" as unknown and not written with specificity within the motion itself.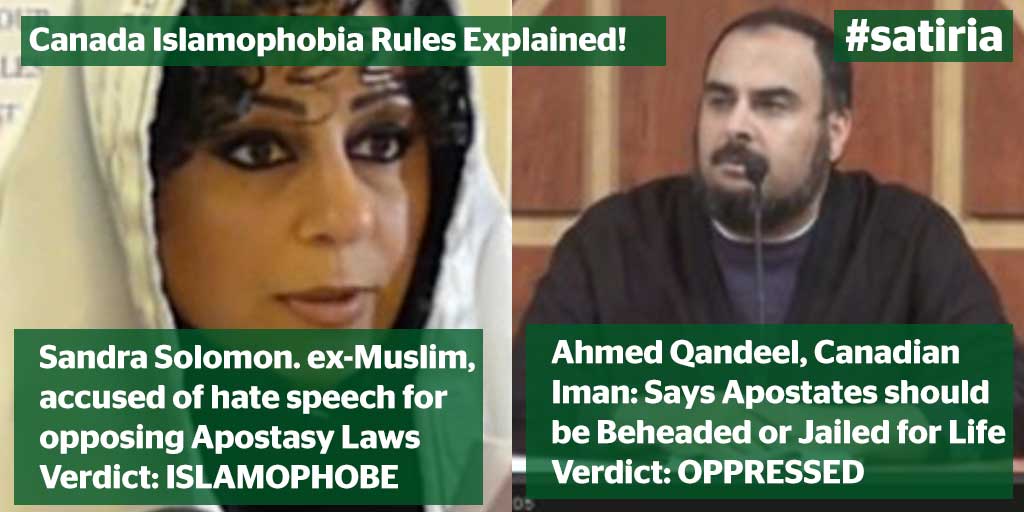 The Conservative Party of Canada is vehemently opposed to M103, including Quebecer Maxime Bernier. He voted against the bill and tweeted as to his reasons why  –
"Free speech is the most fundamental right we have. I am opposed to #m103. Canadians should be treated equally regardless of religion."
Trudeau championed Muslim women wearing hijabs and full face niqabs.  Once elected he dropped an appeal by the previous government that would not allow women to wear niqabs to Canadian citizenship ceremonies. He has also visited many mosques, including one where the women were not even allowed in the main prayer room with the men but were forced to pray in a separate area upstairs.
The self-proclaimed "feminist" Trudeau said –
"Diversity is a source of strength, not just a source of weakness, and as I look at this beautiful room — sisters upstairs — everyone here, (I see) the diversity we have just within this mosque, within the Islamic community, within the Muslim community in Canada."
I guess the forced separation of the sexes and the utter oppression of Islam the world over has missed him completely? That one cannot even express an opinion or speak out against atrocities committed without that speech being deemed "Islamophobia" or "hate speech" is an affront to everyone that values their freedoms.
God Bless.
Here's How To Be Sure To Continue Seeing Our Content On Facebook
TOGETHER WE WILL MAKE AMERICA GREAT AGAIN!
Dean James III% AMERICA'S FREEDOM FIGHTERS
Please like and share on Facebook and Twitter!
Facebook Has Banned Us!
The leftists at Facebook decided they didn't like our message, so they removed our page and are censoring us. Help us fight back and subscribe to our newsletter so that you can stay up-to-date with everything Facebook doesn't want you to see!
Disqus Comments