Sassy Liberty AMERICA'S FREEDOM FIGHTERS –
Heads are already starting to roll at the Department of Veterans Affairs.  Just days into the new Trump administration and two of the department's most notoriously corrupt employees were fired this week and more look to be on the horizon very shortly.
The first head on the chopping block is the director of the VA's hospital in San Juan, DeWayne Hamlin. Hamlin offered to pay Rosayma Lopez $305,000 to quit and agree to not apply at the VA ever again.  This attempt to bribe Hamlin came after  Lopez refused to write a report that would be used to fire Joseph Colon after he exposed Hamlin's drunk-driving and illegal prescription drug arrest. When she refused to write the report, the VA fired her.
ADVERTISEMENT - STORY CONTINUES BELOW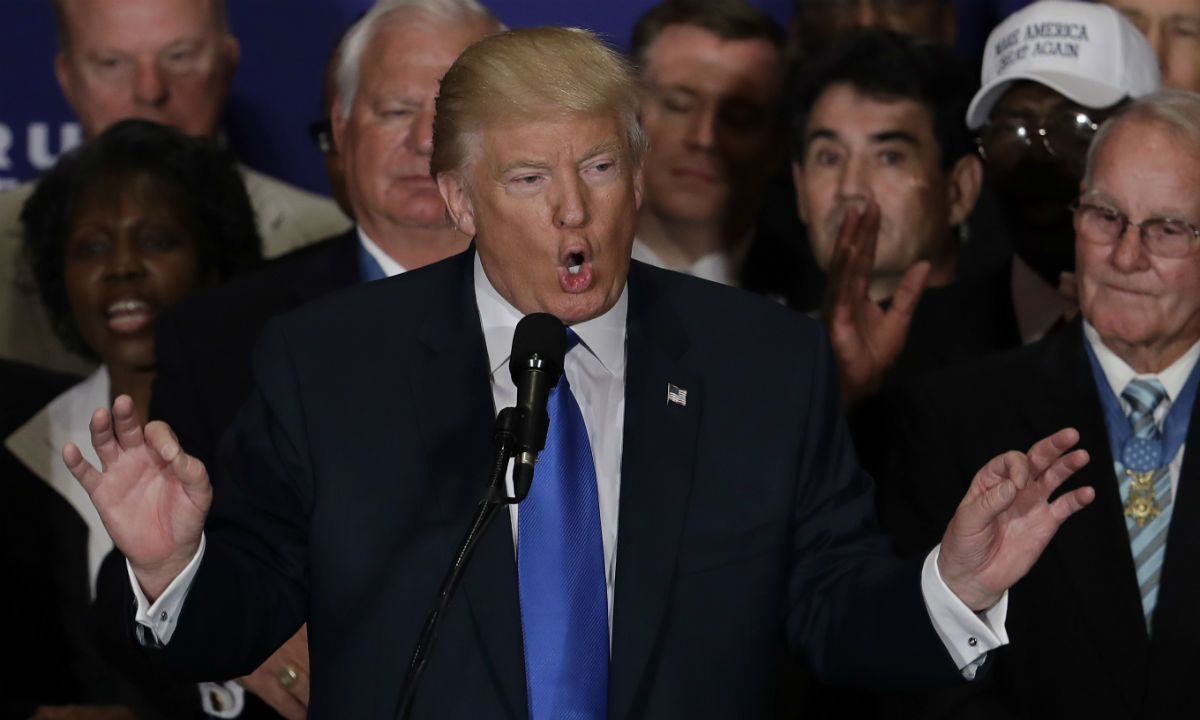 She sought assistance and protection from the Office of Special Counsel (OSC).  OSC is a federal agency designed to investigate retaliation against whistleblowers within the government. OSC ordered the VA to return Lopez to work.  Instead, the VA paid Lopez to sit at home for nine months. When Lopez eventually did return she was moved to a trailer without even the most basic equipment to do her job. Those officials have never been disciplined or received any sort of consequences for their behavior, until now.
take our poll - story continues below
Whom do you consider to be the most corrupt Democrat Politician?
Completing this poll grants you access to AFF updates free of charge. You may opt out at anytime. You also agree to this site's Privacy Policy and Terms of Use.
The VA issued a statement on Inauguration Day,  January 20 –  "Mr. DeWayne Hamlin was removed from federal service effective January 20, 2017."
ADVERTISEMENT - STORY CONTINUES BELOW
For years under the leadership of former Secretary of Veterans Affairs Bob McDonald, the VA ignored years of evidence about shoddy work ethic, theft and whistleblower retaliation. Just last year the VA FINALLY decided to begin a lengthy investigation with OSC. Despite all of this, McDonald saw fit to reward Hamlin, having him serve in a training capacity as a coach at the Leaders Shaping Leaders training session in September 2016.
According to the Daily Caller –
ADVERTISEMENT - STORY CONTINUES BELOW
"…bosses openly told Rosayma Lopez that she was being fired for refusing to fabricate a reason to fire another employee, Joseph Colon, after he exposed that Hamlin had been arrested at 3 a.m. in Florida on suspicion of drunk driving while in possession of pills for which he had no prescription. Diversion of opiates from VA facilities is a major issue. After ethics officials blocked that firing, he attempted to pay her to quit using $305,000 of taxpayer money, which would have been the largest settlement in recent VA history. She refused the money."
VA General Counsel, Leah Bradley even went so far as to tell Congress that Hamlin's attempts to fire Lopez were NOT retaliation, but cited no evidence to support.  The investigation ultimately concluded otherwise.  Lopez was one of several employees that provided proof of Hamlin's retaliation against employees for not covering up his misconduct.
Within days of taking over the hospital, Hamlin wrongfully billed the American taxpayers for his moving expenses. When a deputy said something, that deputy was forced out of the VA.
The second person fired is Elizabeth Rivera.  She took part in an armed robbery but some how managed to hang on to her VA job the entire time she was in jail, even going to far as to work in the hospital security office while wearing her ankle bracelet. When administrators were questioned about this, they told Congress that Rivera had been fired, only to back track their story with claims that it was impossible to fire employees for crimes happening while off-duty.
There was a great deal of criticism of this explanation and no one had an explanation as to why Rivera was not simply fired for attendance issues stemming from being in jail, rather than the robbery itself. She was finally fired on Tuesday for misconduct, including being absent without leave, and also for her failure to disclose prior arrests on her job application.  Apparently, her background check did not catch them? Apparently the VA hospital in San Juan has numerous felons on staff in positions where background is relevant and the hospital simply ignored protocol and any questions about why. It has been suggested that Rivera's termination may be the first of many and those questions may finally get answers.
Among the felons in question at the VA hospital in San Juan –
Tito Santiago Martinez – Martinez works as a human resources official in charge of hiring and disciplining staff.  Martinez is also a convicted sex offender. When asked about why he was employed at all with such a record, Martinez responded, "there's no children in the hospital, so they figure I could not harm anyone here."

Braxton Linton – Linton is a high level manager in charge of buying prosthetics, often times making his purchases with government issued credit cards. Linton was hired just a few weeks after being released from federal prison for stealing $70,000 from his previous employer using company credit cards. Linton has also been arrested for drug charges while currently employed at the VA.
In an effort to address this horrifying situation, Sen Jeff Flake introduced a bill in December that would require that the VA cease all hiring of felons and that currently employed felons would be terminated.
This problem of hiring felons is not unique to the San Juan VA hospital either. During the Obama regime, 11 known sex offenders were listed as currently employed at the Detroit VA hospital. Some were even fugitives wanted by local police but the VA protected them citing employee privacy.
Antoine Hall is an Ohio VA employee, Hall was convicted of creating child pornography in 2014, using a 13 year child for the photographs.  Hall was wearing his VA identification badge around his neck in his picture on the sex offender registry.  He continued to work even after being sentenced and received a bonus in 2015.
Ralph Wood is a convicted child molester and sentenced to 5 years in prison.  He was released in 2008 and upon his release immediately obtained employment with the Indianapolis VA as a clerk. David Allison is also a convicted child molester as of 2007.  He began working in "medical support assistance" in 2010 while still on active probation from the charge.
President Trump has an enormous job in front of him.  It's a definite step in the right direction, especially in light of how little time has passed.  Like many Americans, I am looking forward to seeing what is coming next, and especially in light of the numerous issues cited with the VA, hopeful that this is just a glimpse of things to come with more firings of these despicable individuals.
God Bless.
Here's How To Be Sure To Continue Seeing Our Content On Facebook
TOGETHER WE WILL MAKE AMERICA GREAT AGAIN!
Dean James III% AMERICA'S FREEDOM FIGHTERS
Please like and share on Facebook and Twitter!
Facebook Has Banned Us!
The leftists at Facebook decided they didn't like our message, so they removed our page and are censoring us. Help us fight back and subscribe to our newsletter so that you can stay up-to-date with everything Facebook doesn't want you to see!
Disqus Comments