Sassy Liberty AMERICA'S FREEDOM FIGHTERS –
As many have heard by now an explosion struck an Ariana Grande concert in Manchester, England late Monday, killing at least 22 people and injuring at least 60 others in yet another Islamic terrorist attack on the four-year anniversary of the public beheading of Lee Rigby.
We all know that dates like these matter to Jihadi terrorists. Britain's terrorist threat level has been set at "severe" indicating an attack is highly likely.
ADVERTISEMENT - STORY CONTINUES BELOW
take our poll - story continues below
Whom do you consider to be the most corrupt Democrat Politician?
Completing this poll grants you access to AFF updates free of charge. You may opt out at anytime. You also agree to this site's Privacy Policy and Terms of Use.
Grande was on her Dangerous Woman Tour and was not injured.  The Global pop star finished her last song, the balloons dropped and the lights turned on as the blast occurred near the exit of the Arena.
ADVERTISEMENT - STORY CONTINUES BELOW
Manchester Arena said the explosion happened outside the venue, as people began streaming from the doors. Greater Manchester Police said they were called to the venue at around 10.33pm and approach roads were closed.
More than 400 officers were deployed to the scene throughout Monday night. Manchester Victoria station was evacuated and trains canceled with victims are being treated at eight hospitals across Greater Manchester.
ADVERTISEMENT - STORY CONTINUES BELOW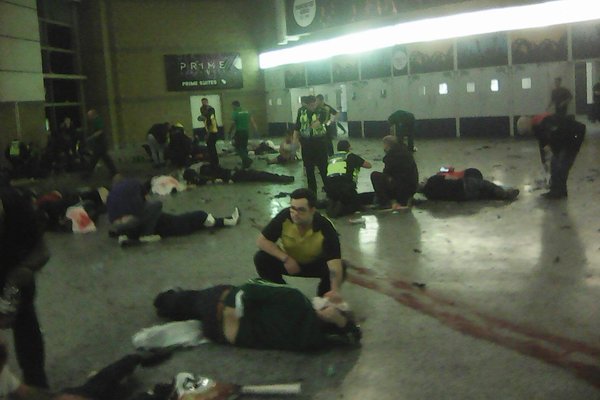 It appears that for all intents and purposes that children were deliberately targeted and they are among many of the dead. The attack was carried out by a lone male suicide bomber identified as Salman Abedi, age 23 who detonated an improvised explosive device. Brits are angry – rightfully so as their country is being ripped apart by this open border nonsense that they seem to be given no choice over.  Social media is awash with sentiments like this  –
https://twitter.com/LadyAodh/status/867008208287748096
Grande herself posted a response on social media immediately after getting to safety.  ISIS has claimed responsibility for the attack and is cheering its success via social media.  It is the worst terrorist attack in the UK since 56 people were killed in the 7/7 London bombings in 2005.
broken.
from the bottom of my heart, i am so so sorry. i don't have words.

— Ariana Grande (@ArianaGrande) May 23, 2017
Her response after the terror attack has struck home for her and it seems a rather marked change from the spoiled child star with an entitlement mentality that was in a donut shop licking donuts that she had no intentions of paying for back in July of 2015 yammering away about how she hates Americans and she hates America. Her tour has since been completely canceled and I am wondering if it has caused this 22-year-old girl to wake up and understand just how much she has been given and blessed with?
After the donut shop incident that occurred July 2015, Grande issued a PR statement trying to blow it all off as though it were some sort of ode to childhood obesity when the whole thing was caught on video and it was clearly no such thing. The owner of that donut shop? Yeah, they work hard for their money.  Class?  It is still a thing here in America.  So while I am sorry that your show was attacked Ariana – it seems, as usual, you are safe and cossetted while your fans and the average everyday folks are the ones that are paying the price.
Grande, who hails from Boca Raton, Florida seems to want to follow in the footsteps of other child stars much like Miley Cyrus.  Class? Who needs that?  Grande?  Not so much!  She gained fame as a child star on Nickelodeon and moved on to music.  Now at age 22 has two number-one albums and a number-three along with Jesse J and Nicki Minaj on Bang Bang which seems to go about like every other teen pop song —
"Bang, bang into the room
Bang, bang all over you…Bang, bang there goes your heart
Back, back seat of my car."
Like I said….CLASSY is not an adjective I would use to describe nor is she the epitome of musical talent.  She is certainly not music I want my children listening too.
Here's to hoping that such a horrific incident has ripped the blinders off of a 22-year-old coddled child star and she can go from being classless to class act instead.
Source- AFF
Copyright 2017 Americas Freedom Fighters/ AFF Media. All rights reserved. This material may not be published, broadcast, rewritten, or redistributed.
Facebook Has Banned Us!
The leftists at Facebook decided they didn't like our message, so they removed our page and are censoring us. Help us fight back and subscribe to our newsletter so that you can stay up-to-date with everything Facebook doesn't want you to see!
Disqus Comments