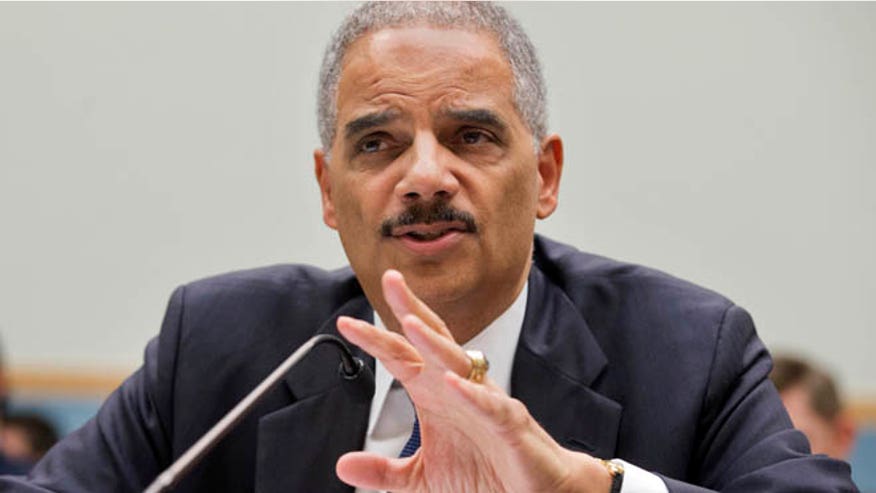 April 8, 2014: Attorney General Eric Holder testifies on Capitol Hill in Washington.AP
The Justice Department moved Wednesday to significantly expand the number of people eligible for clemency, issuing new guidelines allowing certain prisoners who already have served at least 10 years behind bars to apply for release. 
The initiative is part of a broader Obama administration effort to ease sentences for nonviolent drug offenders.
ADVERTISEMENT - STORY CONTINUES BELOW
Deputy Attorney General James Cole outlined the changes, which include six separate criteria inmates must meet to be eligible, on Wednesday morning. Among the requirements is that inmates must have served at least 10 years of their federal sentence and not have a "significant criminal history." They must be "non-violent, low-level offenders" with no significant ties to major gangs, have a record of good conduct in prison, and have no history of violence.
Finally, the process will be open to those who likely would have gotten a lesser sentence if convicted of the same offense today.
take our poll - story continues below
Whom do you consider to be the most corrupt Democrat Politician?
Completing this poll grants you access to AFF updates free of charge. You may opt out at anytime. You also agree to this site's Privacy Policy and Terms of Use.
"Older, stringent punishments that are out of line with sentences imposed under today's laws erode people's confidence in our criminal justice system. I am confident that this initiative will go far to promote the most fundamental of American ideals — equal justice under the law," Cole said.
ADVERTISEMENT - STORY CONTINUES BELOW
He said the department plans to launch the initiative "quickly and effectively."
ADVERTISEMENT - STORY CONTINUES BELOW
Cole suggested attorneys in the Justice Department are on board, though separate efforts to curb mandatory minimum sentencing have drawn complaints from the rank and file.
The National Association of Assistant Untied States Attorneys wrote to Attorney General Eric Holder in January arguing that the current sentence system is "worth preserving" — and that mandatory minimums give prosecutors "leverage to secure cooperation from defendants."
DOJ leaders, though, argue that the new clemency changes are meant to address inconsistencies in sentences over time. The announcement is aimed primarily at drug prisoners, especially those sentenced under old guidelines that resulted in significantly harsher penalties for people caught with crack cocaine than for those who possessed the powder form of the drug. But it also applies to federal inmates imprisoned for other crimes, provided they meet the same criteria for clemency.
Cole outlined a detailed process that apparently will kick into gear starting next week. He said the Bureau of Prisons will circulate the new criteria to inmates across the country, and allow those who think they meet the standards to fill out an electronic form.
DOJ lawyers will screen those forms and forward select cases to pro bono attorneys to help in preparing clemency applications. Cole said lawyers from the Justice Department and elsewhere are being assigned to the pardon office to help in reviewing the "numerous petitions" expected to be submitted.
He said applications will undergo "rigorous scrutiny."
Cole also announced that current Pardon Attorney Ron Rodgers will be resigning; he will be replaced by Deborah Leff, acting senior counselor for access to justice.
One source told The Associated Press the Justice Department has identified more than 23,000 people who are serving sentences of at least 10 years. But it was not clear how many of those people would be viable clemency candidates.
The Obama administration says it's working to correct the legacy of an old sentencing structure that, historically, subjected black convicts to long prison terms for crack cocaine convictions while giving far more lenient sentences to those caught with powder, who were more likely to be white. The Fair Sentencing Act reduced that disparity and eliminated a five-year mandatory minimum for first-time possession of crack, and officials are now turning their attention to identifying inmates who received sentences under the old guidelines that now appear unduly harsh.
President Obama, who granted only one commutation in his first term, cut short in December the sentences of eight prisoners he said had been locked up too long for drug crimes. The White House has said it's seeking additional good candidates to consider for clemency, though spokesman Jay Carney said Monday that the number of commutations "will depend entirely on the number of worthy candidates."
The Associated Press contributed to this report. 
Via FOX NEWS
Facebook Has Banned Us!
The leftists at Facebook decided they didn't like our message, so they removed our page and are censoring us. Help us fight back and subscribe to our newsletter so that you can stay up-to-date with everything Facebook doesn't want you to see!
Disqus Comments