Sassy Liberty AMERICA'S FREEDOM FIGHTERS –
Showcasing traditional, Christian family values in a modern version of Mayberry, Duck Dynasty celebrated wholesome and traditional American values.
The Robertson family has never apologized and never shied away from their devout Christian beliefs.
One of the more "controversial" portions of the show happened weekly around the dinner table as the family held hands and prayed.
ADVERTISEMENT - STORY CONTINUES BELOW
Among all of us gun-toting, 2A lovin', Bible-clinging, traditional values livin' Deplorables – the Robertson family were much beloved. Phil, Miss Kay, Uncle Si, and Willie were some of THE most popular reality television stars in history.
take our poll - story continues below
Whom do you consider to be the most corrupt Democrat Politician?
Completing this poll grants you access to AFF updates free of charge. You may opt out at anytime. You also agree to this site's Privacy Policy and Terms of Use.
ADVERTISEMENT - STORY CONTINUES BELOW
It was a stark change from the usual bed hopping, deviant behavior that is paraded loudly and proudly across prime time.  A&E introduced the nation to the owners of Duck Commander – the Robertson Family, of West Monroe, Louisiana back in 2012. The series ended on March 29, 2017, with the hour-long finale "End of an Era". The show has broken several ratings records on A&E and cable television as a whole, earning $80 million in advertising sales for the first nine months of 2013, and merchandise has generated another $400 million in revenue.
According to an interview with Phil Robertson on Sports Spectrum in 2013 – 
ADVERTISEMENT - STORY CONTINUES BELOW
"So they would just have me saying, 'Thank you Lord for the food, thank you for loving us, amen. So I said, 'Why would you cut out 'In Jesus' name?' They said, 'Well those editors are probably doing that. They just think that they don't want to offend some of the Muslims or something.'"
Liberals, Hollywood, and the leftist Mainstream Media utterly loathed the Robertson family and everything the show Duck Dynasty represented. They seemed to dance with maniacal glee when the show ended recently but none more so than Rolling Stone with a profane attack disguised as a "farewell" entitled – "Fowl Play: Saying Goodbye to 'Duck Dynasty,' TV's Worst Show."
According to Rolling Stone –
"No show in television history has ever sucked quite like this one and if the TV gods are willing, no show ever will. The show represented the pre-Trump Christian right's fantasy of itself – a family of hairy but God-fearing bootstrappers bowing their heads in prayer over the dinner table."
The article was little better than a hit piece and was particularly brutal – even going so far as to call the Robertson's a "family of hypocritical Christian-right hillbillies."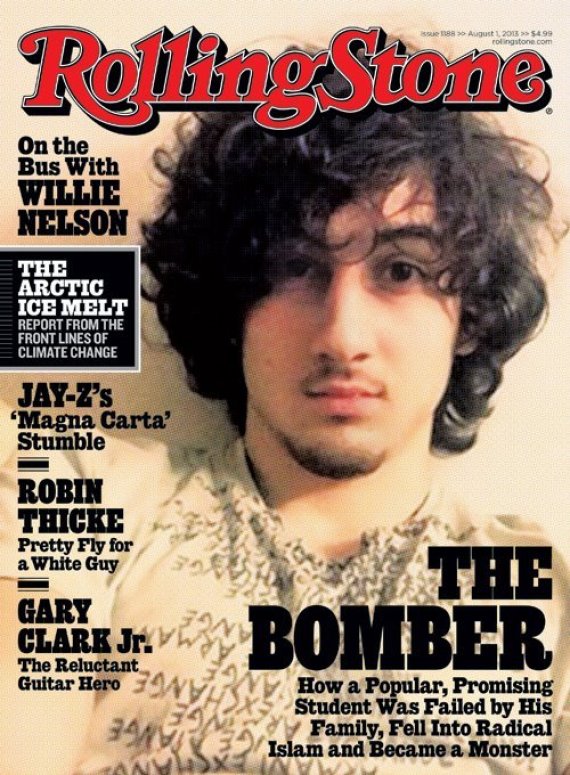 This is also the same publication that tried to sexualize the Boston bomber and let us not forget "A Rape on Campus" a now-retracted article, written by Sabrina Erdely that claimed to describe a group sexual assault at the University of Virginia, except the entire rape story was a complete work of fiction. Rolling Stone retracted the story in its entirety on April 5, 2015.
Perhaps if these liberal leftists were a bit more prayerful, stuck their heads in the Bibles a bit more, the country might not have some of the issues that it does.  I frankly get tired of traditional values being demeaned as though there is something wrong with being a person of faith and integrity. 
They aren't out there sleeping with anything that moves, being deviants, and have strong, Christian values.
STOP THE PRESS!!  IT'S THE END OF THE WORLD!!
Personally? I think it is a LOVELY thing to see WHOLESOME, FAMILY FRIENDLY entertainment. Call me crazy but I would like to see a hell of a lot more of THAT and a whole lot less of what is considered "normal."
F all libs.
God Bless.
Here's How To Be Sure To Continue Seeing Our Content On Facebook
TOGETHER WE WILL MAKE AMERICA GREAT AGAIN!
Dean James III% AMERICA'S FREEDOM FIGHTERS
Please like and share on Facebook and Twitter!
Facebook Has Banned Us!
The leftists at Facebook decided they didn't like our message, so they removed our page and are censoring us. Help us fight back and subscribe to our newsletter so that you can stay up-to-date with everything Facebook doesn't want you to see!
Disqus Comments