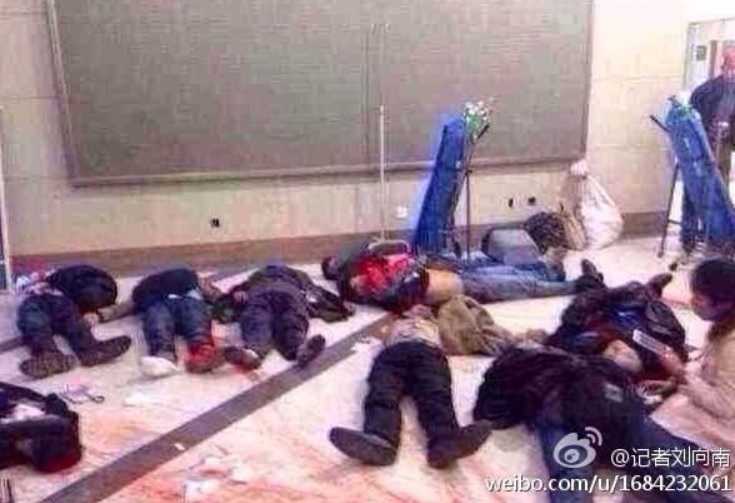 Aftermath of the stabbing rampage at China's Kunming station.weibo
The attack at Kunming train station in China's southwestern Yunnan province was described by state television as a "violent terror attack" that was "organized and premeditated."
At least 28 people have been killed and 113 wounded in the mass stabbing at one of China's busiest railway stations.
According to eye witness reports, a group of people armed with knives and dressed all in black, entered the train station at about 9pm and indiscriminately began attacking travellers.
ADVERTISEMENT - STORY CONTINUES BELOW
Speaking to Xinhua news agency, a local resident, Yang Haifei, described a scene of carnage as unsuspecting travellers were cut down in their tracks.
take our poll - story continues below
Whom do you consider to be the most corrupt Democrat Politician?
Completing this poll grants you access to America's Freedom Fighters updates free of charge. You may opt out at anytime. You also agree to this site's Privacy Policy and Terms of Use.
Haifei who, sustained injuries to his chest and back was buying a ticket at the time of the attack.
ADVERTISEMENT - STORY CONTINUES BELOW
"I saw a person come straight at me with a long knife and I ran away with everyone," he said, adding that some people 'just fell on the ground'.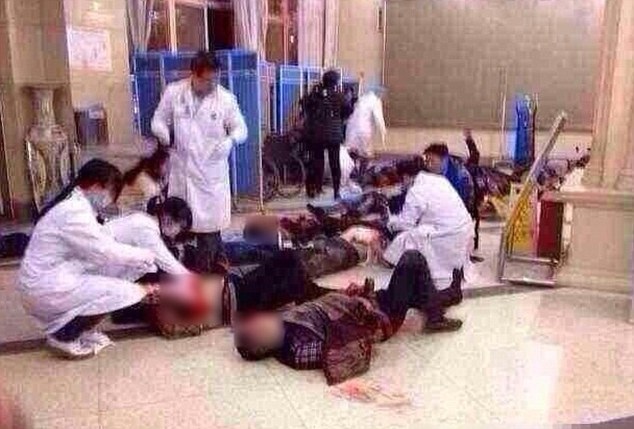 ADVERTISEMENT - STORY CONTINUES BELOW
Doctors attend to the injured on the station concourse.Weibo
Graphic images from the scene have been circulating via Chinese social media, showing bodies lying in pools of blood, strewn across the station concourse.
Unconfirmed reports suggest police shot and killed five attackers after a standoff, while others were detained. Police have not named any of the suspects.
Hours after the attack, medics were still treating the victims, many of whom were transported to local hospitals.
Domestic security chief Meng Jianzhu, one of China's top politicians, was reportedly travelling to the Kunming, the capital of the Yunnan province.
The station, which opened in 1958, is one of the largest in south west China with up to 75,000 passengers passing through it daily.
Confirming the numbers of dead and injured, Xinhua said the attack was one of the deadliest in recent Chinese history.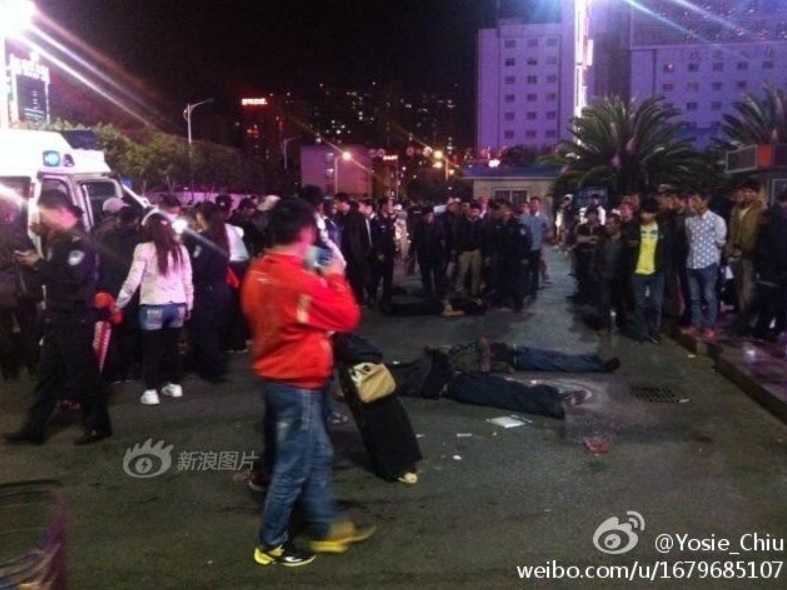 27 are dead and 109 injured in one of China's worst mass killings.Weibo
China has been plagued by a series of mass, random stabbings since 2010 when attacks on several schools culminated in the massacre of 22 children and an elderly woman outside a primary school in Henan province in December 2012.
In June last year, knife wielding gangs set upon a police station and local government building in western China.
While some of the incidents were carried out by individuals acting alone, others have been attributed to organised groups in protest at the Chinese state.
Islamist extremists operating in the far western region of Xinjiang, have been deemed culpable for the attacks in Xinjiang, which is home to the Muslim Uighur people. There is unrest among many Uighurs at restrictions laid down by the Chinese authorities on their culture and religion.
The attack comes as China gears up for the annual meeting of parliament, which opens in Beijing on Wednesday (5 February).
The train station attack is still being investigated and it is not known if it is the actions of a dissident group.
CLARK KENT @AMERICAS FREEDOM FIGHTERS
Facebook Has Banned Us!
The leftists at Facebook decided they didn't like our message, so they removed our page and are censoring us. Help us fight back and subscribe to our newsletter so that you can stay up-to-date with everything Facebook doesn't want you to see!
Disqus Comments