(Before It's News)  AMERICAS FREEDOM FIGHTERS
*BREAKING* More proof they're prepping for something HUGE here!!! Original UN Troops in Texas story down below.

An eyewitness Facebook post warning is going viral that shares one Vietnam Veterans recent experience down in Dallas, Texas. The warning, reposted by American Gun Rights-Texas who are requesting confirmation of this post, warns of 30 United Nations vehicles, fully loaded with combat prepared troops, driving down I-30 towards Garland, Texas. Are these UN troops here preparing for economic collapse in America? Is this related to Iran ships approaching the US border? Is this tied to this warning from John Moore via Susan Duclos: Military Vehicles Moved Through US At Night, Hidden In The Day? The Alex Jones video from days ago appears to be warning us of exactly this: "The UN Takeover of America."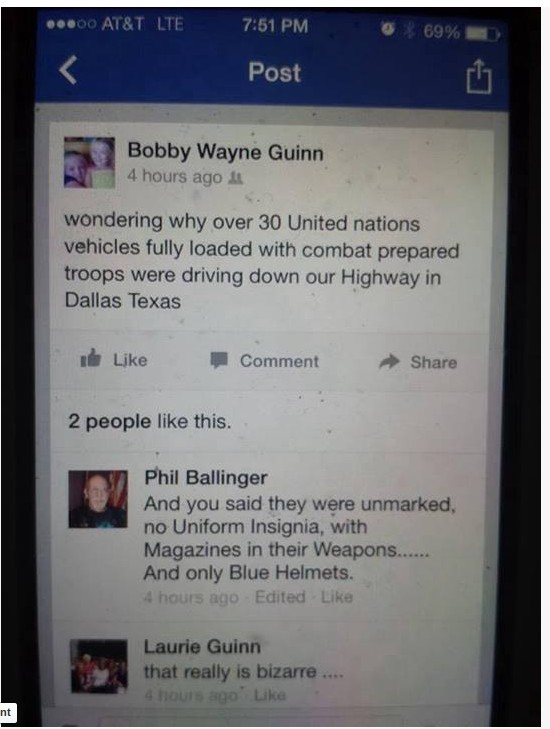 http://www.youtube.com/watch?v=ye97E6UnPkw
PHOTO COURTESY OF ZESKO AND EXTREMELY PISSED OFF RIGHT WINGERS 2
By Live Free or Die (Reporter)
Facebook Has Banned Us!
The leftists at Facebook decided they didn't like our message, so they removed our page and are censoring us. Help us fight back and subscribe to our newsletter so that you can stay up-to-date with everything Facebook doesn't want you to see!
Disqus Comments