BLM attempts a media blackout with FAA flight restrictions targeting news helicopters
Yesterday afternoon the Federal Aviation Administration designated the airspace above Bundy Ranch near Bunkerville, Nevada a "no-fly zone" with altitude restrictions that effectively ban news helicopters.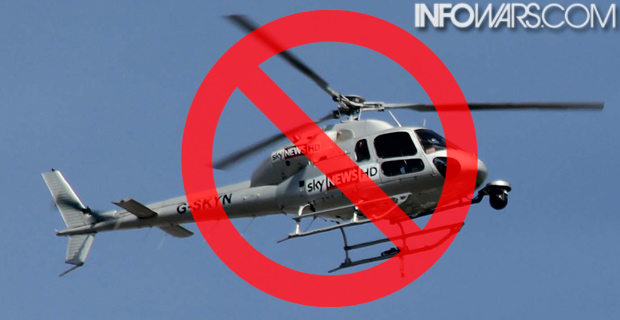 take our poll - story continues below
Whom do you consider to be the most corrupt Democrat Politician?
Completing this poll grants you access to America's Freedom Fighters updates free of charge. You may opt out at anytime. You also agree to this site's Privacy Policy and Terms of Use.
The BLM "no-fly zone" targets news helicopters from covering the story. Original photo credit: Peter Clarke / Wiki
ADVERTISEMENT - STORY CONTINUES BELOW
ADVERTISEMENT - STORY CONTINUES BELOW
The "temporary flight restrictions," revealed by a contributor to the Free Republic, bans all air traffic under an altitude of 3,000 feet in the vicinity of the ranch except for aircraft operating under the direction of the Bureau of Land Management.
The restrictions in full:
FDC 4/1687 ZLA NV..AIRSPACE MESQUITE, NV..TEMPORARY FLIGHT RESTRICTIONS WITHIN AREA DEFINED AS 3NM RADIUS OF 364624N/1141113W (MMM71 RADIAL AT 4.3NM) SFC-3000FT AGL LAW ENFORCEMENT INVESTIGATION. PURSUANT TO 14 CFR SECTION 91.137(A)(1) TEMPORARY FLIGHT RESTRICTIONS ARE IN EFFECT. ONLY RELIEF AIRCRAFT OPERATIONS UNDER DIRECTION OF BLM ARE AUTHORIZED IN THE AIRSPACE. BLM TELEPHONE 702-335-3191 IS IN CHARGE OF ON SCENE EMERGENCY RESPONSE ACTIVITY. LOS ANGELES /ZLA/ ARTCC TELEPHONE 661-265-8205 IS THE FAA COORDINATION FACILITY. 1404112140-1405111434
A map of the no-fly zone is available here.
ADVERTISEMENT - STORY CONTINUES BELOW
Undoubtedly these flight restrictions are in response to the intense media presence now surrounding Bundy Ranch.
"Keeps the media choppers away so the BLM can do what it wants," a contributor named SkyDancer pointed out on the Free Republic.
It's quite obvious that this is the case considering that news helicopters routinely fly at an altitude under 3,000 feet in order to capture the best footage.
Recently, cowboys who are supportive of Cliven Bundy have been successful at rounding up Bundy's cattle before the BLM could impound them, so it certainly appears that the agency is using the flight restrictions as a cover to target these cowboys without any fear of potential brutality being leaked to the media.
BLM agents have already assaulted several protestors, including a pregnant woman and a cancer victim, which was fortunately caught on tape.
The feds are attempting to regain control of the narrative surrounding the standoff, especially since it is now known that U.S. Senate Majority Leader Harry Reid (D-Nev.) is behind the land grab for the future development of solar farms with Chinese energy companies.
It is also concerning that by interpreting the no-fly zone to the letter, the BLM could even delay medical helicopters from flying into the area to evacuate individuals who are severely injured.
Although air ambulances are typically exempt from temporary flight restrictions, pilots are still supposed to gain clearance before taking off, which in the past has kept medical pilots grounded until permission was granted.
This scenario is especially frightening considering Clark Co. Commissioner Tom Collins' recent statement that those traveling to Bunkerville to support Bundy in his standoff against the feds "better have funeral plans."
Facebook Has Banned Us!
The leftists at Facebook decided they didn't like our message, so they removed our page and are censoring us. Help us fight back and subscribe to our newsletter so that you can stay up-to-date with everything Facebook doesn't want you to see!
Disqus Comments