Sassy Liberty AMERICA'S FREEDOM FIGHTERS – 
Highly prominent and controversial feminist lawyer Gloria Allred is under investigation by not one but two bar associations for legal malpractice and misconduct related to her representation of a male weatherman.
Local Washington, D.C. weatherman Kyle Hunter sued CBS in 2010. His allegations stemmed from his belief that he was passed over for promotions in favor of young, attractive women. Hunter hired Allred to represent him in his suit charging discrimination against the network. Unbeknownst to Hunter, Allred was also in talks with CBS about producing a legal drama based on her life. Hunter believes this was a major conflict of interest and has accused Allred intentionally botching his case in an effort to prevent the deal from falling through. Hunter believes this was an obvious conflict of interest and therefore, she should have declined to take his case, referring him to another attorney.
ADVERTISEMENT - STORY CONTINUES BELOW
Hunter states of the investigations –
take our poll - story continues below

Whom do you consider to be the most corrupt Democrat Politician?

Completing this poll grants you access to AFF updates free of charge. You may opt out at anytime. You also agree to this site's Privacy Policy and Terms of Use.

"Gloria Allred severely injured me and my family and refuses accountability. I am very pleased that The State Bar of California and the Washington D.C. Bar are taking their investigations into Ms. Allred very seriously. I applaud their professionalism and duty to the public's protection." 

ADVERTISEMENT - STORY CONTINUES BELOW
The first investigation in the state of California began in March.  Now yet another investigation has been launched in Washington, D.C.  Hunter states that Allred failed to interview witnesses which would have greatly bolstered his case. Her failure to interview these witnesses resulted in the trial court finding in favor of CBS and ordering Hunter being ordered to pay attorney's fees and costs which amounted to some $800,000. Hunter has also a lawsuit against Allred personally.
The lawsuit alleges that Allred misrepresented to Hunter that she had contacted witnesses, however, the witnesses testify that they were NOT contacted by Allred or anyone else at the firm. Hunter is represented by attorney Robert Barnes.  The complaint reads –
ADVERTISEMENT - STORY CONTINUES BELOW
"Allred sandbagged her client to serve her personal pecuniary interests, her penchant for public fame, and to protect the malfeasance of her media allies. Allred needs to spend less time in front of a TV camera, and more time in an ethics library."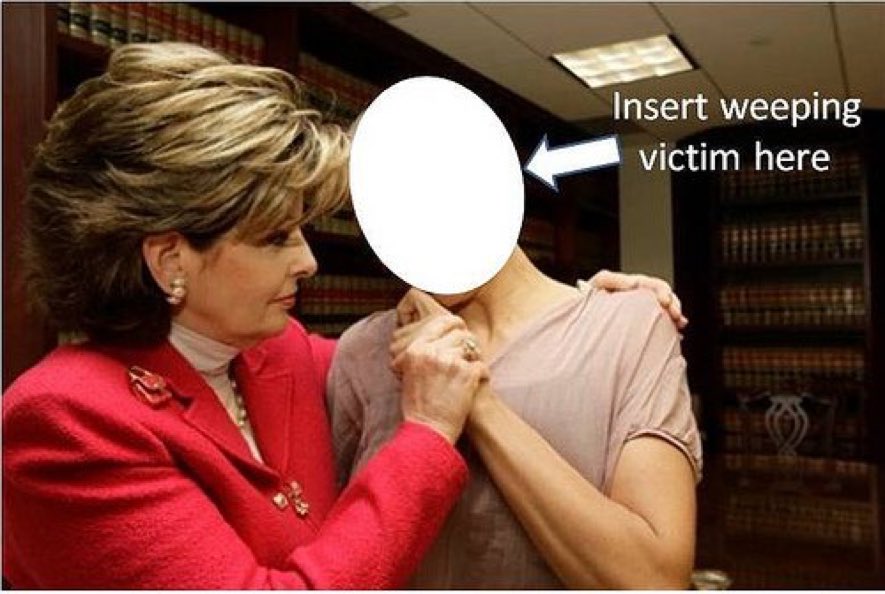 The details of the investigations have not been made public but the State Bar only opens investigations after receiving complaints from consumers, other attorneys, or former clients. According to the State Bar's website, not all complaints are sent to the Enforcement Unit for further investigation, some are found to be meritless and closed.  Those found to have potential merit are then opened for investigation.
The California Bar's website states –
"If it appears, however, that the attorney may be a repeat offender or have committed a violation where there is a serious likelihood of discipline being imposed, an investigator and a Bar prosecutor from the Enforcement Unit take over the investigation."
According to legal experts, the fact the complaint has now escalated to a full fledged investigation could be significant. According to a report, the California State Bar received more than 15,000 bar complaints against California lawyers in 2015. Of those, formal discipline was imposed in 990 cases, and 421 lawyers were suspended or disbarred. The State Bar can not confirm or deny the existence of an investigation, and a complaint only becomes public when disciplinary charges have been filed in State Bar Court.
Allred's case has been forwarded to the State Bar's Enforcement Unit for further investigation and possible prosecution.
Allred more recently filed a defamation suit against President Donald Trump on behalf of Summer Zervos, a former Apprentice contestant who claims Trump groped her, as well as a porn star who claimed Anthony Weiner asked her to lie to the media.  Allred also defended a woman who accused Herman Cain of sexual harassment.
FOLLOW us on Facebook at Nation In Distress!
Copyright 2017 Americas Freedom Fighters/ AFF Media. All rights reserved. This material may not be published, broadcast, rewritten or redistributed without expressed permission.
Facebook Has Banned Us!
The leftists at Facebook decided they didn't like our message, so they removed our page and are censoring us. Help us fight back and subscribe to our newsletter so that you can stay up-to-date with everything Facebook doesn't want you to see!
Disqus Comments