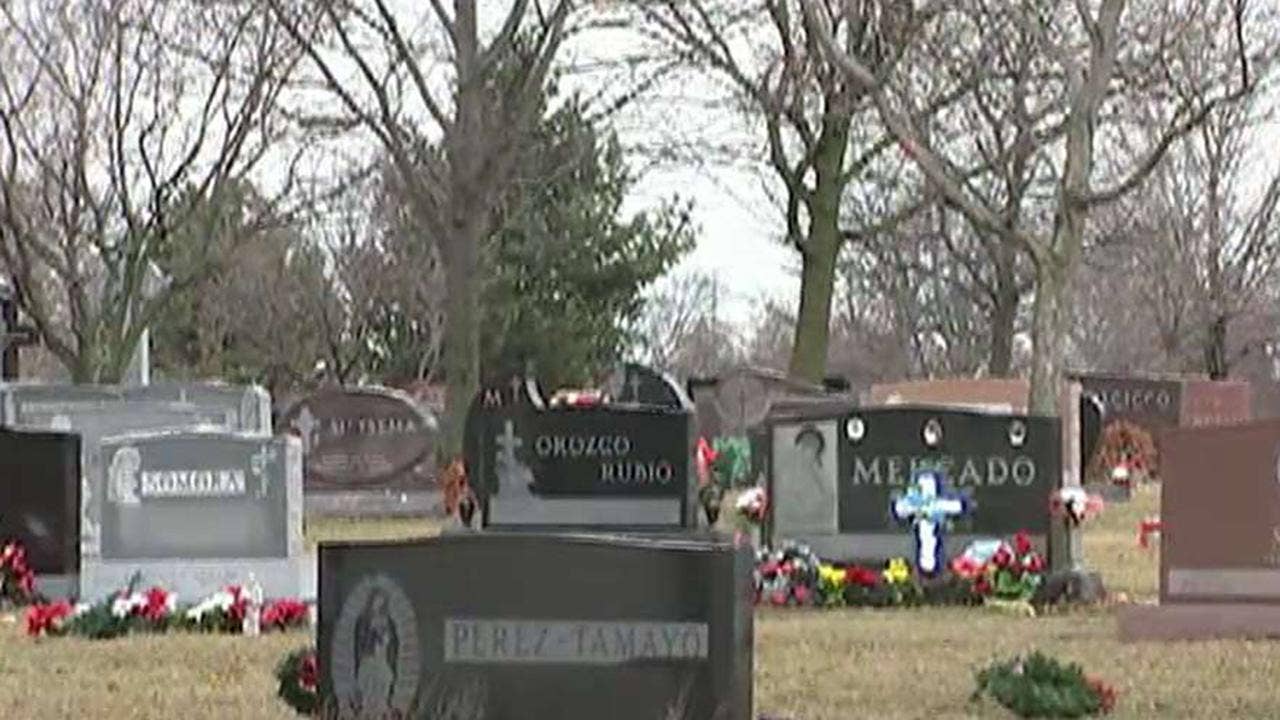 Chris "Badger" Thomas AMERICA'S FREEDOM FIGHTERS –
Chicago-area officials trying to prevent funerals for gang members from turning into shootouts say the issue has gotten so far "out of control" that one cemetery has started hiring off-duty police officers, FOX News reports.
ADVERTISEMENT - STORY CONTINUES BELOW
"These funeral processions have gone through our communities where people have been hanging out of cars. There have been shots fired." ~ Cook County Commissioner Richard Boykin
Cook County Sheriff Tom Dart met Thursday with political, religious and funeral industry leaders to discuss the problem following a funeral procession in December that was marred by gunfire.
take our poll - story continues below
Completing this poll grants you access to AFF updates free of charge. You may opt out at anytime. You also agree to this site's Privacy Policy and Terms of Use.
"It's getting out of control, it really is," Hillside Police Chief Joseph Lukaszek told FOX 32. "The gangs just think that it's a safe haven for them and they do whatever they want to do."
ADVERTISEMENT - STORY CONTINUES BELOW
Dart – who hopes to come up with proposals ready to be put into action by May – says the shootings have been escalating "over the last ten to 15 years from where it was not much of a problem… to now it occurs more frequently."
ADVERTISEMENT - STORY CONTINUES BELOW
He told FOX 32 that at least one cemetery has been hiring off-duty cops whenever a gang member is set to be buried.
According to Rock river Times, more gun free zones are in the sights of gun rights activists after the Illinois Supreme Court unanimously shot down one around public parks.
Last week's ruling from the state's highest court centered around Julio Chairez, who was charged criminally for having a concealed weapon within 1,000 feet of Virgil Gilman Trail in Aurora.
Illinois State Rifle Association Executive Director Richard Pearson praised the 7-0 ruling against the 1,000 foot barrier around public parks in state law. He agreed with the court that it was too burdensome for law-abiding citizens to navigate where they could or could not carry a firearm for protection, especially in Chicago, where there are 600 parks.
"To remain in compliance with the law, the State said that the individual would need to disassemble his or her firearm and place it in a case before entering the restricted zone," the ruling said. "This requirement, however, renders the ability to defend oneself inoperable and is in direct contradiction" with other cases.
There are 23 different areas in Illinois you can't carry a firearm in Illinois by law, even if you have a concealed carry permit, Pearson said.
Local Chicago Fox 32 reports:
This has been something that has been escalating I'd say over the last ten to 15 years from where it was not much of a problem. It was very isolated. To now it occurs more frequently," Dart said.
The sheriff says he doesn't want this to drag out. He hopes to have some ideas, some proposals they can put into action as early as May.
Sheriff dart says at least one cemetery has begun hiring off-duty police officers when a gang member is going to be buried.
AFF News reported, In total, more than a dozen states are now considering similar gun confiscation laws. Even red states like Kansas, where SB 431 has been submitted, are considering them. On Thursday, Ohio's Republican Governor John Kasich jumped on the bandwagon and called for a similar law in his state.
As States attempt to silently pass gun laws, it is up to We The People, to be aware what our states are attempting.
The NRA is hyper-aware of what is going on in each state and they are doing their best to report what they find and then it is up to people like us to bring the BLUNT TRUTH to all of you.
Chris "Badger" Thomas is a Veteran who served our country as an Army Combat Medic.
TOGETHER WE WILL MAKE AMERICA GREAT AGAIN!
Dean James III% AMERICA'S FREEDOM FIGHTERS
FOLLOW us on Facebook at Nation In Distress!
Please like and share on Facebook and Twitter!
Facebook Has Banned Us!
The leftists at Facebook decided they didn't like our message, so they removed our page and are censoring us. Help us fight back and subscribe to our newsletter so that you can stay up-to-date with everything Facebook doesn't want you to see!
Disqus Comments