Sassy Liberty AMERICA'S FREEDOM FIGHTERS –
In their usual Middle School like antics to oppose all things Trump regardless of what is best for American interests, Democrats led by Chuckles the Clown….ERRR I mean Day 4 Senate Minority Leader Charles E. Schumer (D-N.Y.) announced he will oppose the confirmation of  Judge Neil Gorsuch for Supreme Court Justice.
take our poll - story continues below
Completing this poll grants you access to AFF updates free of charge. You may opt out at anytime. You also agree to this site's Privacy Policy and Terms of Use.
Schumer plans to join other Democrats in filibustering Gorsuch's nomination in the latest attempt in Democratic obstructionism. This may make it difficult for Gorsuch to clear the 60-vote procedural hurdle.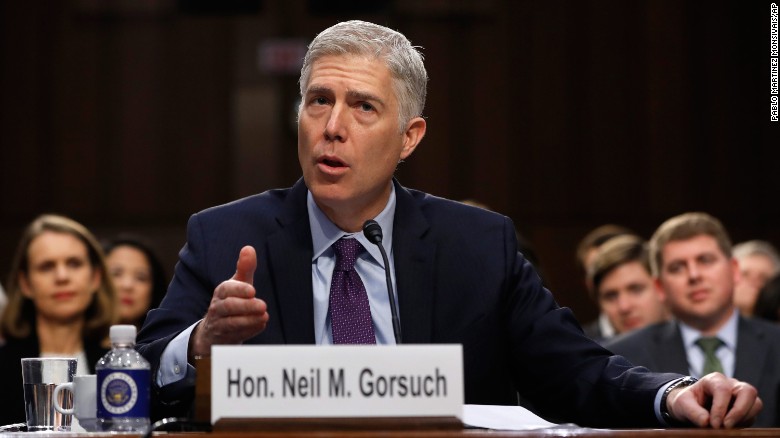 ADVERTISEMENT - STORY CONTINUES BELOW
Senators completed two days of questioning Gorsuch with repeated inquiries about abortion rights, money in politics and a Supreme Court ruling issued on Wednesday that reversed a decision of his appeals court.
Schumer postured and preened on the Senate floor in a speech claiming that Gorsuch "was unable to sufficiently convince me that he'd be an independent check" of President Trump. Schumer states, Gorsuch is "not a neutral legal mind but someone with a deep-seated conservative ideology," Schumer added. "He was groomed by the Federalist Society and has shown not one inch of difference between his views and theirs."
The Federalist Society is a Constitutionally conservative legal group.  They are also are one of two organizations that have provided a list of names to President Trump for consideration for SCOTUS picks to replace the late Antonin Scalia. Leonard Leo is one of the group's top leaders.  He is currently on leave from the organization, as he advises President Trump through the Supreme Court confirmation process, as well as other picks to fill vacancies on the federal appeals courts.
ADVERTISEMENT - STORY CONTINUES BELOW
Democrats on the Judiciary have struggled to pin Gorsuch down this week on specific legal issues or Supreme Court cases which are rattling them in unexpected ways. Schumer is no exception as the leadership of the Democratic party attempted to block all of President Trump's nominees and policy decisions, more interested in obstructing President Trump like spoiled children than in any attempt to do what is best for the nation as a whole.
Schumer complained that Gorsuch "declined to answer question after question after question with any substance. … All we have to judge the judge on in his record."
Republicans and Conservatives alike have great respect for Gorsuch however.  Senate Judiciary Committee Chairman Charles E. Grassley (R-Iowa) said Gorsuch had demonstrated a "great command of the law" and humility in his testimony.  The plan is for Republicans to refer Gorsuch to the full Senate by April 3.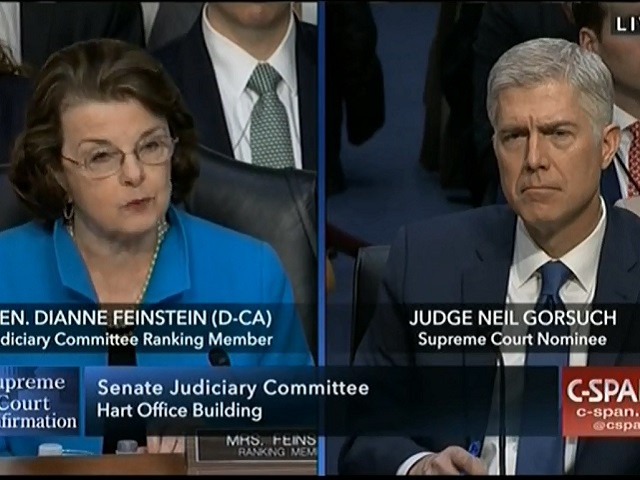 ADVERTISEMENT - STORY CONTINUES BELOW
Sen. Orrin G. Hatch (R-Utah), who has actively participated in 14 Supreme Court confirmation hearings previously, told Gorsuch, "I've seen an awful lot of great people in the law come before this committee. And I haven't seen anybody any better than you. Why anybody in this body would vote against you, I'll never understand."
Sen. Ted Cruz (R-Tex.) was complimentary of Gorsuch for enduring the marathon hearings, stating he was passing the test "with flying colors."
Sen. Patrick J. Leahy (D-Vt.) asked Gorsuch "What vision do you share with President Trump?"
Gorsuch responded with an answer that gives every indication of a judge that will strictly interpret the Constitution and not legislate from the bench, stating –
"Respectfully, none of you speaks for me. I am a judge. I am independent. I make up my own mind. I don't speak for Justice Scalia. I speak for myself."