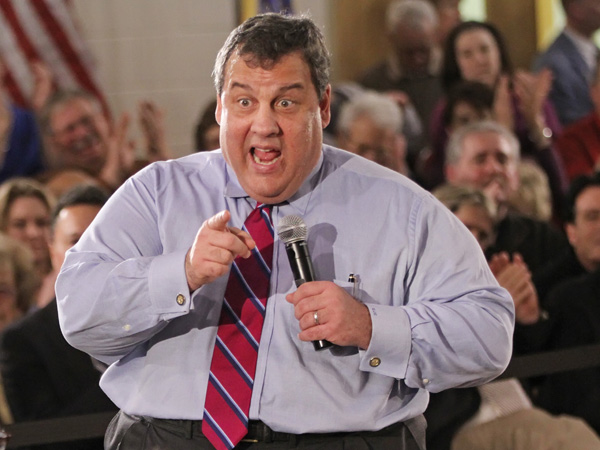 Via The Daily Caller   AND RED FLAG
Speaking at the Republican Jewish Coalition's meeting in Las Vegas on Saturday, New Jersey Gov. Chris Christie responded calmly, but strongly, to a question about Sharia Law, taking the occasion to address lingering concerns about a Muslim judge he appointed in 2011.
"Sohail Mohammed knows as much about jihad as I do, being an Irish-American kid from Newark, New Jersey," Christie said of the Indian-American judge who immigrated to America as a child. "It is ridiculous and insulting, that because I nominated Sohail Mohammed — that people some how think that means I'm for Sharia Law. It's crap," he said to applause. "And I will not ever apologize for making him a judge — in fact, I'm proud of it."
ADVERTISEMENT - STORY CONTINUES BELOW
"Sharia Law won't come into New Jersey," Christie continued, "and to suggest otherwise is nothing more than internet blog B.S."
Much has been made of Christie's gaffe about "occupied territories," but I think this exchange was probably more instructive in the long run. If Christie runs for president, this is one of the lingering questions he will have to continue to address. And his ability to defend this appointment — in what might have been a challenging environment — speaks well of his political courage and ability to communicate. The fact that Christie actually garnered some applause is indicative of his ability to do just that.
ADVERTISEMENT - STORY CONTINUES BELOW
Facebook Has Banned Us!
The leftists at Facebook decided they didn't like our message, so they removed our page and are censoring us. Help us fight back and subscribe to our newsletter so that you can stay up-to-date with everything Facebook doesn't want you to see!
ADVERTISEMENT - STORY CONTINUES BELOW
Disqus Comments