Sassy Liberty AMERICA'S FREEDOM FIGHTERS –
Texas lawmakers are putting forth legislation for a statewide ban on sanctuary cities within their borders.
Texas Governor Greg Abbott states the federal crackdown on sanctuary cities coming from the Trump administration, spearheaded by President Trump himself, is a strong move in helping correct the nation's illegal immigration problem.
ADVERTISEMENT - STORY CONTINUES BELOW
Texas plans to lead by example by putting forth tougher legislation that could potentially land sheriffs of sanctuary cities in jail.
take our poll - story continues below
Whom do you consider to be the most corrupt Democrat Politician?
Completing this poll grants you access to America's Freedom Fighters updates free of charge. You may opt out at anytime. You also agree to this site's Privacy Policy and Terms of Use.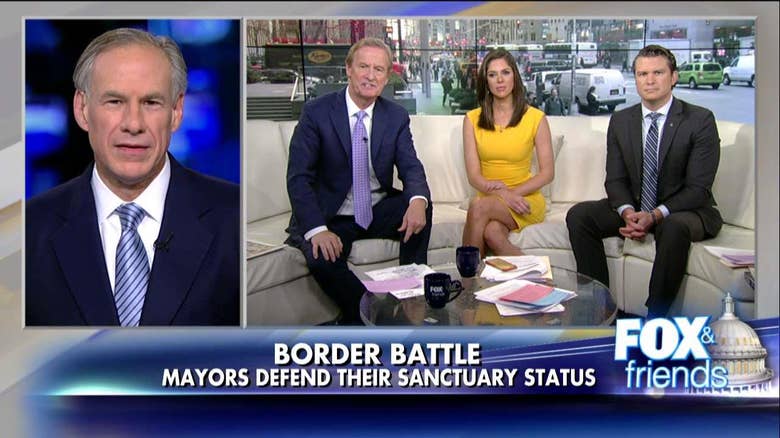 ADVERTISEMENT - STORY CONTINUES BELOW
The ban would pull funding from and impose fines on cities or counties that refuse to comply with Immigration and Customs Enforcement, and local law enforcement officials could be charged with a Class A misdemeanor for not cooperating.
The Texas capital city of Austin is located in Travis County.  During a one week period, Travis County denied more federal immigration holds than anywhere in the country.
ADVERTISEMENT - STORY CONTINUES BELOW
The Department of Homeland Security report detailed 206 federal immigration detainers that local entities denied from Jan. 28 to Feb. 3. Travis County declined 142 requests to hold illegal immigrants — about 69 percent.
Gov. Abbott said in a statement –
"Today's report from DHS is deeply disturbing and highlights the urgent need for a statewide sanctuary city ban in Texas. The Travis County Sheriff's decision to deny ICE detainer requests and release back into our communities criminals charged with heinous crimes — including sexual offenses against children, domestic violence and kidnapping — is dangerous and should be criminal in itself."
Gov. Abbott has cracked down on Sheriff Sally Hernandez for enacting sanctuary city policies within Travis County.  These policies limit or even eliminate cooperation with federal immigration authorities and restrict law enforcement officers' ability to ask about a person's immigration status.
"This is huge and this is a very important step by the U.S. Department of Justice and it is exactly what I did as governor of the state of Texas last month when I defunded Travis County, where the city of Austin is located. The reason why is . . . the sheriff refused to honor ICE detainer requests and instead released back out onto the streets very dangerous criminals.

Criminals who had been arrested for sexual assault, including sexual assault of a minor, compromising the safety of our fellow Texans. Let me tell you something. If a sheriff refuses to enforce the laws . . . they need to quit their job. If they don't want to enforce the law, they should not be in law enforcement."
God Bless.
Here's How To Be Sure To Continue Seeing Our Content On Facebook
TOGETHER WE WILL MAKE AMERICA GREAT AGAIN!
Dean James III% AMERICA'S FREEDOM FIGHTERS
Please like and share on Facebook and Twitter!
Facebook Has Banned Us!
The leftists at Facebook decided they didn't like our message, so they removed our page and are censoring us. Help us fight back and subscribe to our newsletter so that you can stay up-to-date with everything Facebook doesn't want you to see!
Disqus Comments