Sassy Liberty AMERICA'S FREEDOM FIGHTERS –
White nationalist Richard Spencer spoke at Auburn University amid much controversy.  His speaking engagement was initially canceled by the university due to what many consider provocative comments regarding race and religion, yet allow others more provocative of other races and religions free reign, that pesky first amendment and all, but I digress….
ADVERTISEMENT - STORY CONTINUES BELOW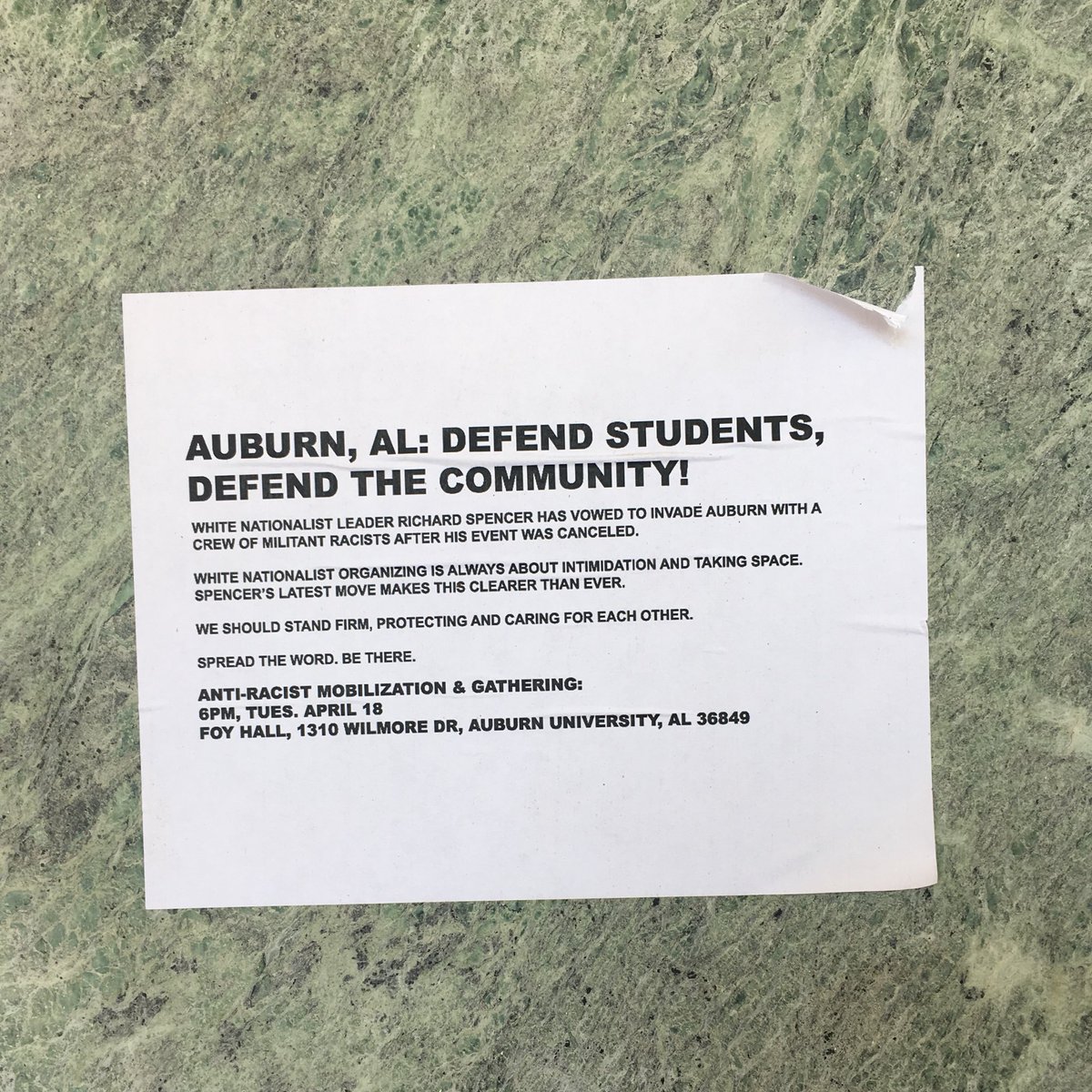 A federal court later ordered the institution to honor the scheduled event and Spencer's event was held as scheduled.  Not to be left out of the party, ANTIFA showed up to the party at Auburn University to protest the alt-right activist at Foy Hall where his speaking engagement was scheduled.
However, UNLIKE Berkeley, California, it seems the Auburn, Alabama police have some balls!  Auburn police officers forced ANTIFA thugs to remove their masks prior to entering the University – I guess we have to break it down Barney-style for the toddler tantrum set.
ADVERTISEMENT - STORY CONTINUES BELOW
https://twitter.com/TheSaintPepe/status/854475945402552320
Inside, hundreds of people packed Foy Hall, as well as around the hall.  Both those interested in his message and those that wished to protest it – some peacefully and some like ANTIFA – not so much.  Of course, we all know that free speech no longer exists on many universities today and it seems many students at Auburn University are no different because you know, words and opinions….well, they hurt!
Spotted outside Foy Hall, where Richard Spencer was to speak before Auburn officially canceled. Unknown where he will try to speak tonight. pic.twitter.com/e7aFRx0kIu

— julia reinstein ? (@juliareinstein) April 18, 2017
take our poll - story continues below
Whom do you consider to be the most corrupt Democrat Politician?
Completing this poll grants you access to AFF updates free of charge. You may opt out at anytime. You also agree to this site's Privacy Policy and Terms of Use.
ADVERTISEMENT - STORY CONTINUES BELOW
Many of the ANTIFA thugs attempted to shout Spencer down as he extolled the virtues of being white and called on whites to fight for their rights, calling him names and yelling at him to get to his point.
Spencer's supporters occasionally chanted, "Let him speak" when he was interrupted.
ANTIFA did what they do best in stirring up hatred, anger, and strife.  Several fights broke out and several arrests were made but KUDOS to the Auburn, Alabama police for keeping things from breaking out into serious mayhem.  They did not allow the situation to devolve into utter chaos much like Berkeley has done —- TWICE!  Auburn PD taking care of ANTIFA thugs and showing Berkeley how it's done! Meanwhile — Berkeley cancels Ann Coulter's speech because….well, let's face it.  They simply can't handle it.
God Bless.
Here's How To Be Sure To Continue Seeing Our Content On Facebook
TOGETHER WE WILL MAKE AMERICA GREAT AGAIN!
Dean James III% AMERICA'S FREEDOM FIGHTERS
Please like and share on Facebook and Twitter!
Facebook Has Banned Us!
The leftists at Facebook decided they didn't like our message, so they removed our page and are censoring us. Help us fight back and subscribe to our newsletter so that you can stay up-to-date with everything Facebook doesn't want you to see!
Disqus Comments