Sassy Liberty AMERICA'S FREEDOM FIGHTERS –
It seems once again Hillary Clinton's health is coming to the forefront as an issue. Hillary was recently forced to cancel several media appearances on her Excuses Tour 7.0 in her effort to promote her book "What Happened."  The book is yet another attempt to explain away Hillary's epic loss in the 2016 presidential election against current President Donald Trump.
Hillary's current leg of her book tour is in England and appearances were canceled.  Speaking of her fall, Hillary attempted to minimize the event as she hobbled away from filming a British TV show interview on crutches Monday, claiming she took a tumble in high heels while holding a cup of coffee.
ADVERTISEMENT - STORY CONTINUES BELOW
Reports state she broke her toe and sprained her ankle falling down some stairs. Appearing on the BBC program The Graham Norton Show wearing a surgical boot and a pants suit worthy of Dr. Evil, she made the usual excuses recalling her tumble, stating, "I was running down the stairs in heels with a cup of coffee in hand, I was talking over my shoulder and my heel caught and I fell backwards."
take our poll - story continues below
Whom do you consider to be the most corrupt Democrat Politician?
Completing this poll grants you access to America's Freedom Fighters updates free of charge. You may opt out at anytime. You also agree to this site's Privacy Policy and Terms of Use.
Many have pointed out typically point to a more serious injury than just a simple broken toe and sprained ankle being reported. As a result of Hillary falling yet again and the injury to her foot and leg, she canceled appearances with  ITV's This Morning and Woman's Hour on Radio 4 among a series of additional scheduled TV and radio appearances in her efforts to throw everyone under the bus but herself in her attempts to stay relevant since her epic loss to President Trump in November.
ADVERTISEMENT - STORY CONTINUES BELOW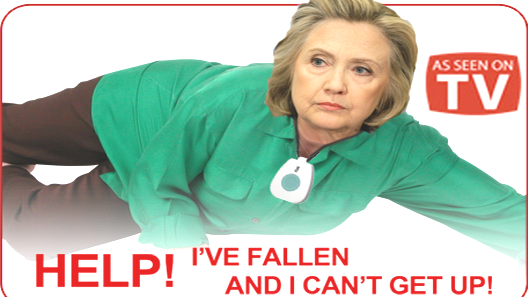 Recalling her tumble, she said: 'I was running down the stairs in heels with a cup of coffee in hand, I was talking over my shoulder and my heel caught and I fell backwards."
ADVERTISEMENT - STORY CONTINUES BELOW
Of course, the reports that Hillary is exhausted yet again are surfacing.  She sure gets awful tired doing nothing more than making excuses and running her mouth.  Perhaps hitting that delete button for some more emails just plumb wore her out.
This is not the first time that Hillary has taken a trip, a dip, or otherwise fallen in a public tumble. Details of Hillary's public tumbles –
9/11 Memorial in 2016 Hillary made headlines after she was captured on video collapsing into the arms of her Secret Service agents after being rushed from the 9/11 memorial service at the World Trade Center last year.

On the campaign trail in 2016, she stumbled up the stairs while boarding her flight to a rally in Winston Salem, North Carolina, in October 2016.

While visiting a rehabilitation center in 2016, Hillary lost her balance while climbing the steps of a home for ex-offenders and substance abusers on the grounds of the former Charleston Navy Yard in February 2016. She was helped up by her aides.

While inside her Washington home in 2013, Hillary fell inside her home on the eve of testimony before a Senate committee investigating Benghazi. She ended up getting a mild concussion. When she appeared in Congress, she was wearing special prism eyeglass lenses, which are used to assist people experiencing double vision.
Before her flight to Yemen in 2011, the then-Secretary of State was boarding a plane to Yemen when she slipped to her knees at the doorway. She was only saved from further embarrassment when an aide gave her a helping hand.
….And these are just the incidents we know about!
With all of this falling and Hillary's health failing, will she be forced to retire soon? Forced to give up all those blessed government coffers!
FOLLOW us on Facebook at Nation In Distress!
Dean James III% AMERICA'S FREEDOM FIGHTERS
Copyright 2017 Americas Freedom Fighters/ AFF Media. All rights reserved. This material may not be published, broadcast, rewritten or redistributed without expressed permission.
Please share this on Facebook and Twitter!
Facebook Has Banned Us!
The leftists at Facebook decided they didn't like our message, so they removed our page and are censoring us. Help us fight back and subscribe to our newsletter so that you can stay up-to-date with everything Facebook doesn't want you to see!
Disqus Comments