Sassy Liberty AMERICA'S FREEDOM FIGHTERS –
The 2016 Presidential Election has been riffed with fraud and incident after incident proving claims of a rigged system. At this point, it seems that We the People are at war with the liberal mainstream media and the elite.  It will be interesting to see on Election Day if fraud rules the day and places Hillary Clinton in the White House despite all evidence to the people's choice to the contrary – be it the massive turn out to rallies for Trump, the record high numbers of early voting, the skewed polling numbers, the Wikileaks data dumps, the multiple FBI investigations into Hillary's criminal behavior – which will affect the outcome of the election? Well, just in case Hillary is "selected, not elected" on Tuesday, a prominent Republican member of the House Judiciary Committee is already making contingency plans.
Rep, Steve King, R-Iowa, promises there will be an immediate move to impeach Hillary before she can even be sworn into office January 20.  How about that glass ceiling Hillary?
ADVERTISEMENT - STORY CONTINUES BELOW
take our poll - story continues below
Completing this poll grants you access to AFF updates free of charge. You may opt out at anytime. You also agree to this site's Privacy Policy and Terms of Use.
Rep. King states that he has spent the last week ensuring Congress has secured the plethora of emails – the thousands upon thousands of them – examined by the FBI over the last several days.  He states based on this he has the utmost confidence that the House could impeach Hillary before she ever assumes office.  Perhaps she and Bill can get matching t-shirts – "America survived the Clinton impeachment- the Sequel."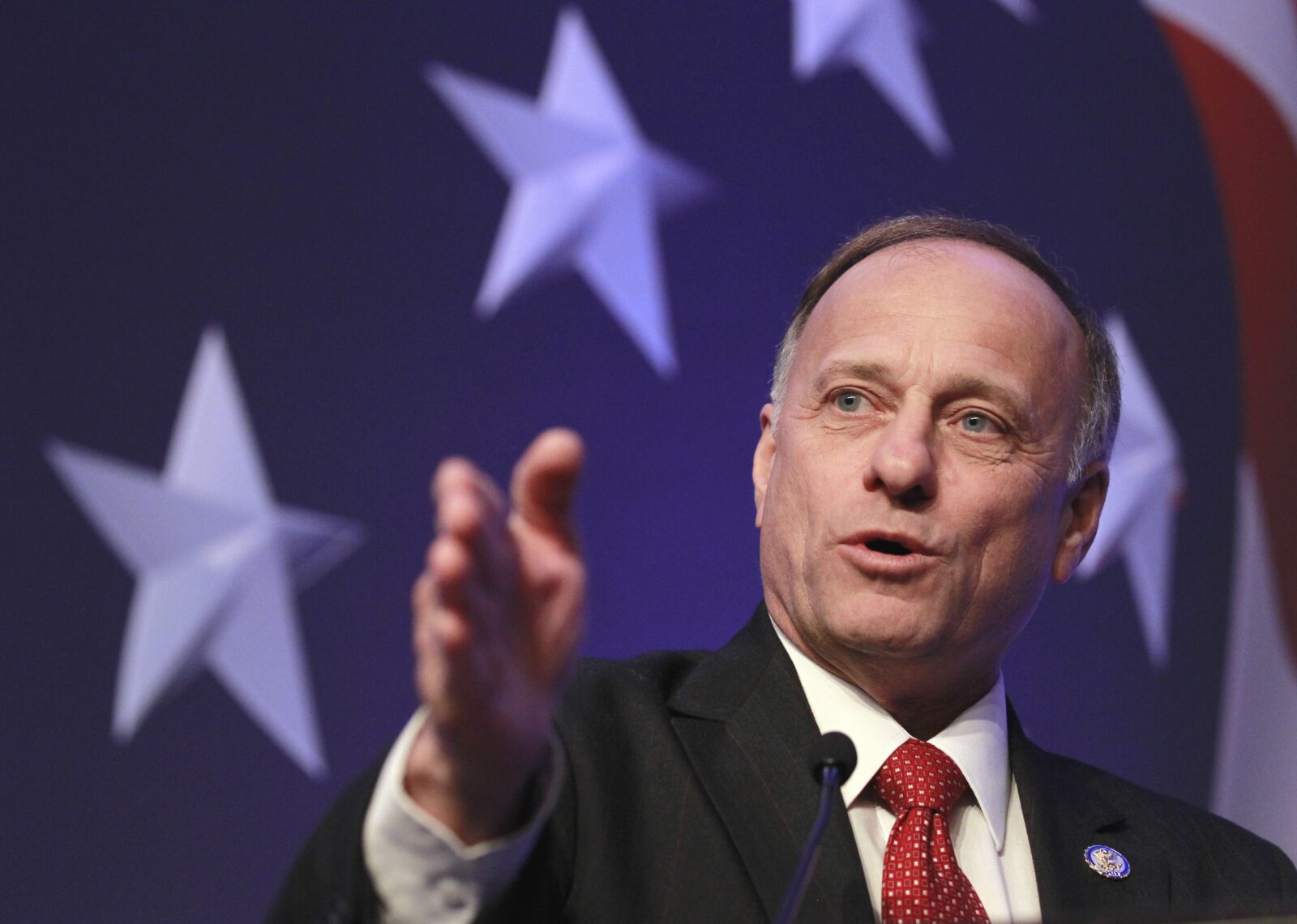 "Don't think that Hillary Clinton has been declared innocent on the email scandal just yet," King warned. "This is not over yet." King states emphatically that the ONLY way Hillary will avoid impeachment proceedings is if a groundswell of American voters will rise up to vote for Donald Trump.
ADVERTISEMENT - STORY CONTINUES BELOW
ADVERTISEMENT - STORY CONTINUES BELOW
"With President Trump in the White House, we could appoint within the Justice Department and the FBI officials who would do their duty to investigate Secretary Clinton's email scandal with a resolve to get to the truth, even if President Obama should pardon Clinton before leaving office," King insisted. This news comes after FBI Director James Comey announced yet again that no charges would be pursued against Hillary Clinton with regard to the 650,000 emails that were discovered on Anthony Weiner and Huma Abedin's shared laptop, reinforcing his original decision to not pursue charges on 7/5/2016, much to the anger and disappointment of many Americans.
Rep. King explained that he had spent several weeks working to ensure that Congress would secure the Weiner emails along with additional emails from top aides Cheryl Mills and Heather Samuelson. Samuelson is an attorney and a long-time Clinton staffer.  She worked under the direction of Mills to assist Clinton attorney David Kendall in sorting through Hillary's emails in order to determine which emails were deemed private. King said in a statement that he was confident Congress will have access to all 650,000 emails from former Congressman Weiner's computer. That confidence is based upon a preservation letter sent to the Department of Justice just last week by Representative Bob Goodlatte – R- VA, Chairman of the House Judiciary Committee and Representative Jason Chaffetz, R-Utah, a member of the House Judiciary Committee and the chairman of the House Oversight and Government Reform Committee.

Rep. King has emphatically stated that this is the only way that justice will prevail.  The American people cannot trust that they will see justice under the direction of the current Attorney General, Loretta Lynch.  Rep. King's opinion is that Lynch has been compromised, putting her personal agenda before that of her professional one.
Not only has Hillary repeatedly lied about classified emails, she lied to Congress in a classified setting. Commander in Chief in waiting??? https://t.co/FdjEKYhXUS

— Steve King (@SteveKingIA) November 7, 2016
According to WND –
"This will obligate Congress to begin an investigation into the investigations conducted by the Department of Justice and FBI regarding Secretary Clinton's private email server," he said.

If Clinton were to win, King said, an investigation could lead to the House impeaching Clinton even while she is still president-elect.

"That congressional investigation could lead to evidence requiring Congress to take action under the Constitution: Impeachment proceedings against Hillary Clinton before Jan. 20, 2017, even before she takes the oath of office to become president," he said.
Rep. King has made promises to launch a legitimate investigation into Hillary's private email server and possible violations of national security with regarding the mishandling of classified information. He was firm in his stance that the American people should not be forced to accept a DOJ designed and led cover-up.
"What happened to the evidence on Weiner's computer that caused Comey to reopen the case?" King asked.

"Comey had two weeks to look over that evidence before he announced he was reopening the investigation. So what did Comey find in the 650,000 Weiner emails so quickly, after only nine days of a reopened investigation, that led the FBI to reverse the conclusion made after two weeks to reopen the investigation?"

King said he has given the issue considerable thought, and with the letter Goodlatte and Chaffetz co-authored to the Department of Justice, he is confident the Weiner evidence has been preserved so Congress can conduct it's own independent investigation.

"My instincts have been right on this all along," he said. "And I'm sure my instincts continue to be right today."
Rep. King believes along with many others that Comey's Sunday announcement of no charges against Hillary for the 2nd time was a result of intense political pressure from the Democratic Party, the Obama Administration, and the Hillary campaign.
"One cannot fathom the pressure that was brought to bear on Comey by the president of the United States, Barack Obama, to whom this investigation points, as well as by the former president of the United States, Bill Clinton, who sat on the tarmac with Loretta Lynch, plus the power of Hillary Clinton herself, a potential future occupant of the White House, on the cusp of being elected president of the United States," he said.

"Who wouldn't cave in, with the weight of two-and-a-half presidents upon them, and the full force of their political party, plus the public pressure brought to bear by the mainstream media pulling for Hillary Clinton?" he asked.

"Only a noble person of character could stand up in the face of that pressure," he concluded, "but they would have to be willing to do so at the risk of sacrificing at least their career, if not putting their life at risk."
God Bless.
VOTE FOR DONALD TRUMP AND TOGETHER WE WILL MAKE AMERICA GREAT AGAIN!
Dean James III% AMERICA'S FREEDOM FIGHTERS
 Please share this on all Social Media!
Facebook Has Banned Us!
The leftists at Facebook decided they didn't like our message, so they removed our page and are censoring us. Help us fight back and subscribe to our newsletter so that you can stay up-to-date with everything Facebook doesn't want you to see!
Disqus Comments