Sassy Liberty AMERICA'S FREEDOM FIGHTERS –
And the hits just keep coming for Hillary Clinton….
The Federal Election Commission (FEC) has now filed a complaint against the Clinton Campaign, stating the DNC broke campaign finance law following the bombshell revelation earlier this week that Hillary Clinton's presidential campaign and the Democratic National Committee (DNC) funded the now-infamous Trump dossier.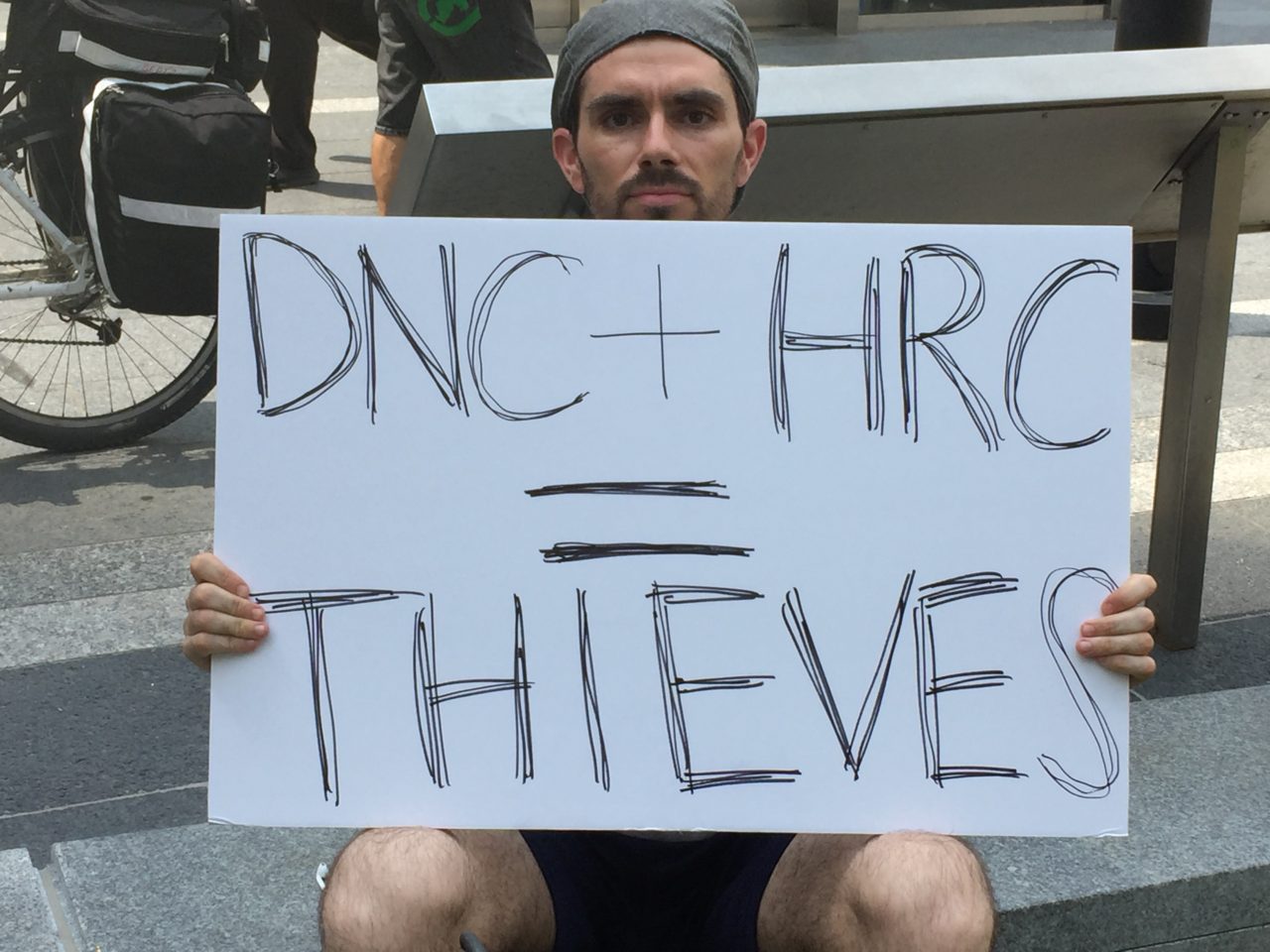 ADVERTISEMENT - STORY CONTINUES BELOW
The FEC states of the issue –
take our poll - story continues below

Whom do you consider to be the most corrupt Democrat Politician?

Completing this poll grants you access to America's Freedom Fighters updates free of charge. You may opt out at anytime. You also agree to this site's Privacy Policy and Terms of Use.

"They failed to accurately disclose the purpose and recipient of payments for the dossier of research alleging connections between then-candidate Donald Trump and Russia, effectively hiding these payments from public scrutiny, contrary to the requirements of federal law."
It seems the Clinton family is no stranger to not properly disclosing funds.  See the Clinton Foundation, Pay for Play, and a host of other scandalous acts by both Bill and Hillary.  Perhaps years of dirty politics are catching up to them? Dare to dream?
ADVERTISEMENT - STORY CONTINUES BELOW
Adav Noti, who previously served as the FEC's Associate General Counsel for Policy, filed the complaint alleging the following –
ADVERTISEMENT - STORY CONTINUES BELOW
This complaint is filed pursuant to 52 U.S.C. § 30109(a)(1) and is based on information providing reason to believe that the Democratic National Committee ("DNC")(C00010603) and Hillary Rodham Clinton's presidential campaign committee Hillary for America (C00575795) have failed to file accurate reports, in violation of the Federal Election Campaign Act ("FECA"), 52 U.S.C. § 30101, et seq., and Commission regulations.

Specifically, the DNC and Hillary for American reported dozens of payments totaling millions of dollars to the law firm Perkins Coie with the purpose described as "Legal Services" or "Legal and Compliance Consulting," when in reality, at least some of those payments were earmarked for the firm Fusion GPS, for the purpose of conducting opposition research on Donald Trump. By failing to file accurate reports, the DNC and Hillary for America undermined the vital public information role that reporting is intended to serve.

"If the Commission, upon receiving a complaint . . . has reason to believe that a person has committed, or is about to commit, a violation of [FECA] . . . [t]he Commission shall make an investigation of such alleged violation. . . ." 52 U.S.C. § 30109(a)(2) (emphasis added); see also 11 C.F.R. § 111.4(a) (emphasis added).
Hillary's campaign lawyer, Marc Elias, Fusion GPS to produce the now debunked anti-Trump dossier exposing fictional ties between now-President Donald Trump and Russia.  The dossier was used as a basis for a witchhunt against all things Trump – all based on nothing more than a work of abject fiction.
Elias works for the law firm Perkins Coie and between the DNC and Hillary's campaign the law firm received payments totaling more than $12 million over the course of the campaign. According to FEC reports, Hillary's campaign reported 37 payments to the law firm with reports labeling each disbursement as "legal services." The DNC reported some 345 payments to Perkins Coie during the 2016 election cycle labeling the payments upon disbursal as a variety of things including "legal and compliance consulting," "administrative fees," "data services subscription" and others.
The FEC complaint reads in regards to these disbursals –
"The purpose of at least some portion of the payments to Perkins Coie was not for legal services; instead, those payments were intended to fund opposition research. This false reporting clearly failed the Commission's requirements for disclosing the purpose of a disbursement."
Noti states of the filing of the misleading reports –
"By filing misleading reports, the DNC and Clinton campaign undermined the vital public information role of campaign disclosures. Voters need campaign disclosure laws to be enforced so they can hold candidates accountable for how they raise and spend money. The FEC must investigate this apparent violation and take appropriate action."
Graham M. Wilson, Partner at Perkins Coie said in a statement regarding these allegations –
"Hillary for America and the DNC complied with all campaign finance laws, including their obligations to appropriately report and describe the purpose of all of their expenditures.  This research work was to support the provision of legal services, and payments made by vendors to sub-vendors are not required to be disclosed in circumstances like this.  This complaint fails to even note the Federal Election Commission's affirmation in 2013 of the relevant rule, notes no authority to the contrary, and is patently baseless."
Deny Deny Deny….even when caught red-handed. It is a skill at which Hillary Clinton is highly successful.
The DNC is still attempting to push the narrative that an investigation is ongoing into the Trump campaign's ties to Russia….and there is. However, the impetus for that investigation was this fictional dossier meaning the entire investigation is based on a lie.  These people have attempted to rip apart the life of a man, his family, and his businesses…..based on a lie. All because Hillary Clinton cannot and will not allow the American people to chose for themselves who will lead them from the presidency.  She thought she was to be coronated Queen of America. Seems like we fought a war about that already….
DNC communications director Xochitl Hinojosa said in a statement –
"Tom Perez and the new leadership of the DNC were not involved in any decision-making regarding Fusion GPS, nor were they aware that Perkins Coie was working with the organization. But let's be clear, there is a serious federal investigation into the Trump campaign's ties to Russia, and the American public deserves to know what happened."
Again, the leftist modus operandi — DENY, DEFLECT, PROJECT….rinse and repeat!
It is important to note that it IS legal under current campaign finance laws for Hillary Clinton's campaign or Donald Trump's campaign for that matter to commission opposition research to be dug up on their opponent.  What is NOT legal, however, is for the campaign to pay a law firm who in turn hires another to perform campaign-related activities without reporting the purpose and nature of those expenditures.
If the FEC finds that there was a violation? Then the DNC with its empty coffers and Hillary's campaign with its 700 million excuses on just "What Happened" could face significant monetary fines.  If the FEC finds that the public was intentionally misled through all of this and it certainly appears that is the case, the fines could be significantly higher.
FOLLOW us on Facebook at Nation In Distress!
Dean James III% AMERICA'S FREEDOM FIGHTERS
Copyright 2017 Americas Freedom Fighters/ AFF Media. All rights reserved. This material may not be published, broadcast, rewritten or redistributed without expressed permission.
Facebook Has Banned Us!
The leftists at Facebook decided they didn't like our message, so they removed our page and are censoring us. Help us fight back and subscribe to our newsletter so that you can stay up-to-date with everything Facebook doesn't want you to see!
Disqus Comments