Sassy Liberty AMERICA'S FREEDOM FIGHTERS –
Popular Conservative news personality, Matt Drudge, has caused quite the stir.  On Sunday Drudge tweeted that he was about to unleash a bombshell like none other, one that could potentially upend this contentious Presidential election.
ADVERTISEMENT - STORY CONTINUES BELOW
take our poll - story continues below
Whom do you consider to be the most corrupt Democrat Politician?
Completing this poll grants you access to AFF updates free of charge. You may opt out at anytime. You also agree to this site's Privacy Policy and Terms of Use.
"Oh, on the sex stuff. Hillary is about to get hers … ," he wrote on Twitter, sharing a photo of Democratic presidential nominee Hillary Clinton with talk show host-comedienne-actress Ellen DeGeneres. The implications, of course, are that the rumors may force Hillary out of the closet so to speak as a lesbian.
ADVERTISEMENT - STORY CONTINUES BELOW
Rumors have abounded for years that Hillary's door swings this way and this is why she had no issue with Bill's marital infidelities. While the story is not a new one, if it came with credible proof to support those long persistent rumors, it could be a complete game-changer for the election that is now just a short, three weeks away.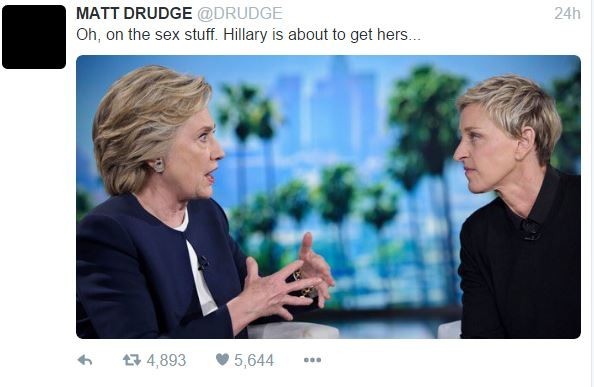 Hillary has previously been linked to an affair with Webster Hubbell, who was a partner at the Rose Law Firm with Hillary in the 1980s. Rumors have persisted for years that her daughter, Chelsea, was alleged to have been fathered by Hubbell, not President Bill Clinton. Then in the lead up to the 2008 Democratic presidential primary, allegations surfaced that Hillary had a long-standing lesbian relationship with her aide, Huma Abedin.
ADVERTISEMENT - STORY CONTINUES BELOW
For a long time the liberal run, mainstream media has painted Hillary as the victim of Bill's constant marital infidelities and sexually deviant behaviors.  But rumors have always abounded that she was far more upset about Bill getting caught with his pants down so to speak than by any real issue with the actual affairs.  Other rumors have suggested that the Clintons had an "open marriage" where they could each maintain whatever adulterous relationships that they liked.
Drudge developed a following and a name as a conservative muckraker in the early 1990s during Bill Clinton's presidency.  He did that by jumping on stories about the Clintons that other news organizations refused to cover, chief among them was President Clinton's affair with White House intern Monica Lewinsky.
Currently, Drudge's website makes no mention of an upcoming report but rumors state Saturday is the day for the big reveal.  We will update as the story progresses.
h/t – Breitbart
God Bless.
VOTE FOR DONALD TRUMP AND TOGETHER WE WILL MAKE AMERICA GREAT AGAIN!
Dean James III% AMERICA'S FREEDOM FIGHTERS
 Please share this on all Social Media!
Facebook Has Banned Us!
The leftists at Facebook decided they didn't like our message, so they removed our page and are censoring us. Help us fight back and subscribe to our newsletter so that you can stay up-to-date with everything Facebook doesn't want you to see!
Disqus Comments