Sassy Liberty AMERICA'S FREEDOM FIGHTERS – 
The plot continues to thicken in the case of Imran Awan and his family, all former IT aides for Rep. Debbie Wasserman-Schultz (D-FL) and some 40 other Democratic members of the House.
Now it has come to light that a chief of staff for the Democratic party, Rep. Yvette Clarke signed away more than $120,000 worth of missing electronics in early 2016.  Equipment paid for by hardworking American taxpayers that now has been revealed Awan and his band of cohorts flat out stole, it seems Clarke just dismissed the loss as no big deal.
ADVERTISEMENT - STORY CONTINUES BELOW
Clarke then went a step further and covered her tracks, effectively hiding the paper trail so it would not come up on future audits by signing off on a form that removed the equipment from the House-wife tracking system. It is believed Awan reported the equipment missing, and Clarke simply wrote off the theft and attempted to cover it up, effectively assisting Awan in his theft.
take our poll - story continues below
Completing this poll grants you access to AFF updates free of charge. You may opt out at anytime. You also agree to this site's Privacy Policy and Terms of Use.
Imran Awan, his wife Hina Alvi, his two brothers Abid and Jamal are at the center of an FBI investigation over their IT work with dozens of Congressional offices. They are suspected of stealing data and equipment from the Democratic House Representatives and their offices. This, in turn, raises questions about the members of the House and their staffers that were signing off on the checks and equipment purchases as this $120,000 is roughly 1/10th of the office's annual budget.  Meanwhile, Congress is talking about raising the debt ceiling.  Yet members ELECTED to the House BY the American people are being stolen from, yet still asked to provide MORE?????
The $120,000 in question would have hired FOUR legislative assistants to address the concerns of constituents in Clarke's New York district. Yet when Awan notified her of the massive loss, she quietly cooked the books so as the office budget would appear to be reconciled and the theft would not be discovered. Abid Awan, Imran's brother, remained an employee of this office LONG after the theft of the equipment had been discovered and reported.
The Awan brothers are suspected of working with an employee of CDW Government Inc. – one of the largest providers of technology on the Hill – to alter invoices to as to avoid detection.  They perpetrated a large scale, long term fraud scheme where the office would purchase equipment in such a way to avoid the detection of the central House-wide administrators, all on American taxpayer dime. The end result was the no one outside of the office where the equipment resided would be the wiser when any of the equipment simply disappeared. Investigators with the FBI believe the ultimate goal was to remove the equipment from Congressional offices and sell it, pocketing the profit.
ADVERTISEMENT - STORY CONTINUES BELOW
ADVERTISEMENT - STORY CONTINUES BELOW
Yes why NY Democrat Rep. Yvette Clarke quietly agreed in early 2016 to simply write-off $120,000 in missing electronics tied to the Awans???

— shoray (@ShorayW) August 22, 2017
Spokesperson for CDW, Kelly Caraher made a statement –
"CDW and its employees have cooperated fully with investigators and will continue to do so. The prosecutors directing this investigation have informed CDW and its coworkers that they are not subjects or targets of the investigation."
 Their work as IT aides gave them full access to all emails and files of dozens of members of Congress, and the law enforcement probe also includes a cyber security component.
In addition to "cooking the books" to cover up the missing equipment, Clarke chose not to alert the authorities to the theft either.  Any request to sign away THAT much lost equipment would have been "way outside any realm of normalcy." What is even MORE interesting to note is after all of that trouble to conceal the theft, when House administrators announced they were reviewing all finances connected to the Awans, Clarke's staff THEN revealed to House administrators that there had indeed been a theft. It seems it was not the theft at the expense of American tax payers and the potential breach of sensitive information possibly compromising national security that bothered Clarke.  She was simply afraid of being caught should her misdeeds be brought forth in an audit.
An investigation was announced in September 2015 in an effort to determine if any discrepancies existed surrounding the Awans.  This included a review of all finances connected to the Awans and every single Congressional office that employed them. The administrators were then notified by Wendy Anderson, Clarke's chief of staff at the time, of the $120,000 write-off.
Abid Awan's employment continued with Clarke's office for some six months after the discrepancy was discovered and acknowledged via the write-off.  He was not fired until Clarke's office learned of the forthcoming financial review. Imran and his wife Hina were 
indicted
 earlier this month for bank fraud.  It is believed that the Awans were gathering money by any means possible to flee the U.S. to return to Pakistan and avoid prosecution for their crimes. Real estate records show that after the audit was announced, the Awans began to frantically liquidate assets.
The charges against Imran will force him to stay in the U.S. as his passport was taken, allowing investigators to continue to build their main case against him and his brothers.  His wife is already in Pakistan having fled the country with some of the spoils of their fraud.  She will become a fugitive if she misses her arraignment.
The equipment in question includes multiple iPhones and iPads at roughly $800 apiece.  For a write off of $120,000, this would have been approximately 150 items stolen in an office that only has 16 employees. Members can be personally liable for money or equipment that is lost from their taxpayer-funded office.  The write off process exists merely to square off cases of minor and unintentional discrepencies, such as if a years old Blackberry is misplaced.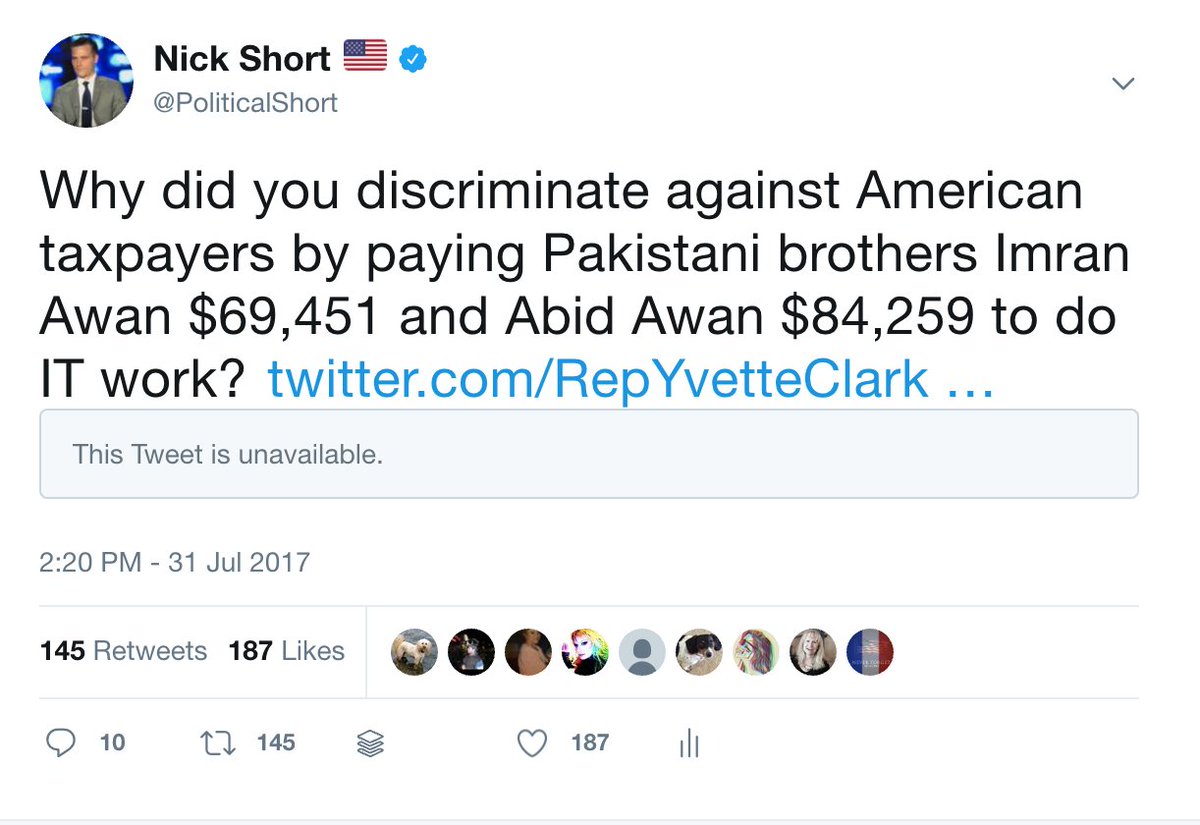 The $120,000 accounts for Clarke's office only and the Awans worked for more than 40 current House members prior to being banned from the House network in February.  Neither does that take into account the dozens that are no longer in the House that they have worked for since 2005. In addition to this scheme to defraud American tax payers via incompetent and downright shady Democratic members of the House, the Awans are also accused of funneling money from other congressional offices using the invoicing scheme that authorities believe involved cooperation from within CDW Government Inc.Equipment was routinely purchased by member's offices where the Awans worked and consistently show CDW invoices billed showing high dollar items falsely billed at just under the cutoff point so as to fly under the radar. The low figure on the high-priced equipment would keep it off the tracking radar of central House authorities. The difference in the actual price was then made up by inflating the cost of a service plan, and the equipment was shipped to Imran's house.
Interesting to note, Davis previously worked for  Democratic Rep. Sheila Jackson Lee of Texas and for Rev. Jesse Jackson's nonprofit. Money problems were an issue for him and according to public records, he was facing eviction in 2011 from a Northeast Washington, D.C.
In spite of an annual salary of $160,000 on Capitol Hill, Abid also ran a car dealership in Virginia and filed for bankruptcy in 2010. This bankruptcy discharged multiple hundreds of thousands of dollars in debts.  Court records show that the dealership took $100,000 from an Iranian known to serve as a politician in Iraq and wanted by the U.S. Department of Justice.
Clarke is currently leading the charge in removing Confederate monuments from Fort Hamilton — it seems if she kept an eye on her own office better rather than destroying American history, she might be in a much better position.
FOLLOW us on Facebook at Nation In Distress!
Copyright 2017 Americas Freedom Fighters/ AFF Media. All rights reserved. This material may not be published, broadcast, rewritten or redistributed without expressed permission.
Facebook Has Banned Us!
The leftists at Facebook decided they didn't like our message, so they removed our page and are censoring us. Help us fight back and subscribe to our newsletter so that you can stay up-to-date with everything Facebook doesn't want you to see!
Disqus Comments