Sassy Liberty AMERICA'S FREEDOM FIGHTERS –
Hillary Clinton claims she had no idea about this dossier….no idea. John Podesta had no idea either nor did Debbie Wasserman Schultz.  Wasserman Schultz was the chair of the Democratic National Committee (DNC) until July 24, 2016.  Naturally, the DNC does not know anything either.
Umm, so y'all regularly allow people to spend $9 million without approval, authorization, or permission? $9 million that the Federal Election Commission will and is holding YOU leftists accountable for?
ADVERTISEMENT - STORY CONTINUES BELOW
I am not sure which is worse – the fact that they actually expect America to believe that load of malarky or that they used this work of abject fiction to launch an entire witch hunt in the first place or the fact that they truly think "deny deny deny" is some sort of plausible defense?
Debbie Wasserman Schultz was head of the #DNC until July 24 2016.

take our poll - story continues below

Whom do you consider to be the most corrupt Democrat Politician?

Completing this poll grants you access to America's Freedom Fighters updates free of charge. You may opt out at anytime. You also agree to this site's Privacy Policy and Terms of Use.

She had no idea where 9 mil dollars, from the DNC went?
! #TrumpDossier pic.twitter.com/bjaNX9lhpi

— thatbotmike (@thatbotmike) October 27, 2017

ADVERTISEMENT - STORY CONTINUES BELOW
ADVERTISEMENT - STORY CONTINUES BELOW
Both Podesta and Wasserman Schultz both denied any knowledge to congressional investigators of hiring Fusion GPS – the so-called opposition research team that charged former British intelligence officer Christopher Steele with writing infamous fictional dossier.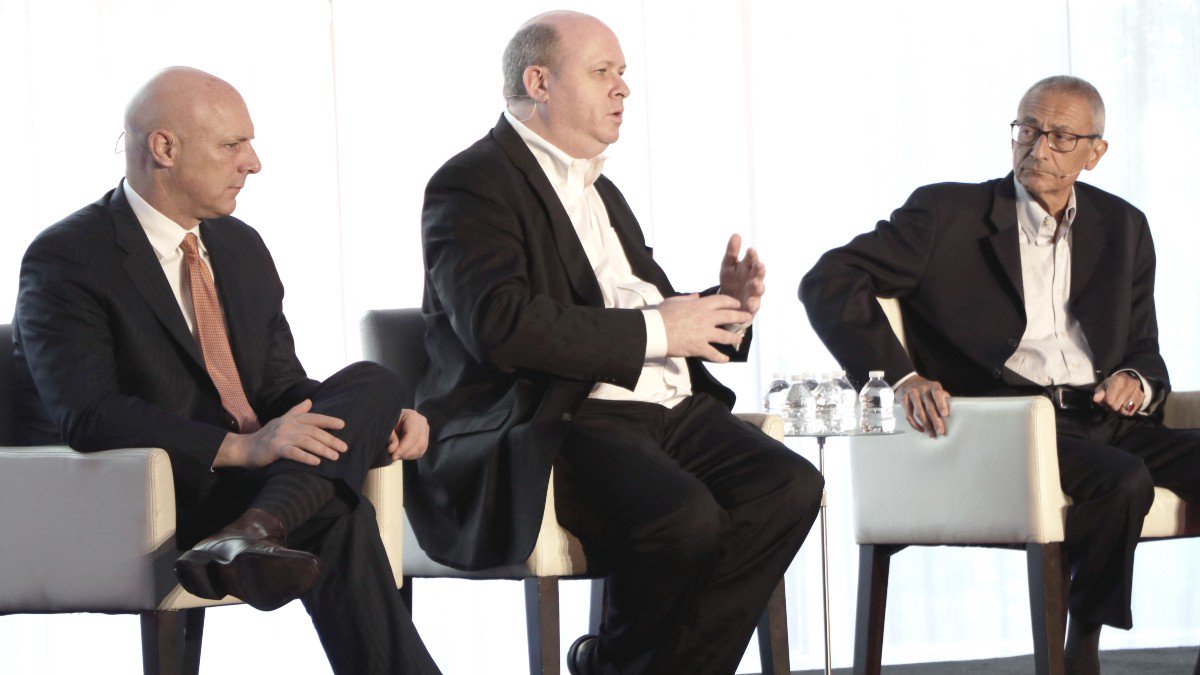 Even CNN admits that their denials are fishy, especially since they came prior to the bombshell report dropped by the Washington Post revealing the starring roles played by the Hillary Campaign and the DNC.
CNN put it this way –
"Their remarks to congressional investigators raise the stakes in their assertion that they knew nothing about the funding because it's against the law to make false statements to Congress."
CNN also disclosed that sitting next to Podesta during the interview was his attorney, Marc Elias….curiouser and curiouser it seems. Elias, as it happens, was there in a legal capacity representing Podesta as his attorney, not as a witness. However, the Post specifically names Elias – the general counsel for Hillary's campaign – as the money man – the one that hired Fusion GPS for oppositional research and the phony dossier on behalf of Hillary's campaign AND the DNC.
So did Podesta and Wasserman Schultz perjure themselves before Congress? It certainly appears so…
Not one but TWO reporters for the New York Times have now accused Hillary's campaign, naming Elias specifically by name, of a cover-up of the phony dossier.
NYT reporter Kenneth Vogel spoke via Twitter about how he tried to report on the Hillary campaign's connection to the dossier.  Elias "pushed back vigorously," saying, "You (or your sources) are wrong."
The White House correspondent for the Times, Maggie Haberman, tweeted –
"Folks involved in funding this lied about it, and with sanctimony, for a year."
A complaint was filed the Federal Election Commission formally charging Hillary's campaign and the DNC of violating campaign finance laws due to their failure to disclose monetary payments for the Trump dossier.  Hillary herself has not said a word too busy on her excuses tour 7.0 promoting her book – "What Happened" in Europe.
Former campaign spokesman Brian Fallon has left the possibility that Hillary may have known open for Hillary's response, stating –
"She may have known, but the degree of exactly what she knew is beyond my knowledge."
As the Washington Examiner points out Hillary even went so far as to write about the dossier in her new book, stating –
"…..in hindsight, how queer that Clinton should have written about and talked up this dossier as though she had been a mere observer of the events that led to its creation and use. Because this week, it has been revealed that Clinton's campaign actually paid to create that very dossier. So had the Democratic National Committee, run by faithful flunky, Debbie Wasserman Schultz.
 It's no surprise that Clinton or her staff would play dumb about this. The dossier is a radioactive document, with which no one wants to be associated. Not only are much of its contents known to be false, but it also includes obscene allegations about Trump that we won't reprint here.
Clinton's attorney, Marc Elias, and senior campaign officials have been lying through their teeth for a year about their involvement in the dossier. When reporters tried to report the story, these Clinton Democrats pushed back hard, claiming it was an out-and-out lie. Now, their own lies have been laid bare.

The truth about the dossier is a reminder of what was and what was not at stake in last year's presidential contest. Ever since Trump's election, the moral posturing by some of America's sleaziest liars has become nearly unbearable.

In the time since the election, the Left has taken up the banner of "Resistance." Each time Trump makes another false, crude, bizarre, or offensive comment, they point back to the choice in November and frame the election as if falsehood conquered truth, darkness overpowered light, and an evil empire overcame good."
FOLLOW us on Facebook at Nation In Distress!
Dean James III% AMERICA'S FREEDOM FIGHTERS
Copyright 2017 Americas Freedom Fighters/ AFF Media. All rights reserved. This material may not be published, broadcast, rewritten or redistributed without expressed permission.
Please share this on Facebook and Twitter!
Facebook Has Banned Us!
The leftists at Facebook decided they didn't like our message, so they removed our page and are censoring us. Help us fight back and subscribe to our newsletter so that you can stay up-to-date with everything Facebook doesn't want you to see!
Disqus Comments