Sassy Liberty AMERICA'S FREEDOM FIGHTERS –
For all accounts, the mid-election cycle breakup between Hillary Clinton henchwoman Huma Abedin and her pervert pedophile husband, Anthony Weiner was a sham.
Huma Abedin and Hillary Clinton have more in common than just being power hungry, political despots. They married the same type of man – philanders that don't know that "no means no" no matter the age.  No wonder they are thick as thieves!
ADVERTISEMENT - STORY CONTINUES BELOW
The good news for Hillary is that Huma and her relationship with Anthony Weiner likely won't cost Hillary another election.
take our poll - story continues below
Whom do you consider to be the most corrupt Democrat Politician?
Completing this poll grants you access to America's Freedom Fighters updates free of charge. You may opt out at anytime. You also agree to this site's Privacy Policy and Terms of Use.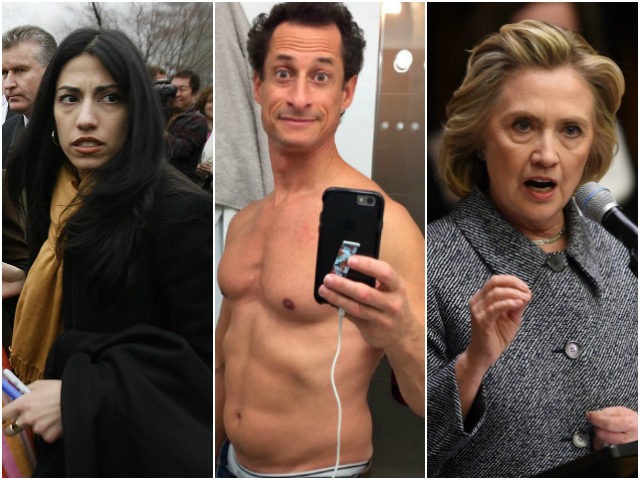 ADVERTISEMENT - STORY CONTINUES BELOW
A source that has also worked with Bill and Hillary Clinton for several years, states the breakup was "more for optics for the campaign and [under] pressure from Hillary's camp."
"Huma has been working hard on her relationship with Anthony," said a source close to the Abedin family. "He has been spending 80 to 90 percent of his time at the [Irving Place apartment] they share . . . If there is a disagreement, he goes to his mother's apartment in Brooklyn.

ADVERTISEMENT - STORY CONTINUES BELOW
It's hard to believe a reconciliation is under consideration given how many times Weiner has betrayed his wife. But then again it's hard to believe Hillary would stay with a known rapist and sexual deviant. But for all appearances both Huma and Hillary both have the same approach.
They blame "the pressures of the campaign and presidential race . . . and him drifting off into obscurity" for Weiner's most recent relapse, the friend added.
This should sound rather familiar. 
Hillary  Clinton defended her husband in a phone call with Blair. She said her husband had made a mistake by fooling around with the "narcissistic loony toon" Lewinsky, but was driven to it in part by his political adversaries, the loneliness of the presidency, and her own failures as a wife.

She told Blair that the affair did not include sex "within any real meaning" of the term and noted President Clinton "tried to manage" Monica after they broke up but things spiraled "beyond control."
And Huma is reading from the same script.
"A lot of [their] friends believe this is an illness, that he is sick," said the friend. But "Huma takes it into consideration that there's been no affair, or physical contact that anybody is aware of. He never met [the women]."
Same old song and dance it seems….the second verse in a very tired song.
God Bless.
Here's How To Be Sure To Continue Seeing Our Content On Facebook
TOGETHER WE WILL MAKE AMERICA GREAT AGAIN!
Dean James III% AMERICA'S FREEDOM FIGHTERS
Please like and share on Facebook and Twitter!
Facebook Has Banned Us!
The leftists at Facebook decided they didn't like our message, so they removed our page and are censoring us. Help us fight back and subscribe to our newsletter so that you can stay up-to-date with everything Facebook doesn't want you to see!
Disqus Comments