Sassy Liberty AMERICA'S FREEDOM FIGHTERS –
Retail giant Target has chosen political correctness over good business sense and is now paying the price in sinking stock prices and loss of profit. The company has had to abruptly abandon two projects amid the public boycott provoked by the company's insistence on transgender-friendly, mixed-sex, dressing rooms.
Target made the announcement that it was ending the two projects as their stock price hit $64.77 as the market closed on February 8, 2017.  This is an $83.00 drop from when the boycott began when the announcement was made about the transgender policy change on April 19, 2017, devaluing the company by approximately $10 billion on Wall Street.
ADVERTISEMENT - STORY CONTINUES BELOW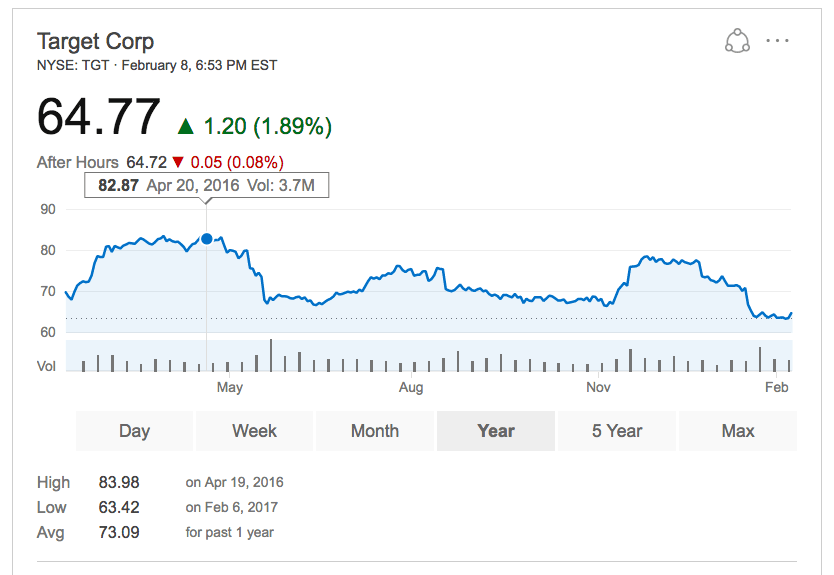 take our poll - story continues below
Whom do you consider to be the most corrupt Democrat Politician?
Completing this poll grants you access to AFF updates free of charge. You may opt out at anytime. You also agree to this site's Privacy Policy and Terms of Use.
One of the projects that has been shut down as a result of the loss of business due to the boycott was billed as "Store of the Future: and was aimed as developing smaller retail store fronts with a warehouse in back supplied with robot workers picking items for customers up front, according to recode.com. This was Target's effort to incorporate e-commerce and a space for customers to attend classes or community functions. The project manager was given no notice of the sudden closure and caught by complete surprise.
ADVERTISEMENT - STORY CONTINUES BELOW
The second project that was abruptly canceled was called by the code name "Goldfish." The corporation's intention for this project was to be a sort of Amazon or Ebay type competition, allowing other retailers and manufacturers to sell products through Target.
Target is trying to minimize the additional financial ramifications to their stock prices by claiming that this is simply the normal ebb and flow of business, saying in a statement –
ADVERTISEMENT - STORY CONTINUES BELOW
At Target, we regularly pause to evaluate our business and have to make tough choices about where our company is best served to invest our time and resources. We recently made some changes to the innovation portfolio to refocus our efforts on supporting our core business, both in stores and online, and delivering against our strategic priorities. Target remains absolutely committed to pursuing what's next. We see a tremendous opportunity to drive innovation in areas that will fuel our growth both in the short and long-term in areas such as digital, technology, supply chain and merchandising.
Target's business decision to support the wildly unpopular Transgender bathroom bill, prompting the company to end their use of single-sex bathrooms and changing rooms, has done irreparable harm to the company. The majority of Americans oppose these transgender laws allowing members of the opposite biological sex to use the restroom of the gender they identify with thus opening the door for predators to create a victim rich environment with businesses having little recourse.
A July 12, 2016, article from the left-leaning Washington Times states two-thirds of Americans oppose.  The liberal Atlantic says it's at least half of Americans that are opposed. Yet the truth is very few people try to live as members of the opposite sex.  According to a 2010 census, only 1 in 2,400 adults even change their name from one sex to another — yet a lucrative business such as Target is willing to tank it's stock, just to be politically correct?
h/t – Breitbart
God Bless.
Here's How To Be Sure To Continue Seeing Our Content On Facebook
TOGETHER WE WILL MAKE AMERICA GREAT AGAIN!
Dean James III% AMERICA'S FREEDOM FIGHTERS
Please like and share on Facebook and Twitter!
Facebook Has Banned Us!
The leftists at Facebook decided they didn't like our message, so they removed our page and are censoring us. Help us fight back and subscribe to our newsletter so that you can stay up-to-date with everything Facebook doesn't want you to see!
Disqus Comments