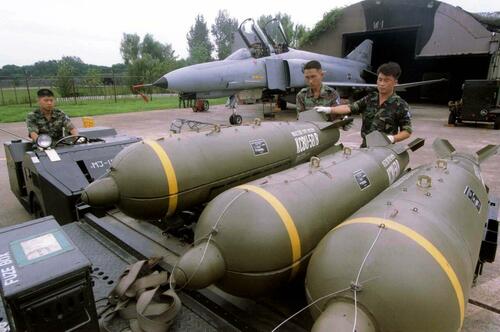 Posted by DINO PORRAZZO at AMERICAS FREEDOM FIGHTERS
The war between Russia and Ukraine continues and will as long as Ukraine keeps getting free everything from the United States.
ADVERTISEMENT - STORY CONTINUES BELOW
The latest, which we reported would happen is today official- Biden is sending 'CLUSTER BOMBS' which have been BANNED to Ukraine.
THAT'S RIGHT FOLKS!
Cluster bombs were used in previous wars and are vey effective.
The problem is that not every one of the blows up so they are essentially little land mines that will kill innocent people.
ADVERTISEMENT - STORY CONTINUES BELOW
They have been banned for use by nearly 200 countries!
But instead of any efforts to end this war Biden wants to stoke this war- keep it going for as long as he can.
He is a sick man.
But he is incapable of sitting down at the table and negotiating a deal- dude can't get a freaking sentence out without forgetting what in the hell he's even talking about.
Look- Biden is NO TRUMP!
Demented corrupt scumbag owned by China and controlled by THE DEEP STATE and protected by the FBI, DOJ, CIA and COURT STSTEMS PUT IN PLACE BY RADICAL LEFTIST GEORGE SOROS.
Meanwhile we taxpayers have spent $100 BILLION FREAKING DOLLARS ON THEIR FREAKING WAR!
THERE IS NO END IN SIGHT.
Here's a little info on CLUSTER BOMBS.
CLUSTER BOMBS
Wikipedia – A cluster munition, more commonly known as CLUSYER BOMBS are a form of air-dropped or ground-launched explosive weapon that releases or ejects smaller submunitions. Commonly, this is a cluster bomb that ejects explosive bomblets that are designed to kill personnel and destroy vehicles. Other cluster munitions are designed to destroy runways or electric power transmission lines, disperse chemical or biological weapons, or to scatter land mines. Some submunition-based weapons can disperse non-munitions, such as leaflets.
Because cluster bombs release many small bomblets over a wide area, they pose risks to civilians both during attacks and afterwards. Unexploded bomblets can kill or maim civilians and/or unintended targets long after a conflict has ended, and are costly to locate and remove. The so called failure rate ranges from 2 percent to 40 percent or more.
While all weapons are dangerous, cluster bombs pose a particular threat to civilians for two reasons: they have a wide area of effect, and they consistently leave behind a large number of unexploded bomblets. The unexploded bomblets can remain dangerous for decades after the end of a conflict. For example, while the United States cluster bombing of Laos stopped in 1973, cluster bombs and other unexploded munitions continued to cause over 100 casualties per year to Laotian civilians as of 2009
Cluster munitions are prohibited for those nations that ratified the Convention on Cluster Munitions, adopted in Dublin, Ireland, in May 2008. The Convention entered into force and became binding international law upon ratifying states on 1 August 2010, six months after being ratified by 30 states. As of 10 February 2022, a total of 123 states have joined the Convention, as 110 states parties and 13 signatories.
Mac Slavo at SHTFPLAN has more:
United States ruler Joe Biden has approved sending banned "cluster bombs" to Ukraine with NATO's (North Atlantic Treaty Organization) support. Jens Stoltenberg, the secretary general of NATO also doesn't see a problem with internationally banned cluster munitions as long as it's the U.S. or its allies that deploy them.
If anyone but Ukraine or the U.S. were to deploy "cluster bombs", NATO would have a big problem with it. As ZeroHedge noted, if cluster bombs were being deployed by Russia or official U.S. enemies, NATO would condemn it (and has in the past). But becasue the Biden administration is now reportedly moving forward with sending cluster munitions to Ukraine, Stoltenberg has said that "NATO does not have a position on them" as some allies have signed up to prohibit their use.
Prior Washington hesitation on sending cluster bombs stems from the fact that some 120 countries have banned cluster munitions as they have long been understood to be more indiscriminate than conventional weapons, given they randomly disperse small bombs over large areas. –ZeroHedge
When Biden was asked why the ruling class thought the cluster bombs were necessary, he said: "We are facing a brutal war, and we have to remember this brutality is reflected, that every day we see casualties, and that cluster munitions are used by both sides." He used the "eye for an eye" that pedantic children use excuse to justify their use.  "And Russia used cluster munitions to invade another country. Ukraine is using cluster munitions to defend itself."
The Associated Press first reported Thursday that the White House has decided to arm Ukraine with cluster bombs after many weeks of intense internal discussion and debate over the controversial munitions. The cluster bombs are expected to be announced as part of the next $800 million arms package.
EU Vows To Send More Weapons Faster to Ukraine
Washington's earlier hesitation on sending cluster bombs stems from the fact that some 120 countries have banned cluster munitions as they have long been understood to be more indiscriminate than conventional weapons, given they randomly disperse small bombs over large areas.
This is going to be seen as a provocation by Russia.
ENOUGH IS ENOUGH!
Read these related articles! Just CLICK!
BREAKING: Ukraine's President Zelensky Just SPIT Directly In America's FACE… It's Time To END The Aid NOW
BREAKING: Ukraine President Claims Russia Is Planning A "Nuclear Attack," PAID For By…
BREAKING: Ukraine Is Now DEMANDING…
BREAKING: The PENTAGON Just Made Huge Announcement About What They Did To Ukraine- MILLIONS Of Americans TICKED
BREAKING: Biden Now Sending THIS To Ukraine- This Is NOT GOOD
ADVERTISEMENT - STORY CONTINUES BELOW
?Be sure to sign up for our FREE newsletter and we'll keep you in the loop by CLICKING HERE!?
?Be sure to follow us at TRUTH SOCIAL, TWITTER, PARLER, GETTR and OUR EXCLUSIVE TELEGRAM GROUP.
Please take a moment and share our articles with your friends,  family and on all social media sites! Thank you, we appreciate it!
Make Sure To Scroll Down And Leave A Comment And Let Your Voice Be Heard, We Will NEVER Silence You!
Facebook Has Banned Us!
The leftists at Facebook decided they didn't like our message, so they removed our page and are censoring us. Help us fight back and subscribe to our newsletter so that you can stay up-to-date with everything Facebook doesn't want you to see!
Disqus Comments