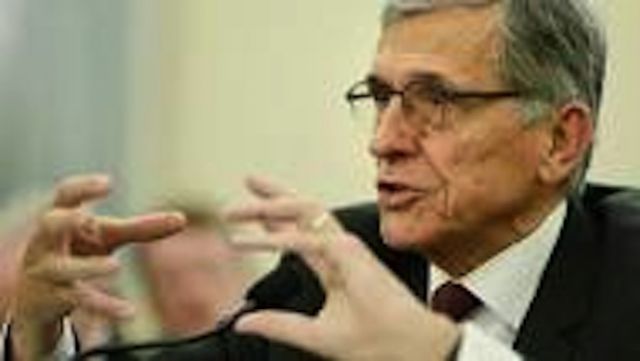 Slamming human rights, the Federal Communications Commission said Wednesday it intends to change net neutrality, the right for all people to have equal access to the internet. If passed, expect net prices to become out of reach for most; to see what government wants you to see; and your service to become so slow, you'll give up researching and learning from independent sources.
Basically, power of the people is again being trampled to empower the elite even more than its control it already has.
"If it goes forward, this capitulation will represent Washington at its worst," said Todd O'Boyle, program director of Common Cause's Media and Democracy Reform Initiative. "Americans were promised, and deserve, an Internet that is free of toll roads, fast lanes and censorship — corporate or governmental."
ADVERTISEMENT - STORY CONTINUES BELOW
take our poll - story continues below
Completing this poll grants you access to AFF updates free of charge. You may opt out at anytime. You also agree to this site's Privacy Policy and Terms of Use.
Net neutrality is no providers of legal Internet content facing discrimination in providing offerings to consumers, and users should have equal access to see any legal content they choose. The FCC, however, is aiming to change that. Its proposd new rules would allow companies like Disney, Google or Netflix to pay Internet service providers like Comcast and Verizon for special, faster lanes to send video and other content to their customers.
ADVERTISEMENT - STORY CONTINUES BELOW
"Immediate organizing is needed to stop this proposal before it is voted on by the FCC on May 15," stated head of Popular Resistance, Kevin Zeese in an email Thursday. "This will be a dramatic change of the Internet. It will become an Internet for the wealthy — if you have the money, you get good service; if not, you get third rate service."
Tom Wheeler, the F.C.C. chairman, defended the agency's plans late Wednesday, saying speculation that the F.C.C. was "gutting the open Internet rule" is "flat out wrong." Rather, he said, the new rules will provide for net neutrality along the lines of the appeals court's decision.
Wheeler became 31st Chairman of the FCC on November 4, 2013 when appointed by President Barack Obama and unanimously confirmed by the United States Senate.
ADVERTISEMENT - STORY CONTINUES BELOW
The New York Times reports:
Still, the regulations could radically reshape how Internet content is delivered to consumers. For example, if a gaming company cannot afford the fast track to players, customers could lose interest and its product could fail.

The rules are also likely to eventually raise prices as the likes of Disney and Netflix pass on to customers whatever they pay for the speedier lanes, which are the digital equivalent of an uncongested car pool lane on a busy freeway.
Human rights advocates are critical of the new proposed rules, that appear filled with holes, particularly in seeking to impose the "commercially reasonable" standard.
"The very essence of a 'commercial reasonableness' standard is discrimination," Michael Weinberg, a vice president at Public Knowledge, a consumer advocacy group, said in a statement. "And the core of net neutrality is nondiscrimination."
Sources: New York Times, The Young Turks, Kevin Zeese email
Video from TYT BY Deborah Dupre VIA (Before It's News)
Facebook Has Banned Us!
The leftists at Facebook decided they didn't like our message, so they removed our page and are censoring us. Help us fight back and subscribe to our newsletter so that you can stay up-to-date with everything Facebook doesn't want you to see!
Disqus Comments