Sassy Liberty AMERICA'S FREEDOM FIGHTERS – 
The hits keep coming as the saga of Imran Awan continues to unfold. Awan is the former IT specialist and con man employed by Democratic Rep. Debbie Wasserman Schultz as well as numerous other Democrats in the House of Representatives. His wife, Hina Alvi, was never detained or prevented in any way from leaving the United States. Her arrest was in fact blocked by fired former FBI director James Comey and former Deputy Director Andrew McCabe.
Alvi is believed to be an accomplice of Awan's in his swindle of more than $283,000 from American banks.  She was stopped at the airport and questioned about where she was going, as well as when she planned to return.  She was also found to be carrying over $12,400 in undocumented cash when the FBI caught up with her at Dulles International Airport in March.
ADVERTISEMENT - STORY CONTINUES BELOW
As a result of direct orders from Comey and McCabe, federal agents and Capitol police were forced to watch this swindler and fraudster step onto Qatar Air1ines Flight 708 to Doha, Qatar, on her way to Lahore, Pakistan with her three daughters, bulging luggage and $12,400 in undocumented cash — a federal crime in itself. Alvi was given a license to disappear courtesy of the FBI, unlikely to return to the United States.
take our poll - story continues below
Whom do you consider to be the most corrupt Democrat Politician?
Completing this poll grants you access to AFF updates free of charge. You may opt out at anytime. You also agree to this site's Privacy Policy and Terms of Use.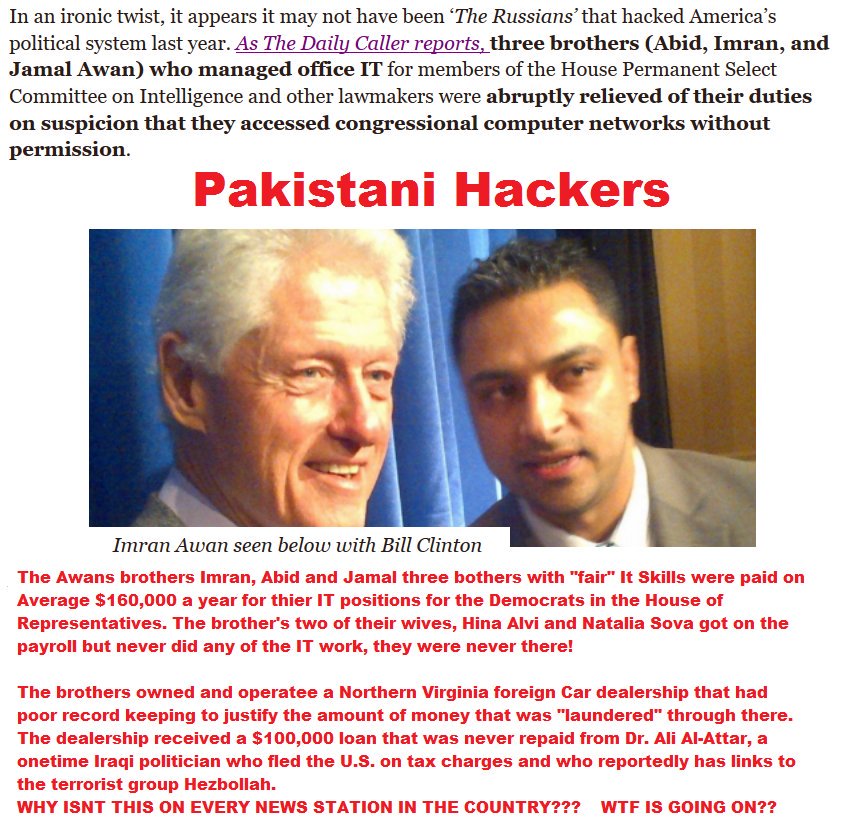 ADVERTISEMENT - STORY CONTINUES BELOW
Would it not be logical to detain Alvi on suspicion given the nature of the ongoing probe into Imran's fraudulent activities? The FBI had explicit knowledge she defrauded at least two financial institutions, not to mention it is a felony to export more than $10,000 from the United States absent filing a currency transportation report which she did not do.  Her detention could have been used as leverage to get Awan to cooperate as well, yet that was not even put into play.  Why?
Join us at America's Freedom Fighters on Facebook!
ADVERTISEMENT - STORY CONTINUES BELOW
This was clearly a call from the top and from all agent reports it came directly from Comey and McCabe.  Anyone else would have been held and the undeclared cash would have been locked up.  Agents at Dulles wanted to hold her but were told to stand down.
The lead FBI agent at Dulles was Special Agent Brandon C. Merriman.  He had only been on the job for a little over a year and was investigating the bank schemes of Awan and Alvi, and apparently did not have the political juice or connections to plead for Awan and Alvi's detainment and arrest.  Merriman submitted an affidavit and arrest warrant for Awan in July and even acknowledges that he knew once Alvi stepped onto that plane she would be in the wind, unlikely to return to the U.S.
If this case was just a simple bank fraud case like any other, Alvi would have been detained in the U.S. and Awan would have been arrested long before July.  Sufficient evidence of bank fraud and a host of other felonious actions exists in spades, yet the arrest warrant was JUST filed. Alvi fled the country with her children, cash, and personal effects in March!
Additionally, Alvi would have served as a key witness in the case currently being built against Wasserman Schultz, the DNC, and Hillary Clinton.  Her testimony could have served to determine exactly what role Hillary played in the confusing and complex morass of Awan-related security breaches. It seems if the FBI truly wanted to explore and build a criminal case against Wasserman Schultz or even solidify the case they already had against Awan, preventing Alvi from leaving the jurisdiction of the United States would have been a crucial step. Yet the release of Alvi to Pakistan which is a no-go zone for U.S. law enforcement speaks volumes about the FBI and their complicity in protecting Hillary and her long time lackey, Wasserman Schultz.
FOLLOW us on Facebook at Nation In Distress!
Copyright 2017 Americas Freedom Fighters/ AFF Media. All rights reserved. This material may not be published, broadcast, rewritten or redistributed without expressed permission.
Facebook Has Banned Us!
The leftists at Facebook decided they didn't like our message, so they removed our page and are censoring us. Help us fight back and subscribe to our newsletter so that you can stay up-to-date with everything Facebook doesn't want you to see!
Disqus Comments