Sassy Liberty AMERICA'S FREEDOM FIGHTERS – 
In yet ANOTHER massive case of Black Robe Fever, Federal Judge William Orrick III blocked the Trump administration from enforcing an Executive Order to withhold funds from sanctuary cities.
A sanctuary city, by definition, is a city that restricts its cooperation or refuses to cooperate at all with the Federal government and immigration authorities in an effort to help illegal aliens avoid deportation.
ADVERTISEMENT - STORY CONTINUES BELOW
Attorney General Jeff Sessions sent a recent threatening letter and statement warning that law enforcement grants could soon be withheld from jurisdictions (eight received letters, including the State of California but not any California local governments) that remained defiant and the subsequent lawsuit was filed.
take our poll - story continues below
Whom do you consider to be the most corrupt Democrat Politician?
Completing this poll grants you access to AFF updates free of charge. You may opt out at anytime. You also agree to this site's Privacy Policy and Terms of Use.
The executive order in question denies funding to jurisdictions that shield illegal aliens from deportation by refusing to comply with federal detention requests and immigration authorities. It is estimated that the policy would affect approximately 400 cities that have declared themselves havens for illegals.
ADVERTISEMENT - STORY CONTINUES BELOW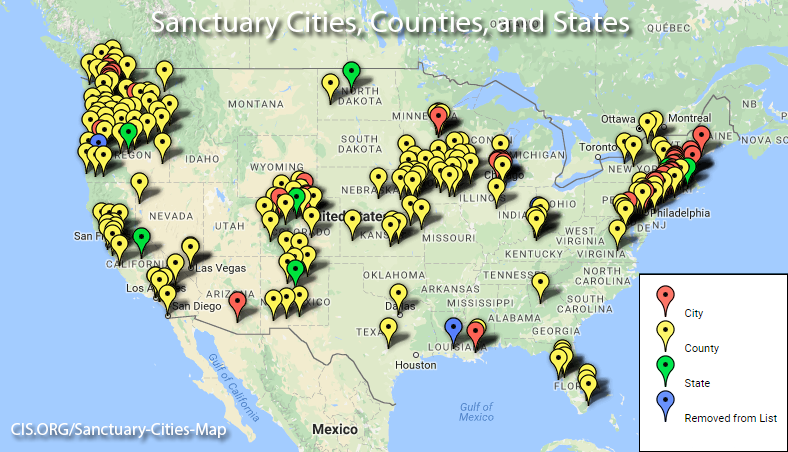 In his ruling on Tuesday, Orrick issued an injunction against the Trump administration after the city of San Francisco and county of Santa Clara sued over the president's plan to withhold federal funds from cities that harbor illegal aliens. In making the ruling apply nationwide, Orrick blocked the government from enforcing a key portion of Trump's January executive order on immigration.
As activist judges across the nation continue to legislate from the bench, here are some "interesting" things to note about Judge Orrick of the Northern California district —
He was appointed to his current position by President Barack Obama, and subsequently purchasing a cushy job from the Obama administration by 
bundling and donating at least $230,000 to Obama
. At the time of the appointment, Orrick was working at the law firm Coblentz, Patch, Duffy & Bass LLP. He has previously served as deputy assistant attorney general for the Civil Division of the United States Department of Justice. The ONLY Republican to in support of Orrick was Republican Jeff Flake.
According to Public Citizen, a consumer rights advocacy group, Orrick donated approximately $30,000 to committees supporting Barack Obama's 2008 campaign for president. He also helped raise an additional $200,000 in contributions to the Obama campaign, thus confirming his bundling activities.
ADVERTISEMENT - STORY CONTINUES BELOW
Not only is Orrick essentially a tenured retainer of the Obama administration, his wife is a vocal abortion advocate.  As a result, Orrick used his influence from the bench to issue a restraining order in 2015 against the advocacy group responsible for undercover videos purporting to show Planned Parenthood employees plotting to sell baby organs.
Orrick was also in the employ of the Department of Justice in 2010 when Arizona passed their immigration law known as SB 1070.  The immigration law mirrored the Federal immigration laws that the Obama regime refused to enforce. In response to laws relating to immigration passed in Arizona in 2010, the U.S. Supreme Court ruled that immigration is the purview of the federal government, not the states. Orrick was involved in coordinating the Obama administration's arguments against SB 1070, according to the Washington Examiner.
Many people continue to ask how these activist judges can continue to obstruct the Trump administration asking such questions as President Trump is…well…the president….isn't he in charge?  How can these judges keep doing  this?
Well, Article III of the Constitution – Federal courts have the power to interpret the Constitution and can declare an executive order illegal or unconstitutional.  Article III also gives the courts jurisdiction in all cases where the United States is a party, such as when a citizen or state sues the national government.
The groups suing the government over this executive order are questioning the legality of it, so it is up to the court to make the final decision. This executive order will most likely be appealed all the way up to the Supreme Court, which has the ultimate say.
God Bless.
Copyright 2017 Americas Freedom Fighters/ AFF Media. All rights reserved. This material may not be published, broadcast, rewritten, or redistributed.
Here's How To Be Sure To Continue Seeing Our Content On Facebook
TOGETHER WE WILL MAKE AMERICA GREAT AGAIN!
Dean James III% AMERICA'S FREEDOM FIGHTERS
Please like and share on Facebook and Twitter!
Facebook Has Banned Us!
The leftists at Facebook decided they didn't like our message, so they removed our page and are censoring us. Help us fight back and subscribe to our newsletter so that you can stay up-to-date with everything Facebook doesn't want you to see!
Disqus Comments